 Looking at the current scenario of IT industry in Nepal, the software industry is on the way of a new beginning. The industry has been spreading to almost every sector of the industry and its context cannot be ignored in current market. Even though a lot of IT graduates are produced every year, there is still a large gap between the software industry and the IT graduates. The industry is not getting skilled manpower and the graduates are not getting proper jobs. This seems like a messed up situation in our market. Not just students, the companies getting born every now and then and the investors looking for newer investment opportunities are often found lost somewhere in this gap.
In such scenario, ICT Frame Magazine has come up with an event, Nepal Software Meetup #1, that will try to work as a bridge in this gap to create better opportunities for everyone involved in every way in the Nepalese IT industry.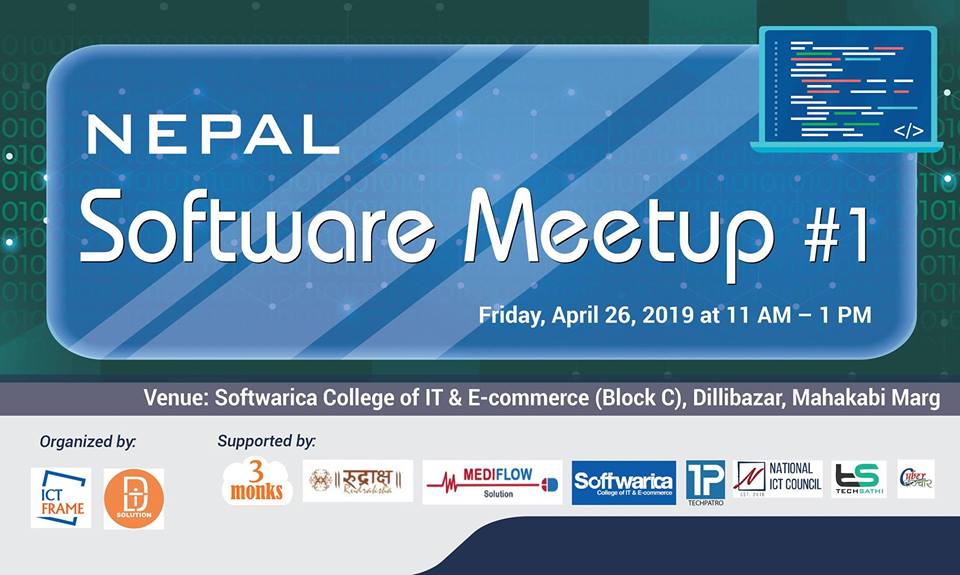 Nepal Software Meetup #1 claims to be the the first software meetup of this kind happening in Nepal. It will focus on identifying the challenges and exposing the opportunities of Nepal's software industries. The event will be hosting several kinds of IT professionals in Nepal's software industry including the large scale industry leaders, medium level professionals to small scale industries and startups.
This software meetup is being hoped to be a common platform for sharing of experiences, opportunities, expertise and skills on the various aspects regarding different working cases of different sorts of industries. The students and newcomers in the industry are expected to learn from the experienced ones about the challenges and opportunities so that they be ready for the work and situations that they will face in the future. The networking among the professionals will be the help to themselves in the broader spectrum of the industry. The organizers have planned to organize this event every month and submit the report to the Nepal government body each time.
This event has been organized by ICT Frame Magazine and will be launched on the national ICT day being celebrated on May 2nd. We, Techsathi team, feel happy to be supporting this event and will be covering all the details of the event as it takes further leaps ahead. We encourage the active participation from all of the concerned professionals, students and the well-wishers of IT communities in Nepal in this common platform.
Event Details
Event Name: Nepal Software Meetup #1
Date: 2nd May 2019
Time: 11:00 AM to 1:00 PM
Venue: Softwarica College of IT and E-commerce (Block C), Dillibazar, Kathmandu
Event Fee: Free