Nepal Data Center Society (NDCS) and Information Security Response Team Nepal (NPCert) are bringing "Nepal Data Center Summit 2019" for the first time in Nepal which is going to take place on 27th June at Soaltee Crowne Plaza, Kathmandu, Nepal.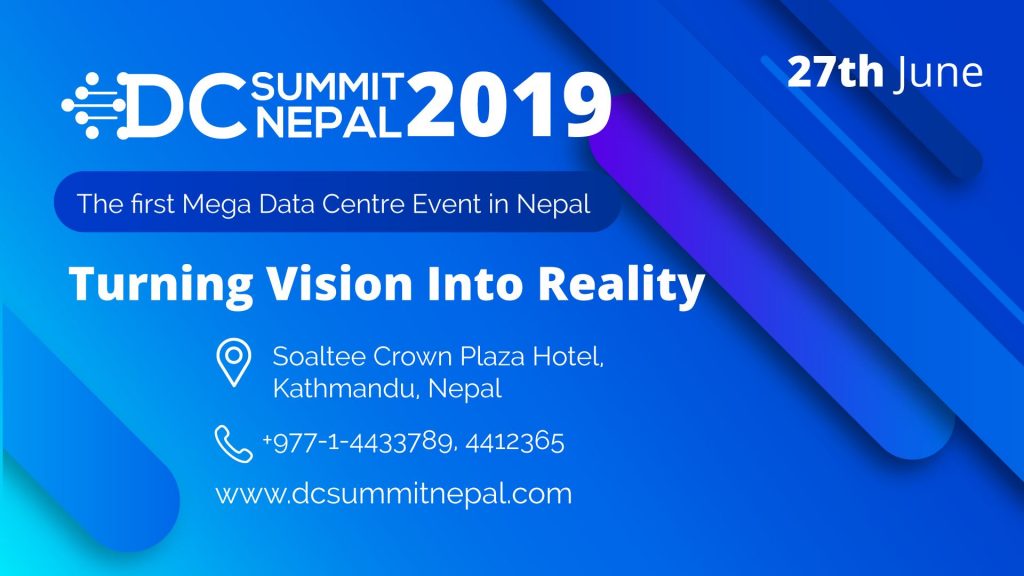 This summit is targeted to the person who is directly/indirectly related to technical groups and individuals in the field of the data center. The world-renowned data center's speakers are going to show you the Global Standards, Guidelines, best practices, etc. in this Data Centre Summit.
"Nepalese Data Should be Kept in Nepal" this is what DC Summit Nepal focuses on. In the present context, the demand for Data Center Solutions and products are increasing rapidly. So, the opportunity and chances of this industry will also be discussed in this summit.
Center for Cyber Security Research and Innovation (CCSRI) will be the research partner of this event which will prepare the report regarding the condition of Nepalese organizations about the practices and exercises of the Data Center in Nepal.
Objectives of DC Summit Nepal 2019
The major objectives to organize this event 'Data Center Summit 2019 Nepal' are to educate the people here in Nepal and letting the international OEMs & Global Associations have the opportunities in a commonplace. Besides, there are other few objectives to list out as below:
The demand for Data Center solutions is getting higher day by day.
Many institutions and organizations will have their own Data Center as N-DC at their premises in a year or two.
There are professionals in this field of Data Center and are countable.
Need for mitigating the manipulations & random deployments of Data Center solutions.
Provide customers with various options for Data Center solutions as they will get to know that there are many other OEMs that exist and can provide better solutions.
Growth opportunity with further business in the territory of Nepal for both OEMs & Global Associations.
Awareness of standards, best practices & certifications of Data Centers.
The main objective of this Summit is to extend the Nepali Data Center Industry in Global Standards. Many National and International OEM partners and service providers will be participating in this summit. The Data Center Solutions and Products shown during the summit will be observed by the representatives of various Financial Institutions, Government Organizations, Corporate Organizations, NGOs, and INGOs.
Quick Info: Nepal Data Center Summit 2019
Date: June 27, 2019
Venue: Soaltee Crowne Plaza, Kathmandu
Contact: 014433789 | 014412365