 Nepal Clearing House Limited (NCHL) is a payment institution promoted by Nepal Rastra Bank and other BFIs. It is a central clearing house that provides major six payment systems namely,
connectIPS
NCHL IPS
corporatePay
NCHL ECC
NCHL RTGS
National Payment Interface (NPI)
These all payment methods are either electronic or digital in nature which are introduced to upgrade from the paper-based transactions. NCHL has enabled the government, BFIs, corporates and the public to receive and make payments online.
Non-Cash Retail Payments in NCHL Crosses the Country's GDP by 3 Times
Among the products by NCHL, transactions across connectIPS, NCHL IPS and NCHL- ECC are widely used for financial payments. In addition to that, the volume of transactions across these systems is gaining a momentum, leaving paper-based ones stagnant. As a result, a press release from the company itself revealed that their non-cash retail payments has crossed 3 times GDP of Nepal.
Yes, non-cash retail payment transactions processed through NCHL's payment systems during the FY2077/78 have crossed over 304% of GDP of Nepal.
In the FY 2077/78, NCHL's total transactions grew over 117%, reaching a total of 44.77 million in number. It accounted for a total settlement of NRs 13.04 trillion, which is equal to USD 209 million, EUR 249 million and GBP 272 million respectively. According to the current year's macroeconomic and financial indicators of Nepal (Mid- June 2021), the total GDP of Nepal is NRs 4266.3 billion. Hence, the non-cash retail transactions in NCHL crossed this number by 3 times, which is NRs 13.04 trillion.
Similarly, cheque clearings transactions in NCHL-ECC have grown by 21%. Moreover, transaction via NCHL-IPS have grown by 94%. The most exciting news is that connectIPS transactions have grown by over 566% in terms of volume as compared to the previous fiscal year. A detail insight about this growth will soon appear in the annual report of the FY 2077/78.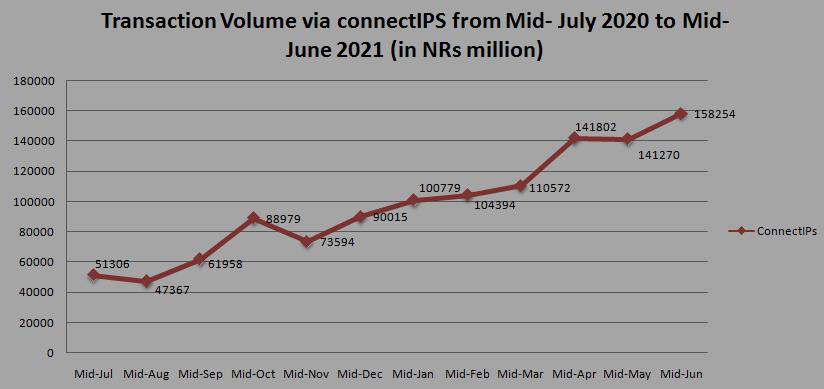 Digital Payments are Gaining Momentum in Nepal
Digital payments have gained momentum in Nepal since past few years. These transactions have increased during Covid pandemic as a result of physical restriction. It is obvious that they'll increase more in the days to come. The government also seems positive in improving the prerequisites for digital economy, under the vision to attain more than 50% governmental services under digital system by 2025. With these milestones by NCHL, all we can say is the future of digital payments is glorious indeed!
Also read: NCHL Concludes 9th AGM, Plans to Implement National Payment Switch Soon