On the occasion of Nepali New Year 2077, Ncell is providing many offers to its customers. This year Ncell has come up with various services, the major ones are the Data and SMS Saapati and International Call, where you can call people residing abroad at a cheaper rate of Rs. 2.49 per minute (Rs. 3.18 including government taxes). The international discounted call rate is applicable in 15 nations. Australia, Bangladesh Bhutan, China, Hong Kong, India Indonesia, Japan, Malaysia, New Zealand, Romania, Singapore, South Korea, Sweden, and United Kingdom.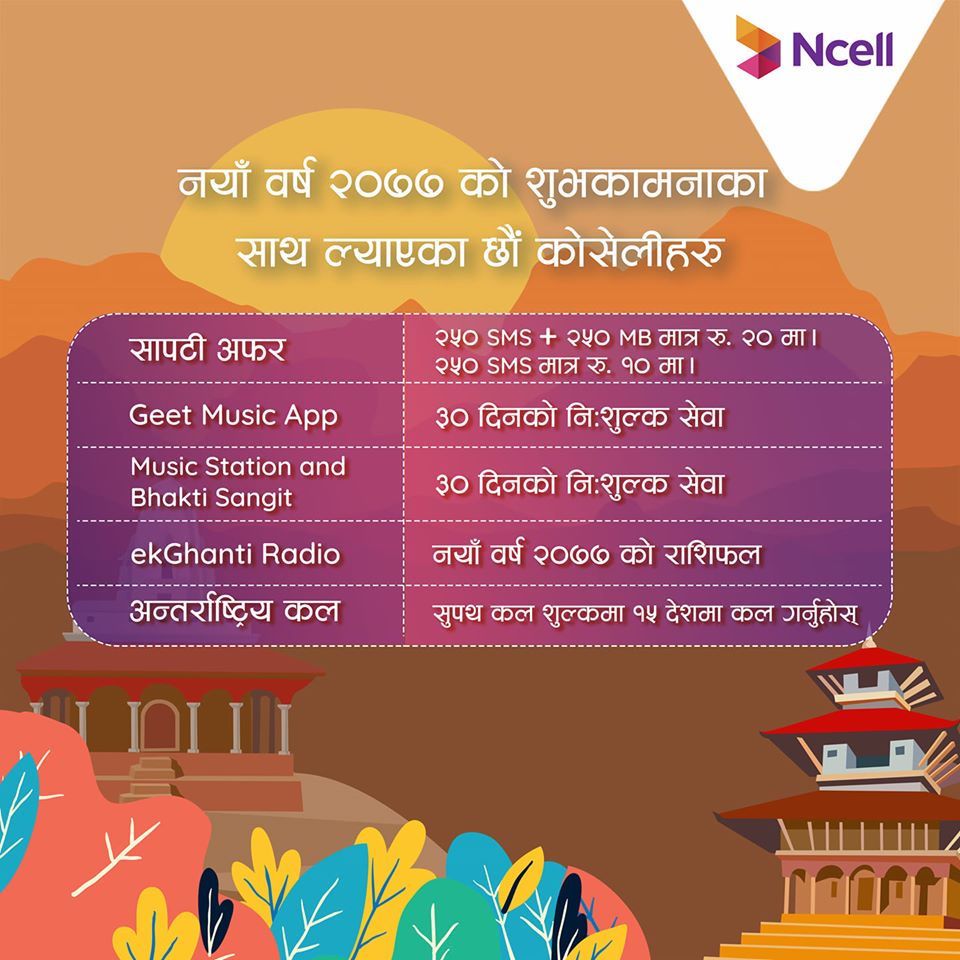 Ncell New Year Offer 2077:
In Data and SMS Saapati, you can get a data pack of 250 MB data + 250 SMS for Rs. 20 only and 250 SMS for Rs. 10 only. The Saapati amount you have taken gets adjusted on your next recharge. You can take Saapati when your balance is less than Rs.5 and your SIM needs to be at least 2 months old. You can dial 9988*77# to take this Saapati. This offer is valid till April 16, 2020.
With the help of the international call facility at a low rate, you can get in touch with your family and friends in different parts of the world. The ongoing COVID pandemic is raising our concern regarding the well being of our dear ones. So, helping us keep in touch with them and exchanging New Year's wishes this offer is very useful and considerate. Dial 17107, *17107# or type A and send it to 17107 to activate this service for free. It is valid till May 13, 2020.
Ncell is also providing services like Music Station, Bhakti Sangeet, and Ekghanti. You can listen to the latest Nepali hit songs on the Geet app. To do this you need to download the Geet app and use Ncell's number to log in, doing so you can get a free subscription of the app from April 13 to May 12, 2020. Besides, you can also get a free 10 minutes subscription of both Music Station and Bhakti Sangeet from April 13 to May 12, 2020. To get the subscription, type NY and send it to 17140 for Music station and, for Bhakti sangeet type NY and send it to 17148. If you want to get the Ekghanti Radio Service, dial 17165 and listen to your yearly horoscope. It is valid from April 13 to April 16, 2020.
What is your favorite pick from Ncell New Year Offer 2077? Please share it the comments below.