Neema Academy, Nepal's best e-learning platform is bringing the 'National Essay Writing Competition 2022' for Grade 10 students. Through this competition students have the opportunity to bring forth their "inner thinkers and writers". The top 3 will also be able to get their hands on some exciting prizes as well.
The competition started on the 6th of Shrawan, 2079 and is still ongoing. Interested Grade 10 students can submit their articles by the 25th of Shrawan, 2079. As per Neema Academy, the results will be announced by Shrawan 27, 2079.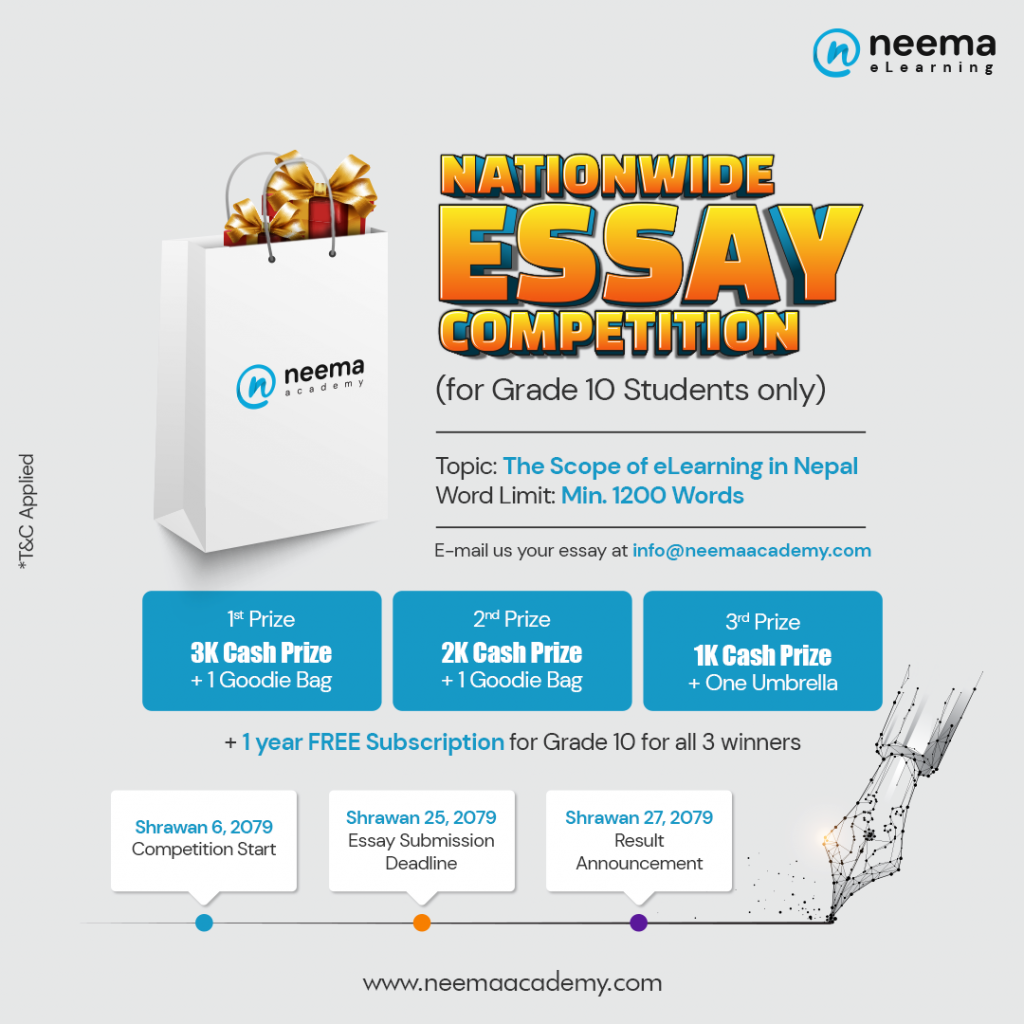 Prizes
Various prizes will be provided to the top 3 writers. The prizes to be given out are as follows:
The 1st place will be able to get their hands on Rs. 3000 cash prize and a goodie bag.
Rs. 2000 along with a goodie bag will also be given to the writer securing the 2nd position.
As for 3rd place, a cash prize of Rs. 1000, as well as an umbrella, will be given.
Also, Neema Academy will also be providing a 1-year free subscription for E-Learning Courses and Materials to all writers securing the 1st, 2nd and 3rd position as well.
Details About National Essay Writing Competition 2022
The topic for this year is, "The Scope of eLearning in Nepal."
The essay must consist of a minimum of 1200 words. Students do have the leverage to go beyond 1200 words as well.
Only Grade 10 students can participate in the competition.
The writing has to be submitted in either PDF or Doc format. Any other format will not be accepted.
The essay must be submitted via email. The mailing address is info@neemaacademy.com.
While submitting the essay, "ESSAY" must be mentioned in the subject.
The name of the participant as well as their school must be clearly mentioned as well.
Terms And Conditions of National Essay Writing Competition 2022
Plagiarism is strictly prohibited. In case an article seems to be plagiarized, the organizers hold the right to disqualify the participant.
No submission can be made after the deadline date, the 25th of Shrawan, 2079. Neema Academy is not responsible if the essay is not checked after Shrawan 25.
The organizers also reserve the sole right to change terms and conditions anytime without prior notice to the participants.
Neema Academy has the right to disqualify a participant if any of the specified criteria are not met.