 Nabil Bank had introduced Nabil DigiBank services last year to provide digital banking services. To continue with that. it has launched the Nabil DigiBank portal yesterday where you can enjoy a number of digital banking facilities.
This portal is available in both the mobile app and website of Nabil Bank. The concept has finally been updated with a separate portal in their system. You can access it going through digibasket.nabilbank.com. Also, you can go through the Nabil SmartBank app of the bank. It is available in both Google Playstore and App Store.
The bank officially launched Video KYC and Virtual iCard Facility
In the launch event yesterday, Nabil Bank's CEO Anil Keshary Shah officially announced the launch of the Nabil DigiBank Portal. In addition to that, he announced the official launch of video KYC (VKYC) services and a virtual iCard facility.
The customers trying to open a bank account with Nabil Bank can simply apply for the online bank account opening. And then, they can attend a live interaction with the bank through a video call where they can submit their credentials.
Similarly, they can also get a prepaid dollar card- Nabil iCard virtually. Customers of the bank can quickly apply for a virtual iCard by uploading their PAN and topping up the card's balance. The customer's request is processed online, and the virtual card, together with the card details, is issued instantly within the app. The Virtual iCard can also be used to make e-commerce purchases and payments. Nabil iCard is the prepaid dollar card for international payment allowed by Nepal Rastra Bank. The users can make payments up to the maximum of USD 500 through this card annually.
About Nabil DigiBank; What does it offer?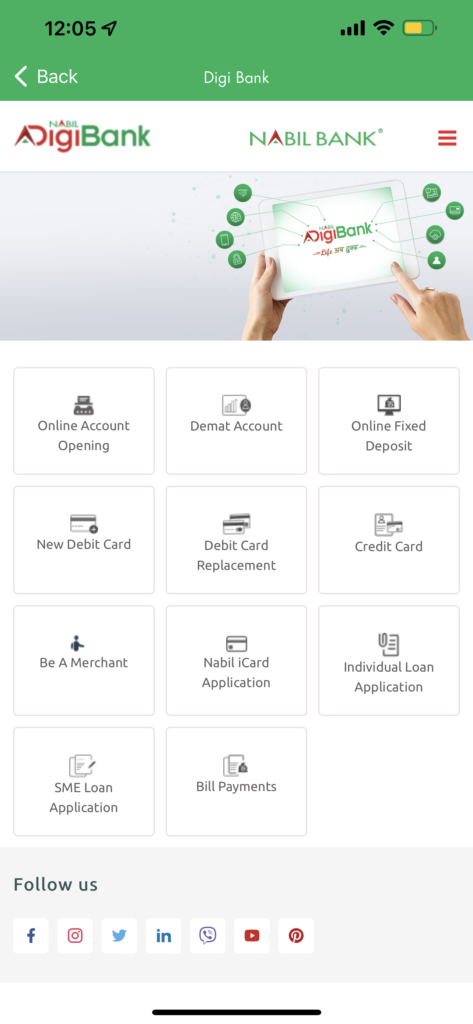 Gone are the days where you stay in line for hours to open an account in the bank. You can simply open your bank account in the comfort of staying anywhere you like. But make sure you have an internet connection.
Nabil DigiBank contains a wide variety of services that you can access online, without even visiting the bank. It includes:
Moreover, you can apply for being a merchant online. Nabil SmartBank offers these online services which can make the banking experience much easier.
As per the announcement in the launch event, the bank is soon going to build this portal to allow digital payments for partner institutions. They can collaborate with Nabil Bank and host services like bill payments, shopping, food delivery, etc. They are ready to contribute more to the digital ecosystem. Additional updates are yet to come.