 After the disappointment of MIUI 13, MIUI users are eagerly waiting for new MIUI with improvements. Most probably we will get MIUI 14. Before talking about the MIUI 14 eligible devices, let us first talk about its features, nobody has clear information about it but we can hope it will have a better control center, improved multitasking experience, better optimization, and overall improvement in the MIUI experience. In this article, we will talk about all MIUI 14 eligible devices.
The expected release date for the MIUI is around the end of the year 2022 but we have not heard officially from Xiaomi so everything is speculation. You can hope to see MIUI 14 with the support of Android 13 as Xiaomi is planning to do this with their upcoming models but it's not fixed yet so there can be a lot of changes before the official announcement by Xiaomi. Android 13 developer preview was released by Google and it has tried to improve the features that were already in Android 12.
So what about your device, Will your device get MIUI 14 and Android 13? Do not worry about it, we will provide you with the information.
We can expect it to come by the month of December this year.
The list of MIUI 14 Eligible Devices with Android 13: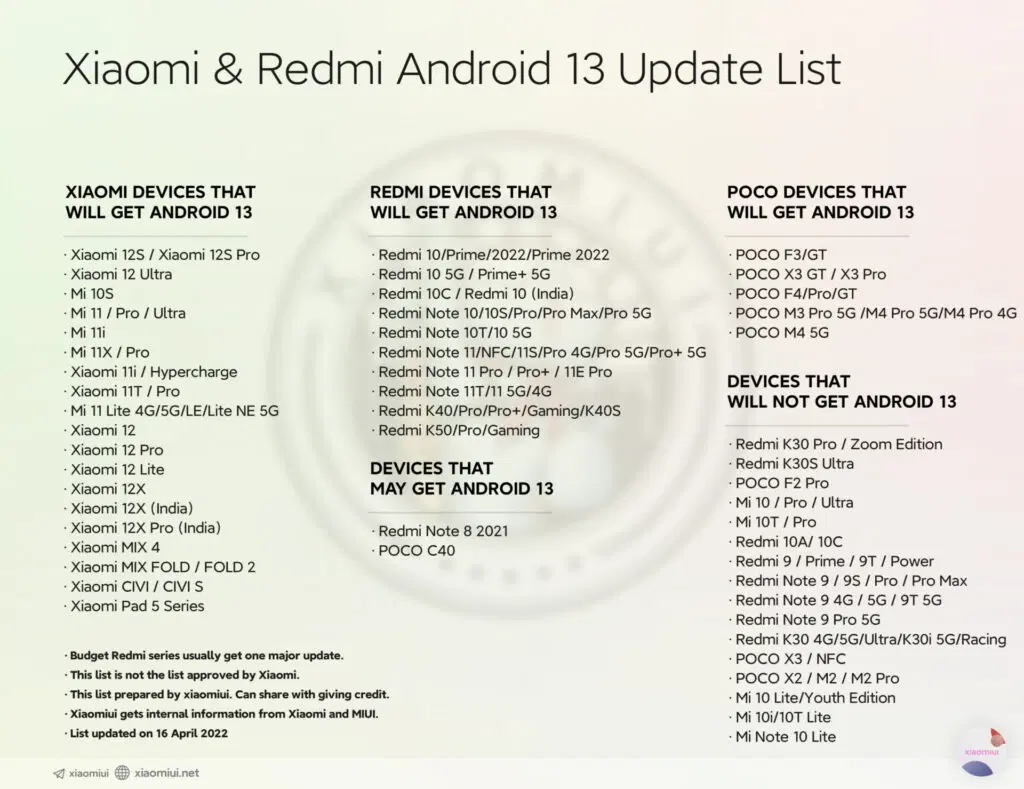 Here is the list of all the devices from Xiaomi that will get the MIUI 14 update.
Mi 10S
Mi 11i/ 11/ 11X pro
Mi 11/Pro/Ultra
Xiaomi 11T/Pro
Xiaomi 11X/HyperCharge
Mi 11 Lite 4G/5G/LE/Lite NE 5G
Xiaomi 12 / Pro / Lite / 12X
Xiaomi Pad 5 Series
Xiaomi MIX FOLD
Xiaomi CIVI
Xiaomi MIX 4 / MIX 5 / MIX 5 PRO
Here is the list of all the devices from POCO that will get the MIUI 14 update.
POCO F3
POCO GT
POCO X3 GT
POCO X3 Pro
POCO F4/Pro/GT
POCO M3 Pro 5G/ M4 Pro 5G/ M4 Pro 4G
POCO C4
Here is the list of all the devices from Redmi that will get the MIUI 14 update.
Redmi 10/ Prime/ 2022/ Prime 2022
Redmi Note 10
Redmi Note 10S/ Pro/ Pro Max/ Pro 5G
Redmi Note 11/NFC/11S/Pro 4G/Pro 5G
Redmi Note 11T/11 5G/4G
Redmi K50/Pro/Gaming/Gaming Lite
Redmi Note 10T/10 5G
Redmi Note 11 Pro / Pro+ / 11E Pro
Redmi K40/Pro/Pro+/Gaming
These all are the devices that you can expect to have MIUI 14 when it releases but there are certain devices that state is still unknown and the list of such devices that may get MIUI is as follows.
Smartphones that may fall under MIUI 14 eligible devices list:
Redmi Note 8 2021
Mi 10 / Pro / Ultra
Redmi K30S Ultra
Mi 10T / Pro
POCO F2 Pro
Redmi K30 Pro / Zoom Edition
Sadly there are some devices that will not receive the MIUI 14 update and there is a high chance that Xiaomi won't consider them for this update.
Devices that will not get MIUI 14 update:
Here is the list of devices that do not fall under MIUI 14 eligible devices.
Mi 10i/10T-Lite
Mi Note 10 Lite
Redmi Note 9 Pro 5G
Redmi K30 4G/5G/Ultra/K30i 5G/Racing
POCO X3 / NFC
Redmi 9 / Prime / 9T / Power
Redmi Note 9 / 9S / Pro / Pro Max
Redmi Note 9 4G / 5G / 9T 5G
POCO X2 / M2 / M2 Pro
Mi 10 Lite/Youth Edition
Read about: Sad MIUI 13.5 Won't be coming to these limited Xiaomi Devices
If your current devices fall under the list of MIUI14 eligible devices then congratulations to you and ready to have a better experience compared to the MIUI 13. If it does not then do not worry about it because Xiaomi keeps updating its MIUI and will try to provide you with a smooth Android experience.
Meanwhile you can also watch: