 Focusone Payment Solutions Pvt. Ltd. (MOCO) has signed an agreement with Mega Bank Limited. Now MEGA Bank account holders can now link their debit/credit cards on MOCO Digital wallet. In addition to this, MOCO users will also receive reward points for every transaction. Accumulated reward points can later be used to redeem attractive gift hampers and vouchers through MOCO's collaborators and partners.
"MEGA Bank account holders can now directly add their debit/credit cards on MOCO without the need to load funds. The process is simple and doesn't require any additional costs. Through the wallet, users have the freedom to select any card added into their wallet. In short, it acts as a shared hub for multiple bank cards and users can simply scan to make a payment. It eradicates the requirement of loading balance every time while performing a transaction."

Anupama Khunjeli, CEO of Mega Bank Nepal Limited
Likewise, Head of Digital & eBanking Department, Mr Bishwa Singh shared, "Mega Bank account holders can now rejoice the benefits of MOCO Digital Wallet. For new users, MOCO is a completely different kind of wallet designed by keeping convenience and security in mind. The app is equipped with a secure back-end system, which is one of the most sophisticated and it complies with the latest Payment Card Industry Data Security Standard (PCI DSS)."
Besides that, MOCO Digital Wallet users can also rejoice the benefit of unified QR payment. With this feature MOCO users and Mega Bank Card users can just scan and pay from multiple digital platforms including but not limited to Alipay, Nepal Pay, UnionPay, and VISA.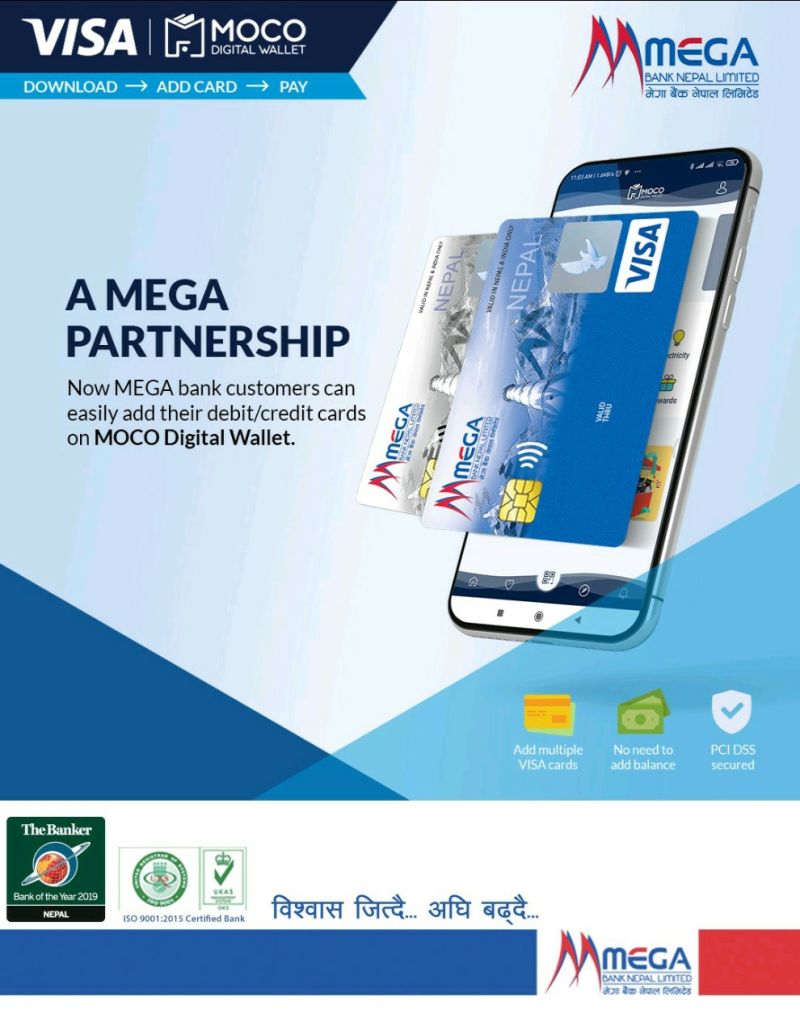 About Moco Digital Wallet
MOCO is a product of NRB licensed PSP Focusone Payments Solutions. The wallet introduced the first card-based QR-payment system in Nepal. MOCO users can also link their VISA Cards to the wallet. MOCO app is available for download on Google play and Appstore.