LeoSquad, Nepal's First Virtual Workspace goes official today. The current pandemic has pushed people to find ways to get work done, which has increasingly started the 'Work from home' culture for people to be safe and work at the same time so Leosquad promises to Ease the transition to remote work.
In times like this LeoSquad software, a fully functioning virtual workspace is being launched in the market which has the combined features from all the other existing software in the market. Compared to the physical workspaces, LeoSquad is an economical choice. The software is also an ISO/IEC 17788: 2014 certified product of Analogue Inc. adding a trust value to the software.
From the choice of renting a space, bearing costs of accommodating employees and buying assets, virtual work spaces help entrepreneurs to save time and money. Using LeoSquad to upgrade to a simpler and more cost-effective framework and running the everyday task with convenience is a smart option. The dashboard is your workspace where you discover departments, people, jobs, customers, etc.
What is LeoSquad?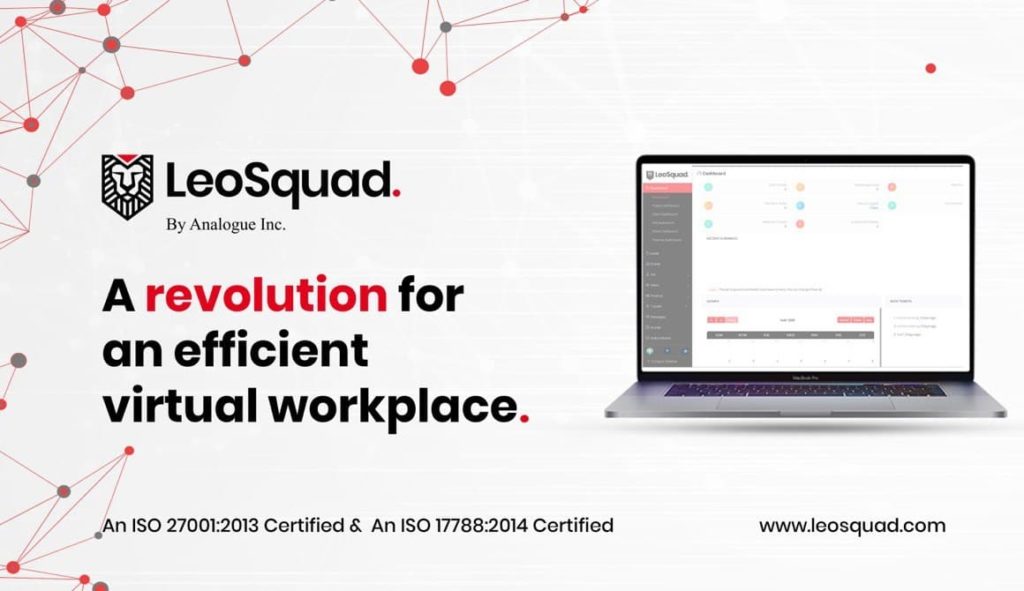 LeoSquad seems to be a revolutionary product, considering the current situation and all the features and prices that they offer, your workspace will be a productive and cost-effective one. LeoSquad is designed in such a way that an entrepreneur and the worker can perform all of the vital duties from the comfort of their very own homes.
The foremost vision of the company is to make the workspace productive, and efficient along with building entrepreneurship in the country. LeoSquad presents a platform for all commercial enterprises and entrepreneurs making their work-life a fruitful one. From virtual signatures to zoom calls LeoSquad has it all to equip you for your work setup, and the good thing is one does not need to be tech-savvy to figure out how to use LeoSquad.
Why Use Virtual Work Space?
Ease transition to remote work
No physical office space means lower costs
SEO Geolocation, A fixed address
Environment-friendly
Save money on technology
No commute time, more
Introductory Offer
Get ready to experience the revolutionary software that will successfully change your idea of work from home, making your tasks much easier, convenient, and productive. Also, the company is giving a 20% discount to our first 100 customers. Hurry up and Grab the Offer.