Nepal Rastra Bank has published its annual report of the Fiscal Year 2077/78. Highlighting the milestones it has reached in the 66 years of operation as the Central Bank of Nepal, the document this year was quite impressive as it portrayed the surge of digital payments in the country along with the financial inclusion.
The 24th point of executive summary highlights that the financial access of people towards banks and financial institutions (BFIs) has increased to a larger extent. It is noteworthy that today 747 out of 753 local level governmental units are endowed with the commercial banking services. Data speaks, till the end of FY 2077, there has been a total of 4436 branches of "A" class BFIS (Commercial Banks), 1029 branches of "B" class BFIs (Development Banks), 243 branches of "C" class BFIs (Finance Companies) and 4057 branches of "D" class BFIs (Microfinance Companies) across the country. Similarly, the number of branchless banking has reached 1574.
Along with the increment in banking activities, adaptation of digital payment methods by the customers has also been another milestone in the path of digital economy that the nation has envisioned. Moreover, the Covid-19 pandemic that is still prevalent has somehow been a boon to foster the use of digital payment methods at large.
Central banks around the world are responsible for facilitating the revolution in finance and payment systems, thereby promoting financial inclusion. Nepal Rastra Bank has also been focusing on contributing as the central monetary authority by facilitating in establishing and improving payment infrastructures, formulating and implementing various legal and regulatory frameworks, encouraging innovations and promoting digital financial literacy.
The Current Scenario of Digital Payments in Nepal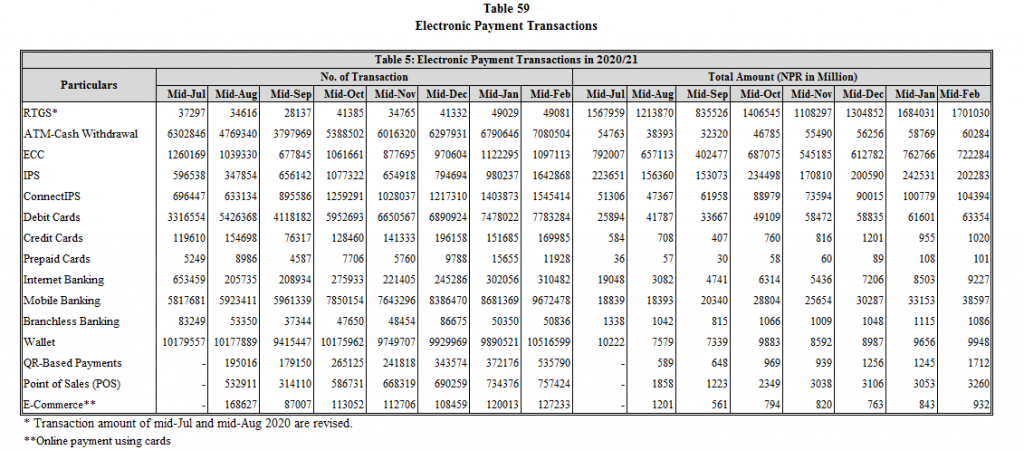 The use of digital payments instead of paper-based transactions is increasing in Nepal as the forward linkage with the rise of e-commerce businesses in the country. Similarly, though the wave of digital payments has hit Nepal late among other neighborhoods, most of the city dwellers are accustomed to using digital payment systems like digital wallets, mobile banking services, QR codes based payments, and integrated payment systems like connectIPS for various transactions and payment activities.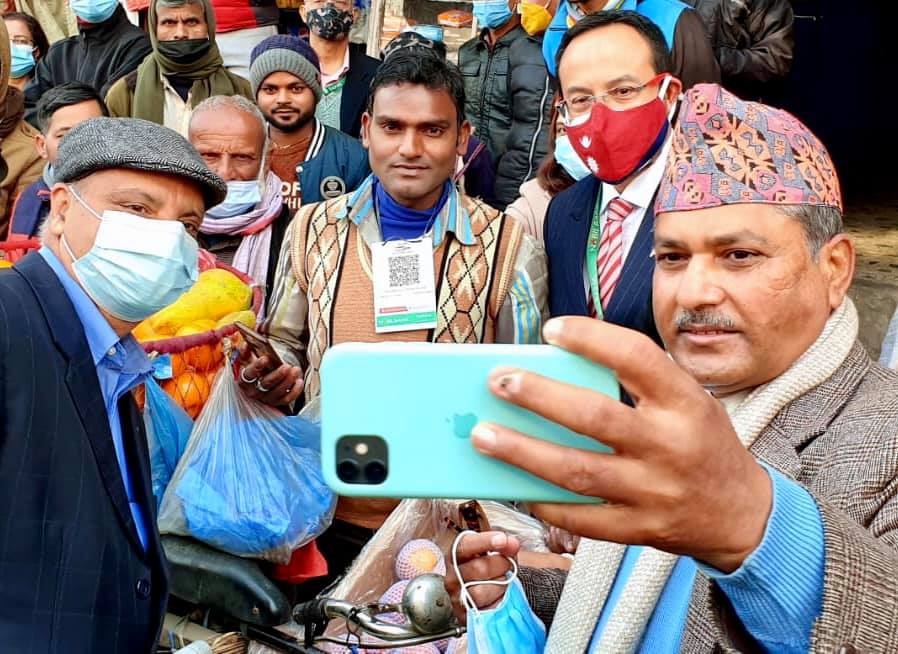 In this regard, under the leadership of the NRB Governor Maha Prasad Adhikari, digital payment system has been widely used in the country in the last year, and is still going on. The picture of him personally using a QR code payment in the vendor market of Naxal, Kathmandu created a huge buzz.
Be it in the Virtual Inauguration of Singapore Virtual FinTech Festival or our own Digital Nepal Conclave, he has shown his presence and highlighted the commitment of the central bank in developing the digital economy and promoting the financial system of Nepal.
Similarly, there are other numerous commendable steps taken by the governor on behalf of NRB so as to ease the effort of both the government and the private sector in building the foundation for digital Nepal.
Currently, the digital payment spectrum of Nepal can be summarized as in the following:
There are 23 non-bank institutions licensed by NRB to operate as payment institutions. Among them, 14 are Payment Service Providers (PSPs) and 9 are Payment System Operators (PSOs).
Almost all of the 27 commercial banks have their own payment systems in the form of mobile banking services or internet banking services
In retail payment systems, ConnectIPS, Mobile Banking, Internet Banking, Digital Wallets, QR Code payment systems are the major developments so far
NRB has given authority to operate Real Time Gross Settlement System (RTGS) for large value payments
There are some QR code PSOs like FonePay, Smart QR, and Union Pay. Similarly, other PSPs like IME Digital Solution Ltd, Q Pay Pvt. Ltd, Sparrow Pay Pvt. Ltd, Cellcom Pvt Ltd and Nepal Pay Time Pvt Ltd. Other payment system providers accept these major QR payment systems in their digital wallets or mobile banking systems.
Even Nepal Clearing House Limited (NCHL) has its own payment systems for various purposes namely- connectIPS for retail payments, connectRTGS for the execution of critical and high-value transactions, corporatePay for corporate and business members, NCHL-IPS for direct debit and direct credit related transactions, NCHL-ECC to facilitate the electronic cheque clearing among the BFIs.
The integration of financial and banking technology has boosted the fin tech revolution where government payment services are also being available in digital wallets developed by the private sectors.
The number of outstanding credit cards has increased by 30.17% between Mid July of 2019 to Mid July of 2020.
In the year 2076/77, Nepal witnessed a 19.14% growth in inter-bank payment system (IPS) transactions
NRB's Role in Facilitating Digital Payments
Now that we have known about the current scenario of digital payments in Nepal, let us know the policy level efforts made by the central monetary authority, NRB itself in fostering digital payments.
In this ongoing tenure of the Governor Maha Prasad Adhikari, NRB has supported digital payments in the following ways in his leadership:
The major achievement is that Nepal has finally got the International Payment Gateway option since NRB approved the use of Prepaid Dollar Card for international purchases, with a maximum balance limit of $500 annually.
NRB has handled the implementation of Real Time Gross Settlement (RTGS) System according to the RTGS System Rules

, 2019 that was initiated on 26th of Bhadra 2076. This service is operated by 37 BFIs as of now.
NepalQR Standardization Framework and Guidelines has been formulated to facilitates QR codes based payments and to govern the PSOs and PSPs providing this service
The transaction limits on Mobile Banking, Internet Banking and Digital Wallets have increased by two folds.
Also see: https://techsathi.com/nrb-revises-daily-mobile-banking-and-internet-banking-limit
During the Covid-19 outbreak in 2077, NRB eased the public from the discomfort by removing cross-ATM usage charges, waiver in RTGS transaction fees and extending the transaction limits on card transactions, POS transactions, ATM withdrawal, mobile banking and internet banking.
At present there are 10 PSOs and 28 PSPs including both BFIs and non-banking institutions
NRB has issued a circular regarding consumers' right protection for digital payments usage.
Similarly, other BFIs have also joined the commercial banks in the campaigns like UKaid Sakchyam, Access to Finance, which is led by the central bank.
Retail Payment Strategy has been formulated for facilitating a safe and efficient payment system.
NRB has partnered with the Ministry of Information and Technology to formulate Digital Nepal Framework– 2019 as an effort in making the vision of "Digital Nepal" a reality in the near future.
It has issued Payment and Settlement Directives 2077, complying with the Payment and Settlement Act, 2075 to facilitate secure, reliable and efficient payments.
Nepal Clearing House Limited (NCHL) has been allowed to operate National Payment Switch as an integrated payment system within the end of FY 2077/78.
Conclusion
These are noticeable efforts made by the team of the Governor at Nepal Rastra Bank to strengthen the grip of digital transactions in the economy. Still, there are more issues left to be solved in case to spread digital payment access around the country. The leadership of Maha Prasad Adhikari as the 17th governor of NRB has proved to be a boon for uplifting digital transactions. With his 21+ years of intensive experience in the Nepal Rastra Bank and as the CEO of Investment Board Nepal since 2016, he has been trying out as much as possible to contribute as the governor of NRB. We hope this effort continues and also the public-private partnership (PPP) would exist in making Nepal a digitized economy.