Khalti is an emerging digital wallet and payment gateway in Nepal which has been gaining popularity in an outstanding rate. It has been offering on of the safest and fastest online payment experience for several Bill Payments, Mobile Recharges, DTH payments, Money Transfers, Domestic Remittance, shopping and wallet payments. Moreover, Khalti provides an easy way to send money or accept payments instantly. For a common marketplace, Khalti emerged out of nowhere as an alternative app of E-Sewa and IME Pay. At least, it was thought to be an alternative at the beginning. (We Nepalese love comparisons, don't we?) But speaking of now, it has created its own existence in the digital wallet market of Nepal.

Now, Khalti is partnering with 'Ko Banchha Crorepati' (The Nepali franchise of Who wants to be a Millionaire) to bring a golden opportunity to Khalti users to be in the Hot-seat. Doesn't that sound exciting? Saying that, you are automatically going to get a chance to meet the host of "Ko Banchha Crorepati" and superman of Nepalese movie industry Rajesh Hamal, if you manage to get there. Also, you know the rules; you will get a chance to win Rs. 1 crore if you play the game well.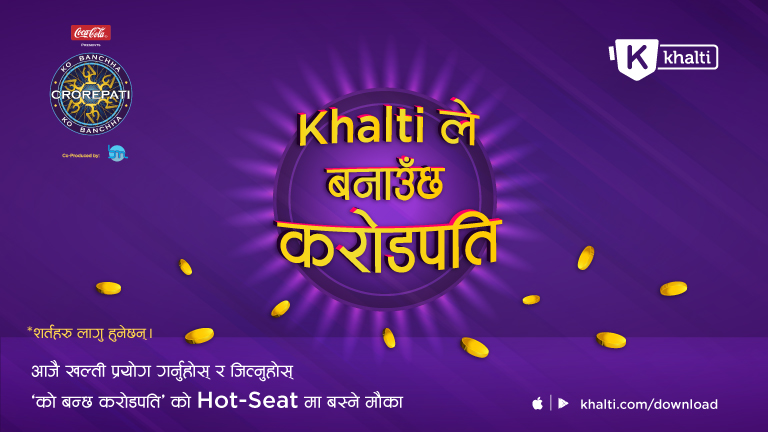 Rules to Participate in Khalti 'Ko Banchha Crorepati':
Here are some of the rules of Khalti to be eligible to participate in Ko Banchha Crorepati:

1.The scheme will be applied only to the business days from 2nd May to 7th May.
2. The offer will be applied to both the users and shops who have User Verified (KYC Verified) account within Baisakh 24.
3. The user who is involved in the scheme should have the transaction of at least Rs. 1000 and Khalti shops of at least Rs. 5000 within that period of time.
4. One of the lucky customers who has fulfilled all the conditions will be selected randomly through a lucky draw in a Facebook Live session.
5. The selected user can go themselves or send someone else in the show.
6. The person to go for the Fastest Finger First should wear the t-shirt of Khalti or showcase the Khalti Brand in some ways.
7. The person in the show should obey by the victory, tax and other provisions according to the rule of the show.
You can view these rules in Nepali Language here.
So, What are you waiting for? Start using Khalti and fill up the KYC form to do some transaction and be make yourself eligible to participate in 'Ko Banchha Crorepati'. Best wishes from our team "Tech Sathi".