Khalti Digital Wallet has provided API to its merchants through "Smart Udhyami" campaign for free. Regarding the current pandemic prevailing in the country's economy, it has deteriorated the business of Small and Medium Enterprises (SMEs) at large. To counter this economic slowdown to some extent and to contribute in aiding digital access to the SMEs, Khalti has made this provision where merchants can integrate Khalti as their payment gateway for free. 
Those users who would like to register as a merchant would get to enjoy the following services under this campaign:
Free Khalti API Integration
Free API/Bulk SMS Portal
Free Annual Maintenance
50% off in SMS Promotion
Minimal Service Fees
How is this going to help the SMEs and other merchants?
Well, this facility provided by Khalti enables the SMEs to become a merchant very easily through the open API. Khalti has made this decision to provide payment gateway for free to merchants willing to integrate Khalti as their Payment Gateway. The offer would be effective from Asadh 1st and is expected to last throughout the month.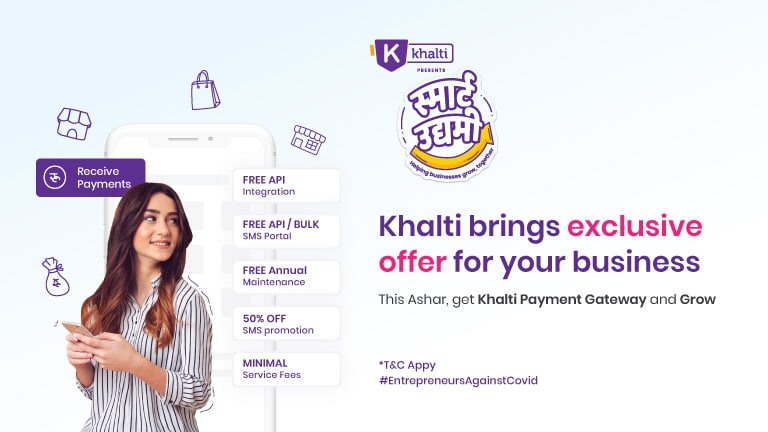 Khalti is the first digital wallet in Nepal to have an open source API, which means anyone can test Khalti integration without consulting them.
Mr. Jonaam Bhurtel, Business Development Manager of Khalti shared in a press release that this service has been introduced with a vision of strengthening merchant's economic condition in this pandemic. And they are optimistic about the service to be helpful for many merchants to grow their businesses during these hard times since the process of integrating API is highly secure, simple and fast.
How to become a merchant in Khalti?
One must create a merchant account in order to enjoy this new service by Khalti. One can go to the official website of Khalti and go to More option in the top right corner of the home page.
For those who are looking forward to opening a merchant account in Khalti, you can simply follow these steps:
Step 1: Click on the "More" option in the top right corner of the home page.
Step 2: Tap on "Merchant Signup " to register
Step 3: Enter your organization's name, contact number and other details, and tap on join.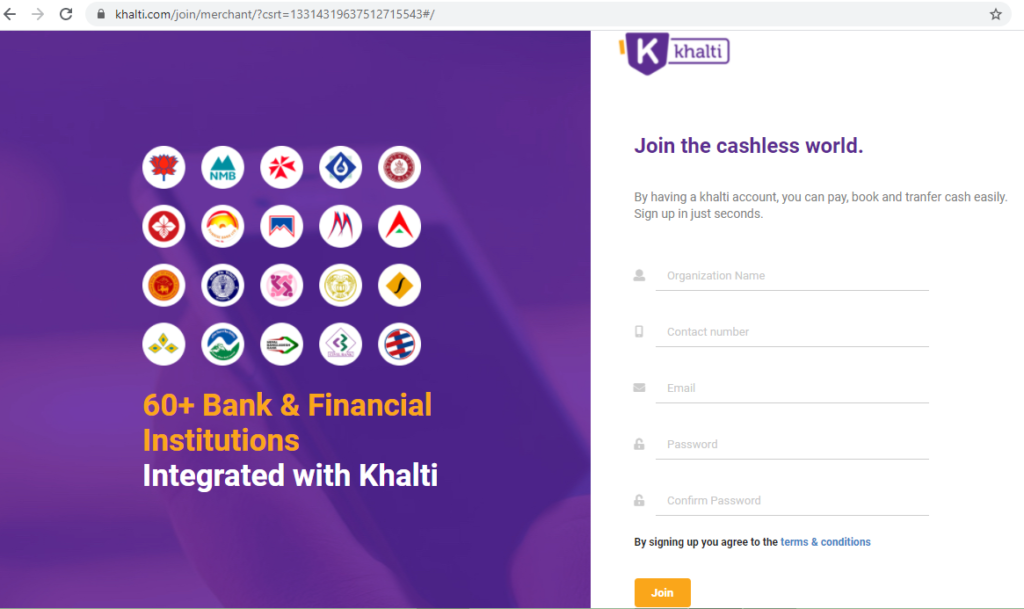 After the completion, you can easily log in to their dashboard and update the business KYC and Banking options for future withdrawals. The required API documentation and Test keys are available on the Home screen of the Merchant Dashboard with a provision to receive Live keys on successful Test Transaction, minimizing merchants' dependency upon the service provider.
A relief for merchants and SMEs
Along with its competitors in the domain of digital wallets, Khalti has been introducing novel schemes and programs which are more aligned with a social virtue. So, it has not only been limited as a mere digital payment system, but also as a platform that provides payments through E-banking, Mobile banking, Connect IPS options and SCT coverage. Similarly, its offers like this which are introduced time and again are making a mark in the digital economy where small business owners are also enabled to utilize the power of digital payments which could further bolster their business operations. Since its establishment in 2017, Khalti has been promoting digital payments in its own ways, either by introducing more and more services or by integrating digital literacy programs. This new feature is expected to support the entrepreneurs and SMEs owners to level up their business with the support of digital payment system.