 In the latest context, there has been a lot of discussion about the price of oil. The price of petroleum products in Nepal including Petrol, Diesel, Kerosene, and LPG gas has skyrocketed recently. We are witnessing an all-time highest oil price in Nepal till date. Just a couple of days ago, the board of directors of state-owned petroleum importer, Nepal Oil Corporation (NOC) decided to increase the price by NPR 10 after which a liter of petrol would cost NPR 180 per liter will be effective from Monday.
The Nepal Oil Corporation on Sunday hiked the prices of all petroleum products, a week after the last increment. Just the week before, the petrol rate was NPR 170 per liter from the last increment. even though it's been just a week now and NOC has hiked prices again including other petroleum items to the new rate, keeping its highest of all time. With the revised rate, petrol costs Rs180 a liter, diesel Rs163, cooking gas Rs1,800 per cylinder now.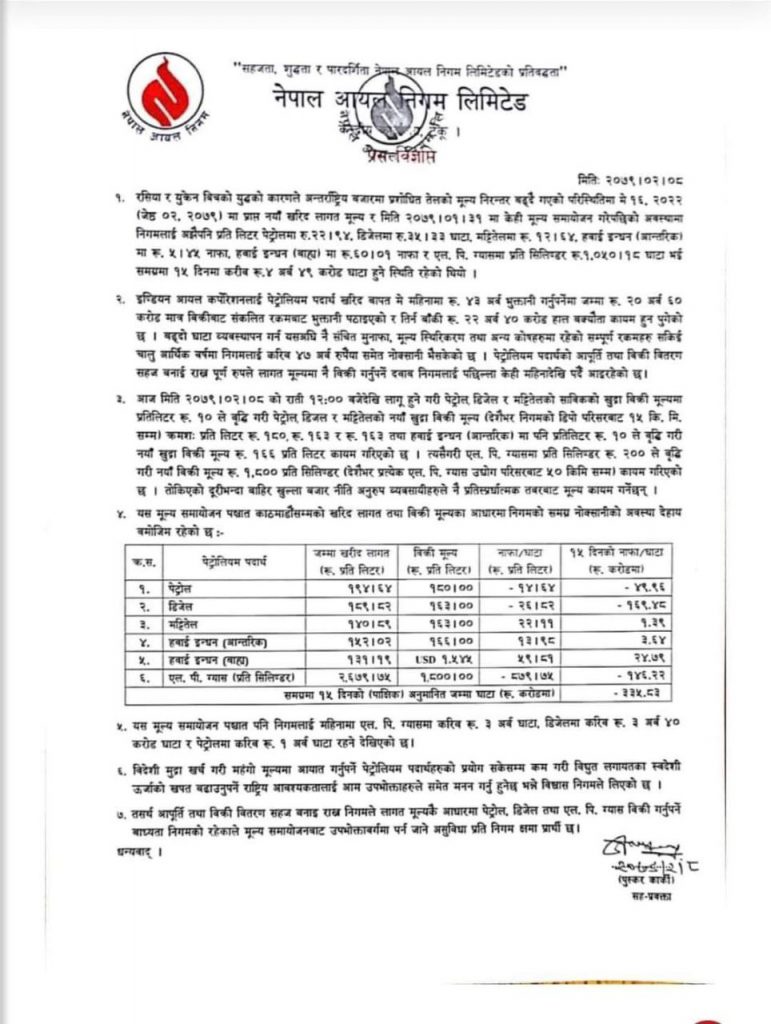 Reasons for Continuous Price hike in Petroleum products
The Nepal Oil Corporation (NOC) buys every petroleum product from the Indian Oil Corporation (IOC). That means we can say the 100% dependency of Nepal is Indian Oil. Thus there are no alternative methods for us to buy oil.
Also, the main reason is the Russia-Ukraine war. Since Russia is one of the highest oil producer country and its invasion of Ukraine has affected its oil economy on a global basis. Another reason we can count is the inflation rate.
Is It just the price of oil you pay? Here's the segmentation of Oil Price in Nepal!
Since the state-owned NOC had declared itself bankrupt in January despite hiking fuel prices to near-record levels. The corporation mentioned in a press statement that out of the Rs. 43 billion amount that it needs to pay its supplier—Indian Oil Corporation, by May, only Rs. 20.60 billion has been cleared so far due to cash shortage. It owes Rs. 22.40 billion in dues to the Indian Oil Corporation. Since then, calculations have been made out to speculate how high the price of oil could reach.
Calculations show that still NOC has been selling oil in a significant loss bearing itself. The loss in diesel is Rs. 26.82 per litre, the corporation said in a statement. However, the corporation enjoys a profit of Rs. 22.11 on a litre of kerosene.
assuming the calculation, The NOC doesn't sell oil at its cost price but adds a bucket of taxes and other additions. Besides the oil, the addon consists of government tax, which is obviously high. The table shows the total calculations.
| | |
| --- | --- |
| Add-ons | NPR Per liter |
| Petrol cost price | Rs. 117.28 |
| Govt. total taxes | Rs. 64.01 (taxation may differ) |
| Carriage | Rs. 5.60 |
| NOC A&S expenses | Rs. 0.60 |
| Insurance expenses | Rs. 0.07 |
| NOC technical reserve | Rs. 1.31 |
| Dealers commission | Rs. 5.76 |
| Total: | Rs. 194.64 |
This data is from May 23, 2022.
As this data is of May 23, 2022 the price has been set at Rs. 180 per litre. So the NOC was on a straight loss of Rs. 14.64 bearing on its own.
Nepal – India Price Comparison
The border comparison of oil between Raxaul, India and Birjung, Nepal shows a difference of Rs. 25.23 in Petrol and Rs. 19.61 in Diesel.
| | | | | |
| --- | --- | --- | --- | --- |
| SN No | Location | Petrol NRs/Ltr | Diesel NRs/Ltr | As of Date(AD/BS) |
| 1 | Delhi, India | 154.75 (96.72 INR) | 143.39 (89.62 INR) | 2022-05-23 / 2079-02-09 |
| 2 | Kathmandu, Nepal | 180.00 | 163.00 | 2022-05-23 / 2079-02-09 |
| Difference | | -25.23 | -19.61 | |
Comparing all the costs of petrol and diesel, The price of oil in Delhi today is 96.72 INR which is after INR 10 decrement in both petrol and diesel. whereas, the price of petrol in Nepal seems NPR. 180 per litre. All the data demonstrates that the price of oil in India is cheaper.
Also Read: Where is Puryau On-Demand Delivery? Did it run away with the seller's money?