 Puryau On-Demand Delivery is getting a backlash from many people all over social media since the company is alleged to have been swiping off the money of the sellers outsourcing their deliveries through it.
Puryau On-Demand Delivery (registered name- Puryau Services Pvt. Ltd.) has been providing deliveries to various e-commerce businesses and vendors along with handling their Cash on Delivery (COD) while making payments. However, it has been some weeks that this company is not in sight of the vendors to pay the COD amount that it has collected from the customers after delivery.
A lot of e-commerce owners and sellers have complained that they still have a lot of amount remaining for settlement. More than 2500 online businesses have been outsourcing their deliveries with Puryau. While on the other hand, they have not been getting any response from the company upon making various requests and contacts.
DonZa K. Limbu frustratedly writes on IT Entrepreneurs for Nepal,
"I have been working with them for the last 8 months as online seller. they were working pretty well with delivery but they weren't paying our COD amount from the last 4 months. I have called them multiple times and still got no response from them. I think I'm scammed by this company. "
Following the suit, many other victims also claimed that they have not been getting their payments. The amount of money is yet to be calculated. The sellers claim they have yet to receive their Cash on Delivery (COD) money ranging from Rs 2000 to over Rs 50,000 too.
Adding to the similar experience, Joshep Shrestha shares,
"I too had to receive around Rs 80,000. What I did was visit their office regularly and pestered the founders and got my money back. It was a lot of hassle and since then, I have stopped doing business with them for the last 4 months.
Let's check the Google reviews of Puryau On-Demand Delivery
If you check their Google reviews, a lot of them are about complaints about the failure of their payment. They have two apps developed by Bharyang Ventures Pvt. Ltd. You can find them on Google PlayStore and App Store.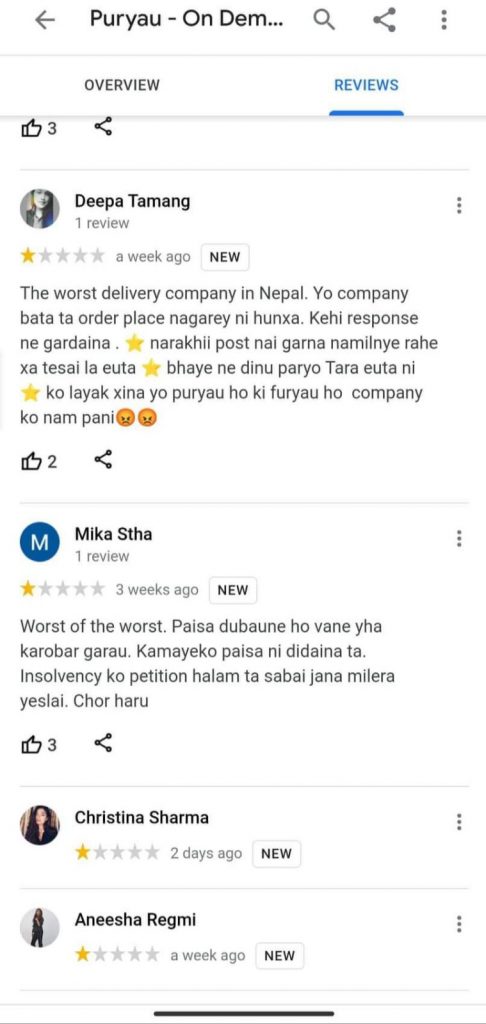 Where is Puryau On-Demand Delivery (Puryau Services Pvt. Ltd.) now?
First, let us know how a delivery company works. Mostly, delivery companies and vendors (businesses) enter into an agreement where the delivery company agrees to take pick-ups of the orders and deliver them to the customers of the vendor company. A lot of e-commerce businesses have been doing so. Since Nepali customers are not yet convinced with the idea of pre-payments, they mostly prefer cash on delivery (COD). That cash is paid to the delivery person by the customers which is the earning of the vendors.
Then, the delivery company keeps their delivery charge and then gives back the remaining COD amount to the vendor.
All these processes were going smoothly and suddenly the vendors of Puryau company are getting made to wait too long for making payments. Puryau was offering delivery services at just Rs 100 inside the valley.
Their office is located in the Sankhamul area which is now locked, and nobody is answering a call. On the entrance, they have left a notice of being closed under further notice. And if you will try to call any of these 4 numbers provided there, that will just be a waste of time now.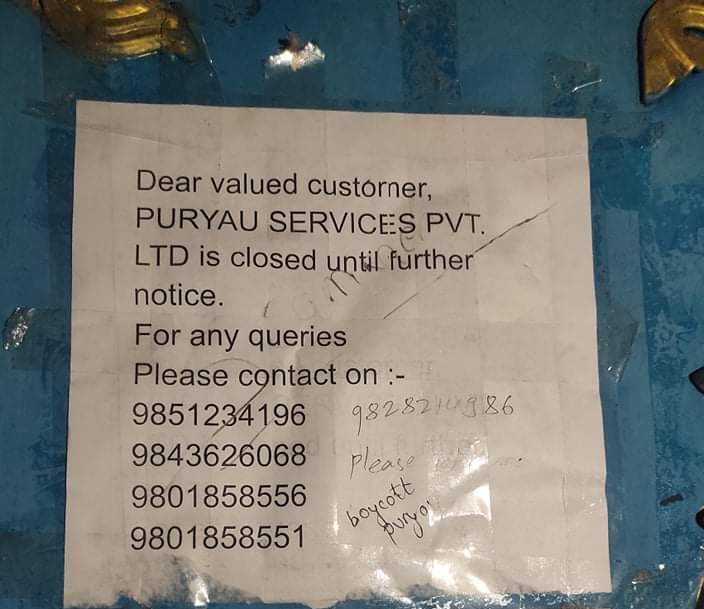 Did they run away with all the COD money? Well, it still doesn't seem so since their social media posts show another picture too.
If you check their posts from December 2021 to March 2022, most of them are about job posts. They have been looking for riders for delivery for their various branch offices in the major cities like Itahari, Sarlahi, Kathmandu, Rajbiraj, Birgunj, Chitwan, etc. The latest post is on 23 March 2022 which states they are looking for riders for Chitwan.
So, there arises a question- How is the company that is expanding getting on all those BAD DEBTS? Is it because of the multiple office branches in multiple locations? Did their operational cost become such high that they had to use the COD money of their sellers? Well, this would be cleared only when we hear their side of the story.
A few days ago, their Instagram story read: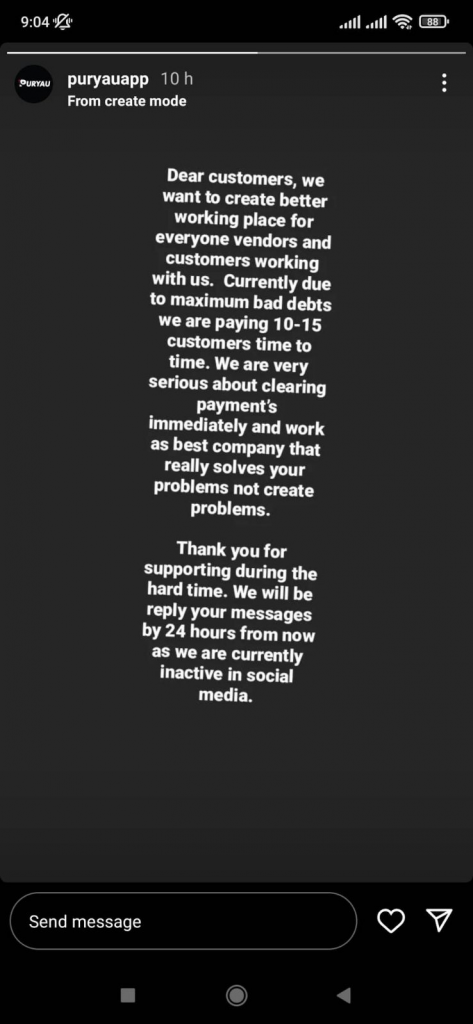 Well, at least they posted a story but the vendors are still complaining they have not got their payments and are threatening to go for legal action.
Did you know? Puryau On-Demand Delivery Company was a finalist in ICT Awards 2021
Puryau On-Demand Delivery Company was one of the finalists in the ICT Awards 2021 last year. On its registered name Puryau Services Pvt. Ltd., it was competing with top 5 other startups like Dulwa, Kheti, Nirman Sathi, and House of Books. The company is led by 4 youths.
With these issues arising at present, the brand image of the company is also at risk. A lot of vendors have already stopped bearing the hassle of contacting them just for a "NO RESPONSE". And their vendor terms and conditions read as it is:
"Puryau" only handles orders for COD below 10,000. Items with COD above 10,000 should be shipped with "Vendor" 's own risk and "Puryau" doesn't provide insurance for such items. The special agreement should be requested if the "Vendor" wants insurance of such item from "Puryau"
Both Parties Financial reconciliation will be done after "Payment Request" from the "Wallet" of "Puryau" on www.puryau.com, payment requests on social media or phone calls won't be considered as official payment request, "Puryau" is not responsible for such unofficial requests. Mode of payment can be defined as per the convenience of the accounts department of 1st and 2nd parties.
"Vendor" cannot request payment below Nepali Rupees 5,000 from the system, chat, or phone. Such payment should be collected in cash from the office once a week.
You can check other terms and conditions by clicking here.
So, this reminds me of the most popular phrase in Business Law- Caveat Emptor. The literal meaning of this is- "Let the buyer beware." If you have signed a contract with Puryau and seem like you have been scammed, feel free to send your comments.
Also Read: Loading Digital Wallets through Credit Cards? Beware of These Rules from Now on