The application form notice for IOE Entrance Exam 2078 has finally been published by TU. Institute of Engineering (IOE) constituent campuses and affiliated colleges called for the application of students in various programs at the Bachelor of Engineering / Bachelor of Architecture (BE / B.Arch level) for the academic year 2078. If the covid situation stays in control, the entrance examination will be conducted from 8th Falgun as per the plan.
IOE Entrance Exam 2078 Registration Notice
Applicants who are willing to appear in the entrance examination to be held by IOE for enrollment into B.E. or B.Arch. levels of its constituent campuses & affiliated colleges must fill the online application form through the website: http://entrance.ioe.edu.np.
Entance Exam Date: 2078 Falgun 8
Examination Venue: Institute of Engineering (IOE), Information and Communication Technology Center (ICTC), Pulchowk
Deadline to Apply: 2078-10-27, 5:00 PM
Application Fees: Rs. 2000
Fees Payment Methods: Online Payment (Mobile Banking, eSewa, Khalti, Connect IPS)
Academic Programs
Civil Engineering
Electrical Engineering
Electronics,Communication and Information Engineering
Mechanical Engineering
Computer Engineering
Agricultural Engineering
Industrial Engineering
Geomatics Engineering
Chemical Engineering
Aerospace Engineering
Architecture
Payment Information for Entrance Exam
The applicant must deposit an amount of NRs. 2,000 in the account of the IOE Entrance Examination Board in any branch of Siddhartha Bank Limited of Nepal by filling up the specially prepared voucher for the applicant by the bank. The applicant can also deposit this amount using Siddhartha BankSmart or e-Sewa/ConnectIPS/Khalti. The Voucher No./ Transaction ID No. must be entered in the online form.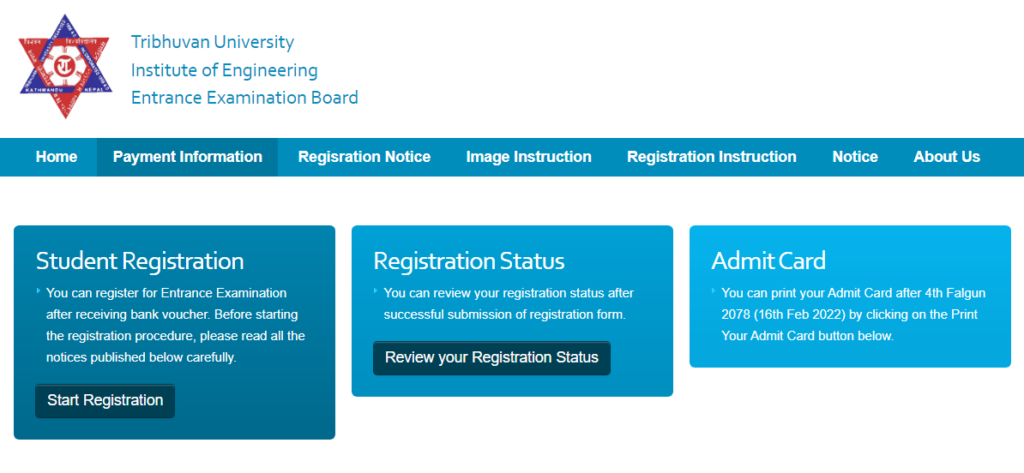 Eligibility Criteria for Application
Proficiency Certificate Level, Higher Secondary Level or A Level or Engineering Diploma level in Physics, Chemistry, and Mathematics subject in 11th and 12th class from TU or its recognized educational institution. In the case of NEB, Students who have passed with a minimum C grade in the Final Grade of all subjects will be able to apply and participate in the entrance examination.
How to Register for IOE Entrance Exam 2078
The application form for the entrance examination of the Institute of Engineering Studies at https://entrance.ioe.edu.np should be filled by the applicant himself and submitted online through the same website.
Online Form Edge will be available on the website only from 10:00 AM on 2078-10-13 to 5:00 PM on 2078-10-27. Therefore, it is advised to complete the examination form at any time within the period. The online form will be closed automatically after the specified time.
Application form can be filled out from any place with an internet facility at any time on specified days.
Registration Tips and Instructions
All information should be provided. However, fields marked with asterisk (*) are compulsory to be filled.
In the name field, First name, Middle name and Family name must be entered in the respective fields.
Date of birth and the permanent address must match with information mentioned in academic document or citizenship certificate.
Applicant must upload Citizenship certificate, Passport or admission card of the last examination as an identification document.
Applicant must upload recently taken digital photo 300*350 pixel(width by height) of prescribed specification.
If there is any mistake, please edit the information by pressing edit button. "DO NOT PRESS BACK BUTTON OR REFRESH BUTTON OF BROWSER" for editing your information."
After submission, applicant will get a confirmation page. Print this page and keep it with you until you get your admit card.
IOE Constituent campuses and Affiliated colleges
The constituent campuses and affiliated colleges run under the Institute of Engineering (IOE) are as follows:
Constitutent campuses
1) Pulchowk Campus, Pulchowk, Lalitpur
2) Thapathali Campus, Thapathali,
3) Eastern Campus, Dharan
4) Western Campus, Pokhara
5) Chitwan Engineering Campus, Rampur, Chitwan
Affiliated colleges:
(1) Kantipur Engineering College, Lalitpur
2) Kathmandu Engineering College, Kathmandu
3) Himalayan College of Engineering, Lalitpur
4) Advanced College of Engineering and Management, Lalitpur
5) National College of Engineering, Lalitpur
6) Kathford International College of Engineering and Management, Lalitpur
7) Janakpur Engineering College, Bhaktapur
8) KHP: College of Engineering, Bhaktapur
9) Sagarmatha Engineering College, Lalitpur
10) Lalitpur Engineering College, Lalitpur
Examination Centre
The examination center for the entrance exam will be conducted in the ICTC building Pulchowk, Kathmandu. The applicant must be present personally with the printed Color Admit Card and bring the identification certificate mentioned in the online application form to appear in the entrance examination.
About Institute of Engineering
The Institute of Engineering (IOE) was formed in 1972 by bringing the Nepal Engineering Institute at Pulchowk and the Technical Training Institute at Thapathali together under the umbrella of the Tribhuvan University (TU). Nepal Engineering Institute and the Technical Training Institute were renamed Pulchowk Campus and Thapathali Campus respectively. Since then, IOE has expanded considerably. It is the most reputed engineering institute in the country. Over the course of its existence, IOE added several engineering courses on its own initiation and some with outside help. However, from the year 2014, all the diploma programs were phased out and the IOE concentrated its programs spanning from Bachelor through Master to Ph.D. levels.