IME Pay Refer and Earn Offer is back again with attractive rewards for its users. Under this, IME Pay users can earn Rs 25 by referring the app to their friends sharing the code.
How to earn from IME Pay Refer and Earn Offer?
Now that you have known you can earn by referring IME Pay to your friends and others, let's know how to do that.
If you are an existing user of IME Pay, you will need to share the referral code from the IME Pay app. It works in 3 simple steps:
Step 1: IME Pay users share the "Refer Code" link with their friends
Step 2: The referee accepts the code, downloads the IME Pay app, and gets KYC verified
Step 3: Both the referer and the referee will get Rs 25 in their IME Pay wallet instantly
How to refer IME Pay to your friends and earn from this?
Log in to your IME Pay account.
Scroll down the homepage of IME Pay and click on the "Refer Friend" button.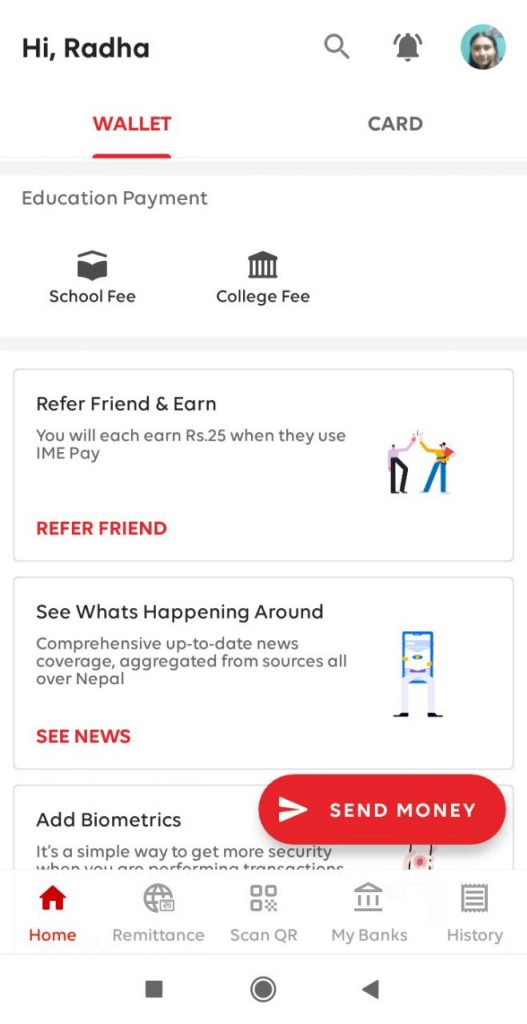 Then you can either share the link via messaging apps or directly invite your friends through your mobile SMS.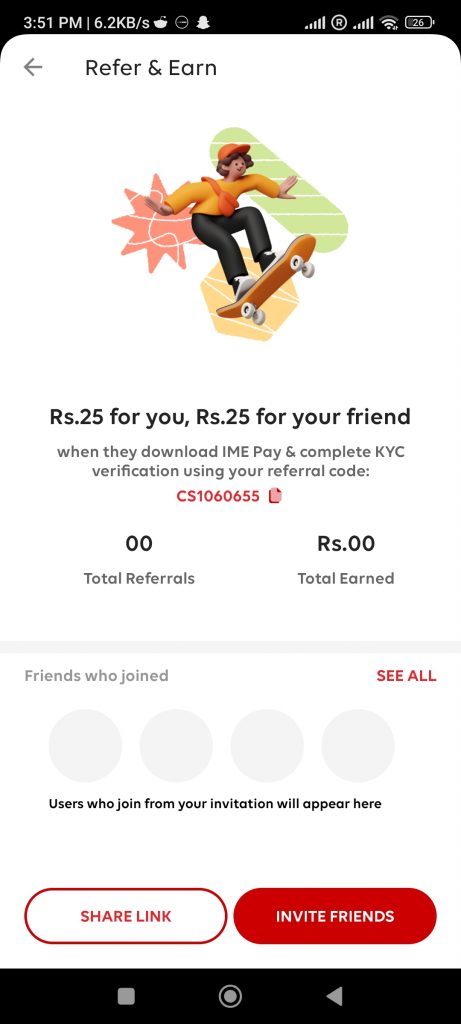 However, the cheapest way is to share the link via messaging apps like Messenger, Viber, and other social media messaging apps. It will not cost you the money as in mobile SMS.
Once your friend clicks on the link or accepts that referral request by downloading IME Pay and registering, both of you will get Rs 25 in your IME Pay wallet. The more you share, the more you will get the chance to earn.
As per IME Pay, one referral code can be used many times. The main purpose of IME Pay is to bring this offer to its potential customers and encourage digital payments. The team of IME Pay believes that IME Pay Refer and Earn offer will give a small incentive to the existing service users to use this app continuously.
About IME Pay
IME Pay is a payment service provider licensed by Nepal Rastra Bank. it is a digital financial service providing product of IME Group.
Having more than 35,000 agent outlets, IME Pay is the first PSP in Nepal to get permission to offer mobile wallet services through a telecommunication network under the Payments and Settlements Act 2072.
Users can enjoy various digital payment options in IME Pay like P2P transfers, QR payments, utility payments, hotel, and ticket booking, remittance, etc.
You can even earn interest in your IME Pay account balance. And it is noteworthy that IME Pay gives higher cashback on making digital payments.
And now, by this refer and earn offer, you will get more amount in your IME Pay account which you can use for making payments through the IME Pay app.
Why do refer and earn offers seem to be working for digital wallets in Nepal?
You might have read numerous articles about refer and earn offers even in TechSathi. Most of the digital wallets are apparently in "Cashback wars" and "Refer and Earn Offer wars". Be it 14 years teenager eSewa or the infant wallets like MyPay, digital wallets are in the run of getting more downloads and acquiring more users.
The one and only reason for these wallets in introducing "Refer and Earn" offers is to bring in more users and retain the existing users by offering them some bonus amount. This is one direct organic way of increasing the users.
In recent days, the PayWell app has well played the marketing strategy of "Refer and Earn". Its download counts surged to 50,000+ in a few months which made it #1 in finance in Google PlayStore. Similarly, MyPay too has been keeping stalls in various places to attract the public in downloading its app with instant rewards and lucky draw games. Now, it has 100,000+ downloads.
The reason behind the success of these apps to convert users through "Refer and Earn" offers are:
The user gets an instant reward which makes it attractive
Sharing the referral code or link is easy
Nepali users are getting used to digital payments which makes them download the apps to explore their features and use them
Hence, these offers are introduced by the digital wallets time and again to attract new users. While they are attracting new users, it is more important to retain existing users. And that is really a difficult task for businesses. Amidst the rising competition among digital wallets in Nepal, retaining existing customers and making them stick to their own services is tough. Through these "Refer and Earn" offers, digital wallets not only invite new users but also keep the existing users by giving rewards to both the referer and the referee.
Have you started participating in IME Pay Refer and Earn Offer? Which digital wallet are you satisfied with in terms of cashback and referral bonuses? Do not hesitate to drop down your honest opinion.
Also Read: Nepal Telecom App Gets a New Update; Now You Can Also Find NamastePay Here
.