 HULT Prize at IOE is coming with a whole new Entrepreneurship Series from this Saturday from the industry experts themselves. Hult Prize at Pulchowk has been upgraded to the grander Hult Prize at IOE this year. This year the event won't constrain themselves only within Pulchowk Campus and will include 12 engineering campuses within IOE to give every student an opportunity to create and contribute to a better world.
The main motive of this program is to empower a new wave of entrepreneurs who believe that through business, we can solve some of the world's toughest social challenges.  Hult Prize 2021 aims to impact the lives of 10M people in the next decade while strengthening communities, increasing incomes, feeding the hungry, and creating jobs.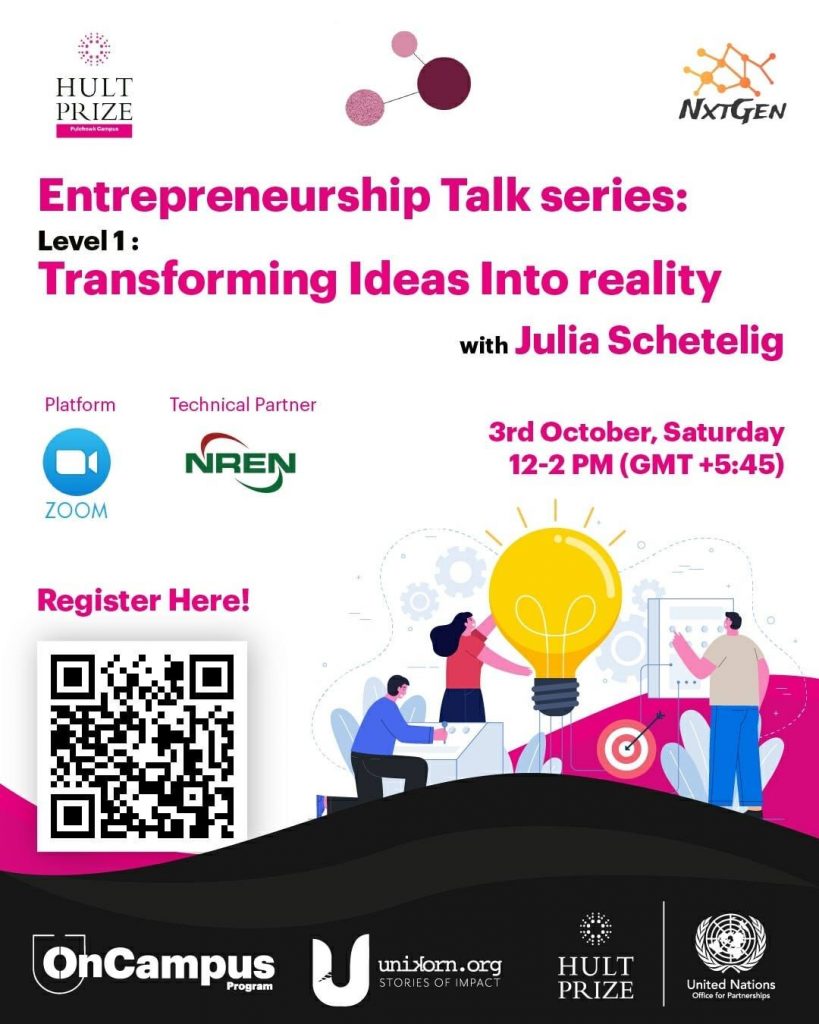 Entrepreneurship Talk Series
Hult Prize at IOE in collaboration with Generation Impact has come up with an exciting workshop on "Entrepreneurship Talk Series: Level 1 – Transforming Ideas into Reality".
This event will be facilitated by Julia Schetelig. She will be joining us live straight from Singapore to bring this workshop to life.
Event Registration
Register for this event using the link below
Registration Link: https://forms.gle/cgYSJa2AnXA54ukf8
Day:3rd October 2020 ( This Saturday )
Time: Saturday at 12:00 pm ( GMT +5:45 )
The theme of the program comes from the headquarters itself every year. This year it is the " Food for Good" Challenge. 
Also Read || HULT PRIZE 2021 Coming in December, Focusing on Food
The Hult Prize at IOE 2021 is all set to start to find students prodigies on the "Food For Good" Challenge, evaluate the health and environment characteristics of food, thus informing sustainability-related marketing theory and practice. The on-campus program is all about transforming food into vehicles for change. The challenge strong emphasis on food quality cues related to health and environmental protection.
The Hult Prize has been named as the "Nobel Prize for students" and it is supported by former President of US Bill Clinton and the United Nations. The prize-winning team will be rewarded  with:
The winning team and participating teams will be certified by the Hult Prize Foundation.
The winning team will go directly to a Regional Summit.
The winning team in the Regional Summit will get a chance to win $1 million.
The winner from the On-Campus goes to the regional competition, you can choose the listed country accordingly. Hult Prize at IOE will be organized by December.