The second episode of the Hult Prize at IoE, Pulchowk Campus's workshop, Entrepreneurship Talk Series: Forming a Dream Team was held on January 15. This virtual event saw an overwhelming presence of 117+ attendees. Like the title of the episode suggests, guest speakers of the event gave us insights on their teams and the responsibilities each member may have.
Guest List: Entrepreneurship Talk Series Ep.2 | Hult Prize at IOE
The first guest for the evening was the Co-Founder of Urban Girl/UG Cakes/ UG Bazaar, Mr.Kiran Timsina. He was also listed in the Forbes 30 under 30 Asia hall of fame. Firstly, Mr Timsina shared with us the intricacies of handling a team, the need of having a clear vision to gain trust of team members, division of roles and responsibilities and so on. The audiences could relate largely with his storytelling about team building. There were a lot of queries from the audience as well, some even regarding equity. Mr Timsina answered all the questions referring to his experiences.
The second guest, Ms Shubhangi Rana took over the stage next. Ms Rana is the Cofounder of a menstrual health management social enterprise, Pad2Go. She was also one of the social entrepreneurs to be listed in the Forbes 30 under 30 Asia list. She emphasized on the importance of team bonding, diversity and having a common purpose in the team. Her stories of her business partner, Ms. Jesselina Rana, about how they have been covering up each other's work through thick and thin were really inspiring. The idea of having monthly sessions to catch up with the lives of the team members was definitely a new one.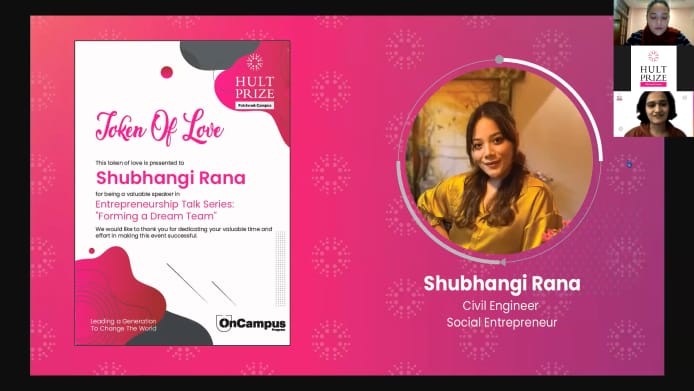 The third guest for the evening, the founder of "Krinjal. Org", a social initiative, Mr. Kshitij Raj Lohani took over later. He was also awarded with the "National Youth Award" by the government of Nepal for his project "Krinjal Space". The audiences were bawling over his stories and narratives about his projects, experiences with his team and his natural charisma on screen. He emphasized on the importance of communication and outspokenness in building and growing a good team. He also catered to a wide range of questions from the audiences.
With the differences in work ethics, as well as careers of our guest speakers, the tips shared by the speakers of this episode must have answered all the queries one could have about team formation and leadership. The second episode of "Entrepreneurship Talk Series" organized by Hult Prize at IOE was a huge success and with this, we shall await the next episode of this talk series.
Also Read: Hult Prize at IOE | Successfully conducted the first episode of "Entrepreneurship Talk Series"