After the grand success of Huawei Seeds for the Future Program in 2021, the second edition of the program is back again. Huawei has called applications from Nepali students who are currently pursuing their undergraduate studies in the field of Information and Communication Technology (ICT). This program will ensure a unique learning experience for the applicants. The selected participants (seeds) will also receive introductory and advanced courses in major technologies such as 5G, cloud computing, and artificial intelligence.
If you are an undergraduate student of ICT who is fascinated about the changes that are going to be welcomed in the world with the help of ICT technologies, this program is built for you. If you have an idea for leveraging technology to tackle environmental/social issues, this program can be a good kick-start for you.
The selected participants will get to participate in a cross-cultural exchange from August 19 – August 27 which is going to be held in Bangkok, Thailand.
What does Huawei Seeds for the Future Program offer?
Apart from an all-expenses paid trip to Bangkok, Thailand, Huawei Seeds for the Future Program 2022 will also offer numerous benefits to the participants. 7 undergraduate students from any ICT related academic background will get a wonderful learning experience around technology and innovation.
During the program, participants will get to:
Learn about cutting-edge ICT knowledge and have face-to-face discussions with professionals from relevant industries.
Receive introductory and advanced courses in major technologies such as 5G, cloud computing, and artificial intelligence (AI).
Develop a worldwide perspective through learning from cutting-edge technology businesses and international organizations.
Explore new cultures and make friends from all over the world.
Participate in "Tech4Good" group project to increase social entrepreneurship, build problem solving and leadership skills through team work, and deepen sense of social responsibility. Eventually, the participants will be able to register for the global competition where their projects will compete with other projects created by students from all over the world. (Winners will move to a 5-day accelerator camp that will be held in Singapore)
Join the alumni community where exclusive webinars, round table dialogue, celebration event etc. will be held all year round to strengthen the sense of belonging.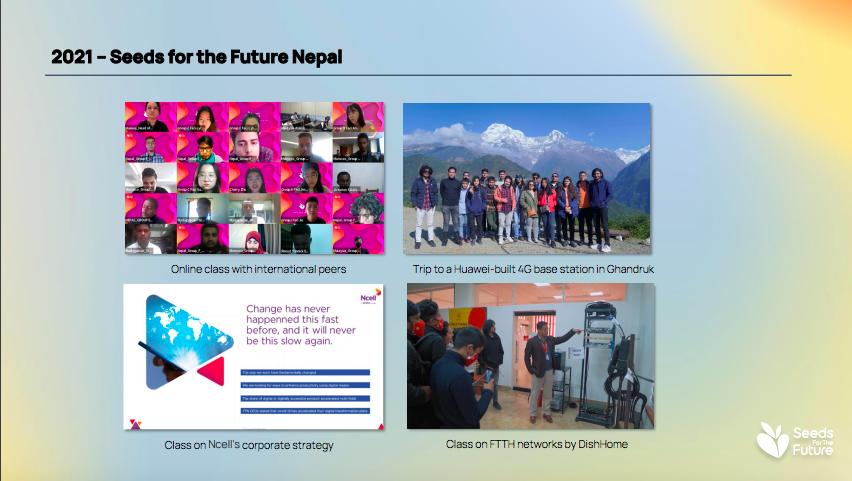 Not just this, but the participants will also get to know the ICT industry of Nepal better through some first-hand experiences. The program ensures:
A visit to Huawei Office
Classes from UNESCO and industry experts
An overnight trip to Huawei-built base station at a spectacular location (Dates will be confirmed later)
Who can apply?
To be eligible for Huawei Seeds for the Future Program 2022, the applications will have to meet the following criteria:
Be an undergraduate student from ICT related discipline studying in any semester from 1st – 8th. (Students who have appeared for their final examinations and are still waiting for the results can apply)
You must have received a minimum GPA of 3.0 in your most recent exam. If you are studying in the 1st semester, a recommendation letter from your professor/college administration will be required.
You must demonstrate a good English language proficiency.
You should have a willingness to participate in a global competition and global group project.
You need to have a good interest and knowledge related to the ICT industry, entrepreneurship and a zeal for learning.
How to apply for Huawei Seeds for the Future Program 2022?
To apply for the program, you can visit this website – seedsnepal.com
In order to apply, you will require the following materials:
Latest marksheet (or recommendation letter for freshmen students) from your
institution.
A 500 to 600-word motivation letter that reflects your objective to participate, youri nterest in the ICT sector, and enthusiasm for learning.

The Seeds for the Future selection committee composed of distinguished ICT professors
will select the 7 finalists.