 Although, it is a tough time due to COVID-19 and most of the things does not seems to be good, but currently, it's an interesting time in the digital world. As many internet users embraced new digital tools and rediscovered old favourites along with people using the internet for the first time as they adapt to changes/challenges brought by COVID-19. It is reported that almost half a billion users joined social media in the past year, taking the global total to 4.2 billion in early 2021. This report shows the percentage of global internet users aged 16 to 64 who cited each activity as the main reason for using social media. This report was prepared by We Are Social and Hootsuite with the help of GWI (formerly Global WebIndex) which is a target audience company that provides consumer insights across 46 countries to the world's leading brands.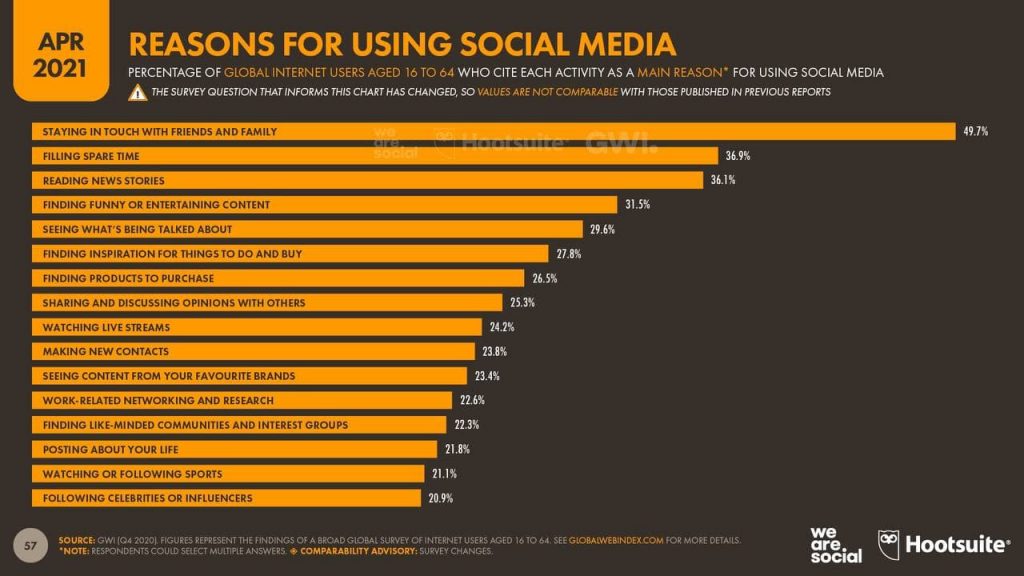 Most of the people responded that their main motive to use social media is to stay in touch with family and friends. If you are not able to see the above picture, then the survey results has been written below:
Staying in touch with friends and family – 49.7%
Filling spare time – 36.9%
Reading news stories – 36.1%
Finding funny or entertaining content – 31.5%
Seeing what's being talked about – 29.6%
Finding inspiration for things to do and buy – 27.8%
Finding products to purchase – 26.5%
Sharing and discussing opinion with others – 25.3%
Watching live streams – 24.2%
Making new contacts – 23.8%
Seeing content from your favourite brands – 23.4%
Work-related networking and research – 22.6%
Finding like-minded communities and interest groups – 22.3%
Posting about your life – 21.8%
Watching or Following Sports – 21.1%
Following Celebrities or Influencers – 20.9%
Nepal's Status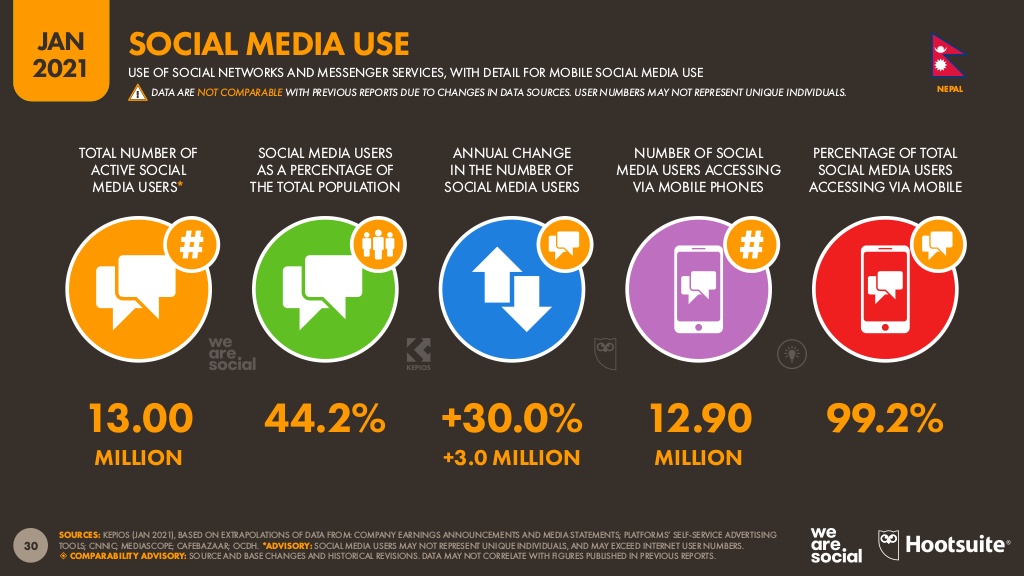 According to Digital Nepal 2021 report, 44.2% of the total population of Nepal use Social Media. Among all the social media users, 99.2% of people access social media via smartphones.