 Nepal's Super App Hamro Patro is adding another milestone by launching an E-learning Platform. It has launched its new product "Hamro Learning Center". Hamro Patro has collaborated with Deerwalk Sifal School to render educational video lectures to Nepali students.
Receiving a high-quality education is not commonplace for all due to the lack of adequate direction and insufficient resources, including textbooks. The Hamro Learning Center will work to bridge the gap between students and quality education. With the use of technology, the team is all set for transforming the educational practice in Nepal.
Shankar Uprety, Founder & CEO of Hamro Patro, said,
Adding to this, Hitesh Karki, Chairman of Deerwalk Educational Group shared,
"We are delighted to partner with Hamropatro to share our flipped classes. Our recorded classes are already hugely popular amongst students all over Nepal but still face issues of limited reach."
He further added, "We have always been looking for ways by which we can reach an even larger student base, and Hamropatro in this context is a perfect medium."
More About Hamro Patro's Hamro Learning Center
Hamro Learning Center is open to all institutions that want to provide video lectures and e-learning courses. During the pilot phase, Deerwalk Sifal School has added more than 2200 video lectures spanning from Grade 4 to Grade 11. All these courses are free to students and other schools.
The users can access Hamro Learning Center by downloading the Hamro Patro App. It is available for both Android and iOS.
Also, you can visit https://learn.hamropatro.com to access all the courses.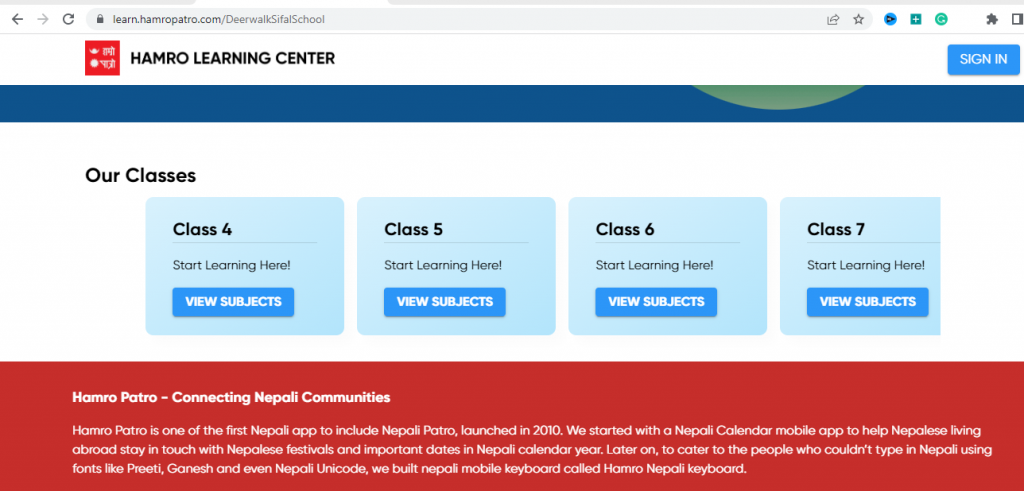 About Hamro Patro
Hamro Patro is one of the first Nepali apps to introduce Nepali Patro. Launched in 2010, it has been providing various services through a single app and a website. You can listen to FM through Hamro FM, send gift cards, view calendars, convert dates, get notifications about each Nepali festival, and many more. Hamro Patro has its own remittance service called Hamro Remit which broke its own record of bringing a huge amount of remittance within a few months of its launch.
About Deerwalk Sifal School
Founded in 2016, Deerwalk Sifal School is determined to help students grow as good global citizens with solid language, math, and academic science skills. Deerwalk Sifal School is a contemporary school committed to getting the best out of every student and helping each find their strength.
Also Read: Team ARISE Wins Microsoft Imagine Cup Junior 2022 from Nepal