The spokesperson of NRB along with other banks' top executives received anonymous threat calls and emails on Wednesday. The email indicated that their banking system has been compromised. The hackers have further threatened to hack all the banking systems of these 15 banks in the list if they do not close the branches for 48 hours.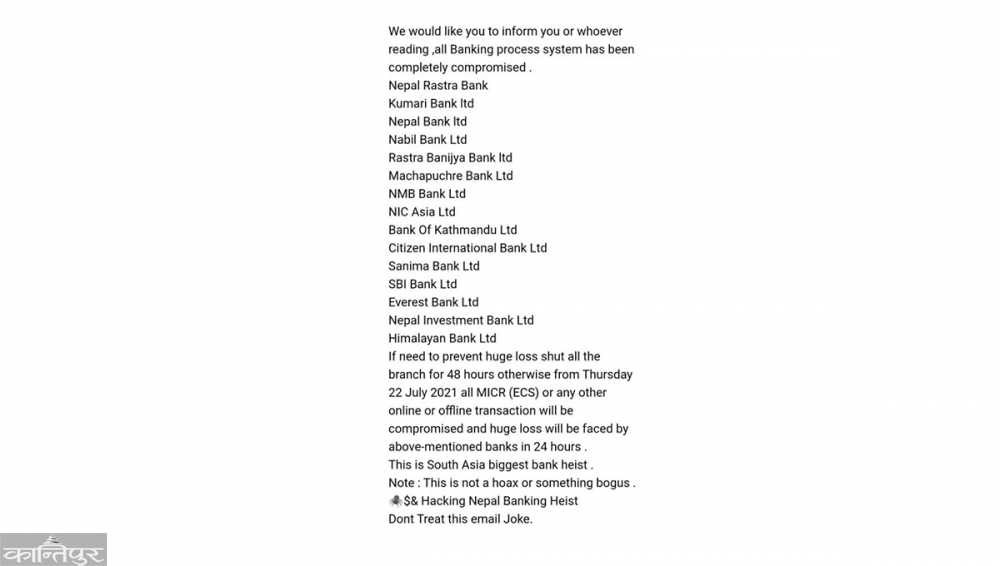 According to eKantipur, the spokesperson of Nepal Rastra Bank Premkumar Dhakal received a telephone call from the USA on Wednesday. The caller threatened to hack the banking system of these 15 banks, including the central bank itself.
The email also seems sinister as they claim that this is going to be the South Asia's biggest bank heist. Well, is this a hoax or a threat in real? After getting these emails and calls, NRB has requested all the banks to check their system and has warned them to stay alert from these kinds of banking frauds.
Banking Frauds: A Matter of Major Concern in Nepalese Financial Markets
In these recent years, banking frauds have emerged as burning issues in the financial spectrum of the country. Banking fraud includes check bounce, conspiracy, crime against banking systems and banking instruments. These kinds of frauds have occurred time and again when we look back to the past days. Nepali banking system has been vulnerable for many times and it has fallen prey to the frauds and thefts.
Only last year a group of Chinese hackers forged ATM cards and broke ATM booths to steal money. Banking frauds have been rising more since 2015. On FY 2019/20 alone, the Central Investigation Bureau (CIB) got 3309 cases of banking fraud in its file. If we see the news, most of these hacks have targeted either ATM booths or the banking systems.
What is the policy treatment for these frauds?
Nepal Rastra Banks has formulated special acts for these types of frauds and offenses. The Banking Offense and Punishment Act- 2064 labels unauthorized withdraw or payments, unauthorized loan disbursement, abuse of electronic means of transaction or unauthorized used of electronic payment, misuse of loan, misuse of banking resources and property as banking offense. If anyone commits these crimes, they are punished with fine and imprisonment depending upon the degree of committed offense.
CIB has been successful to track down these banking frauds for many times. The police has also arrested these kinds of criminals involving in banking frauds. They arrested the 5 men who were involved in the biggest steal (approximately Rs 34.5 million) in 2019. However, most of the arrests take place after the crimes have already happened.
Banking Fraud: How can we remain alert?
This is not for the first time that Nepalese banks have received these threats. The hackers and criminals now have acquired technical skills which may even outsmart the banking systems. The central bank has informed all the banks to stay alert and check their banking systems. The banks are working on their own to prevent this threat. On the other hand, we also can remain alert as the banking customers. So, here are some tips which one could follow to prevent the threats to some extent:
Never lose your ATM pin or card. If you do, immediately inform the bank and instruct to block the ATM.
Do not share your Mobile banking password or PIN to anyone
Keep your cards safe
Change your password regularly
Do not use public computers to login to your internet banking system
Also Read: Public Wi-Fi Vulnerable to Attacks: Here's How to use it Safely and Securely
Nepal alone is not the only country where these banking frauds happen more often. Many developed countries with advanced security systems also have got their banks robbed. And these days, banking hacks can take place from anywhere; even from the restroom! So, the banks must upgrade their data security system so as to secure their customers' assets and data. Since we are more dependent upon the banking system and most importantly, digital banking, these issues can hinder the belief of public upon the banking sector. Moreover, they must ensure that the customers have placed their assets in the safe hands.