When you look at the Nepali market today, you don't see many players in the GPS tracking segment. Thankfully, there is a newly launched telematics-based GPS tracking startup Trackon GPS that aims to provide full security from vehicle theft to their customers.
The most commonly used vehicle in Nepal is a motorcycle. You'd be surprised to know that almost 1000 bikes were stolen recently from Kathmandu alone.
With the goal of solving this exact problem, Trackon GPS has recently launched two variants of GPS Trackers i.e., Trackon Micro and Trackon Micro Plus at very affordable prices.
People who own vehicles in urban areas are very concerned about vehicle theft as parking spaces are less and traffic jams happen on the regular. In such a chaotic city environment, GPS Tracking turns out to be a necessity.
But a lot of people might be a bit skeptical about GPS Tracking so, let us explain how this technology works.
How GPS Tracking work?
A GPS Tracking company in Nepal like Trackon GPS will provide you with the GPS tracker (which comes with SIM Card preinstalled and has 1 year of data), this tracker will always be connected to a satellite network. You install the tracker on your vehicle and, the location details of your vehicles are streamed over the GSM network via Data SIM to the secured server. Now these details can be further processed down to the valuable information by the Trackon's GPS Tracking System and you can monitor your vehicles by using mobile phone or a laptop.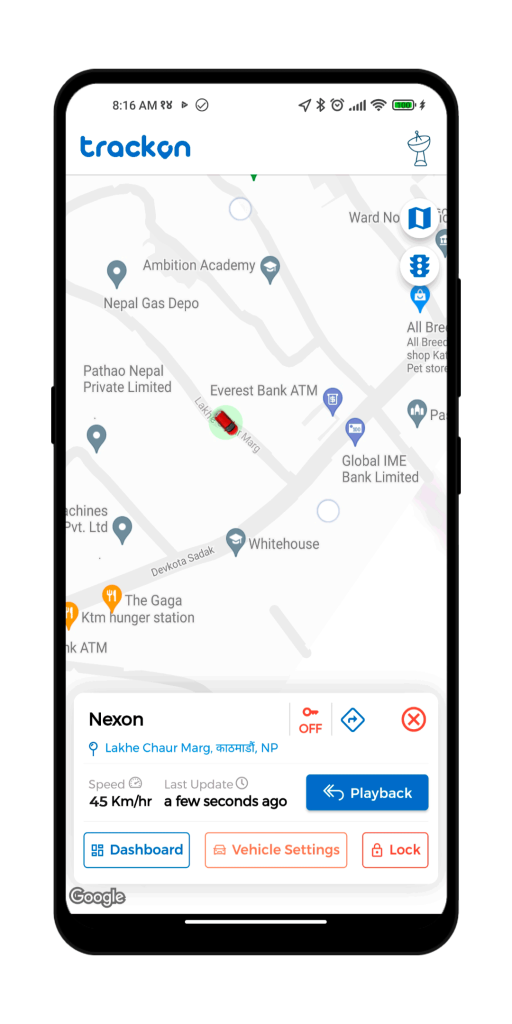 You can use a mobile app or web portal to track the vehicle's exact location. In addition to that, GPS Tracker also have other sensors to track important data like speed, mileage, stoppages, and more.
This makes GPS Tracker best for two purposes:
Logistics – GPS Tracker can be used by corporates to track their vehicles, employees and packages.
Safety – Since GPS Tracker provide continuous location tracking, safety is maintained.
How does Trackon GPS solve the problem of vehicle theft?
Trackon GPS basically provides affordable GPS tracker in Nepal. Nepal is a price sensitive market so, Trackon's strategy to position itself as an affordable and trustworthy GPS Tracking company can help more people get their vehicles secured.
In addition to that, the company maintains quality in their GPS trackers and provides you with a mobile app as well. So, you can basically track your vehicles from anywhere.
There is also geofencing feature. What's that, you ask? Let's say someone tries to steal your vehicle. With geo-fencing, you create a radius of distance around your vehicle.
As soon as your vehicle leaves that radius (without your permission), a notification comes to your phone and you can then start tracking your vehicle.
Kiran Rai, the CEO and co-founder of Trackon GPS states that his company works undeniable hard to provide more value to the customers in the Vehicle Tracking business.
Who can use a GPS Tracker?
A GPS tracker can be used by a normal person, a business owner, delivery service industry, and more. We know that safety is the prime reason for people to use GPS trackers but aside from that, there are a few other reasons as well.
Also Read: Worried About Increasing Bike Theft? Here are 5 Best GPS Bike Trackers 
For instance, delivery industry is at an all-time high in Nepal with e-commerce and logistics platforms like Daraz, Upaya, Foodmandu, and more. So, these companies can leverage a GPS tracker to track their delivery vans and other delivery vehicles, which can prove to be beneficial for their overall productivity.
Trackon GPS Price and Availability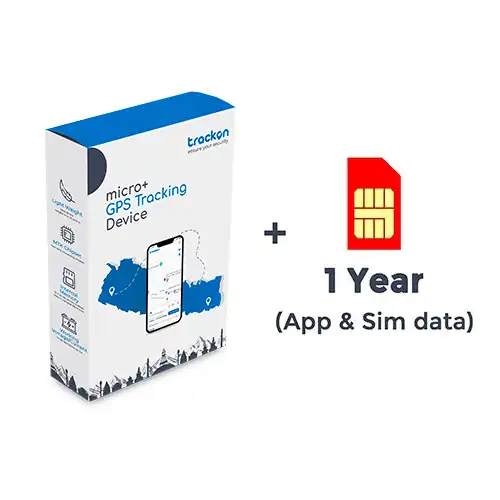 Let us now talk about the actual price of Trackon GPS. The first thing you need to know is that there are two versions of the product:
| | |
| --- | --- |
| Model | Price in Nepal |
| Trackon Micro | रु. 7190 |
| Trackon Micro Plus | रु. 8090 |