Girls In Tech – Nepal has launched its regional chapter in Province 2. Honorable Minister for Labour, Employment and Social Security Rameshwor Ray Yadav, Honorable Chief Minister of Province 2 Lal Babu Raut and Lisa Honan, Head of DFID Nepal jointly inaugurated the campaign amidst a special ceremony in Janakpur. The campaign aims to provide exposure to school and college girls in technology and combat gender disparity in the technological sector by providing them with skills.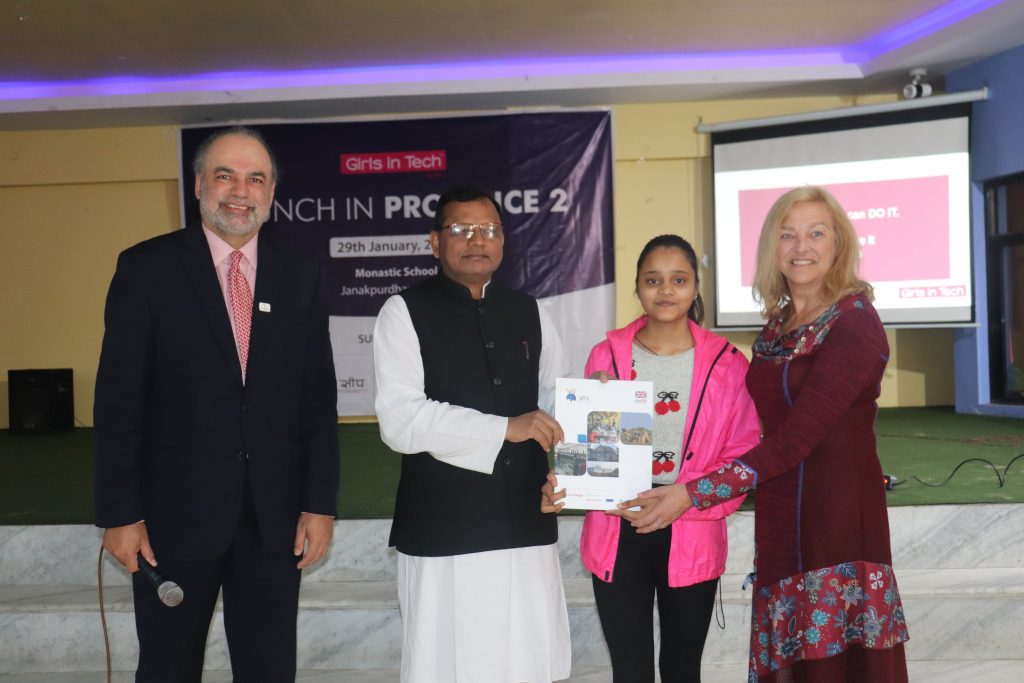 The project was launched by Girls in Tech – Nepal in collaboration with UKaid Skills for Employment Programme (सीप), Genese Cloud Academy and Fuse machines Nepal. It aims at educating and empowering girls to end gender discrimination. Under the project, leadership training will be provided to the girls for boosting their confidence and competitiveness. The project will help create an environment for the girls to get jobs in companies.
Speaking during the occasion, Chief Minister Raut expressed happiness to launch the campaign in Province 2 and provide IT education and job skills to girls in the region. He also mentioned plans of the provincial government to make the region a hub for technical education by producing tech-skilled manpower and hoped that Girls In Tech would help in making the government's plan more impactful.
On the occasion, Baljit Vohra, Team Leader of UKaid सीप announced a scholarship scheme for 10 girls from economically marginalized families who want to study Cloud Computing and Artificial Intelligence. 14-year-old Jyoti Singh, one of the youngest programmers in Nepal was offered the first scholarship and application has been called for the remaining nine seats. Singh is studying in class 10 at Janaki Boarding School, Janakpur. She was enthused to get the scholarship and shared, "I am thrilled to know about such a scholarship scheme on AI and Cloud Computing in Nepal and receive the scholarship. These courses will be very much valuable to shape my career. Like me, I am sure it will be very much helpful to other girls too in the region."