 Many Nepalese would love to slam the door on 2021 with a bang using all their might. Rather, just as we recover from the deadly second wave, the new variant is wreaking havoc again. As we write this, schools and colleges are being closed and mass gatherings are being prohibited. As the highly contagious Omicron variant surges in Nepal, many places are mandating to show a vaccination card for entry. Especially, people going abroad require digital vaccination certificates compulsorily. In this post, we discuss how you can get a QR Code of vaccination card online.
Ministry of Health and Population had initiated providing the QR Code containing vaccination card since July. However, the system was not fully automated and developed. Nepal started issuing QR-coded vaccine certification because migrant workers queued up all night and day back then for just rubber-stamped papers to certify that they have been vaccinated. But the letter did not even have a digitally-registered QR code and hence risked being invalid in destination countries.
In its inception, the online post-registration for vaccination cards was in an infantile condition. Most of the time, the website used to be down and even the registered ones did not get any further reference on their vaccination certificate status. Compared to that time, the online registration process has been significantly improved although improvements could still be made in the system.
How To Apply QR Code of Vaccination Card Online
With the technical assistance from WHO Nepal in training, design, and development of the ministry's software system and IT equipment, and electronic vaccination registration system, Nepal Government started online post registration of the vaccination card a while ago. Here are the steps you can follow to generate a QR code for your vaccination card.
Required Documents and Information
Personal details
Address
Vaccination details
Vaccination card
Citizenship/ Passport
Steps to be followed for online registration
First of all, visit the MoHP website for the public vaccination certificate request form. You can get to the landing pagge by visiting the link https://vaccine.mohp.gov.np/public-request-form.
After reaching the landing page, fill up all your personal details including name, age, sex, nationality, address, date of birth, caste, email, phone number and so on. You also have to reveal the health condition you are suuffering from currently.
Next, you must show the details of your Covid-19 Vaccination doses. If you are not fully vaccinated yet, you are not bound to get any vaccination certificate. Details while taking both vaccine doses should be revealed.
Now, upload all the required documents in the documents upload section. Required documents include softcopy of passport, softcopy of vaccination card, and a recent passport sized photo.
Finally, hit the submit button and your online post-registration successful status will be shown. After this, you can regularly check the vaccination certificate status in the same website.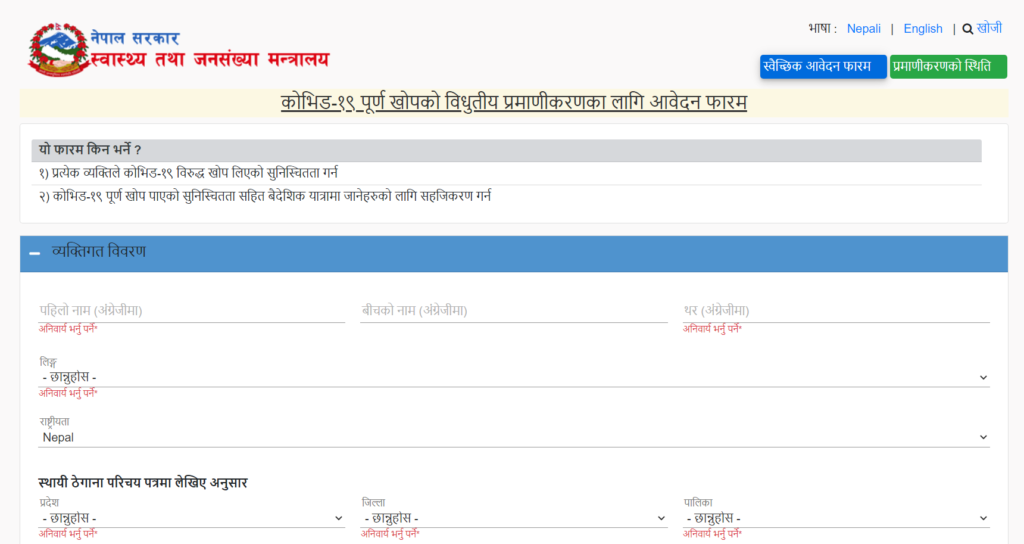 In any case, if the individuals are unable to apply online for registration of QR code enabled vaccinations card, the ministry of health and population urges them to visit the National Ayurveda Research and Training Centre in Kirtipur with necessary documents for the in-person application. Vaccination cards and declaration certificates are necessary while visiting the Kirtipur office. However, service seeker migrant workers say submission of the declaration form, which requires the applicant's thumbprints, has made the online application process complicated for them.
However, if you are not fully vaccinated yet, you can fill the vaccination form online on the MoHP website here. Makes sure you are fully vaccinated before applying for an online vaccination certificate.