Just a few months after creating a brand-new TV channel, Galaxy 4K TV team has launched its own app with the same name. Galaxy 4K TV has been using the latest technology to provide clearer, sharper images along with deeper and bolder colors. In a country where television channels are just upgrading to High definition (HD) quality, it's kind of a big deal to provide next-generation television technology. Now, to provide fantastic service to its viewers and users, Galaxy 4K TV app has been unveiled in the Play Store.
Last year, Renowned journalist and media person Ravi Lamichhane unveiled a new TV channel with the name Galaxy 4K. Back then, Mr. Lamichhane had recently quit the country's most viewed TV Program "Sidha Kura Janata Sanga". As people were eagerly waiting for his next venture, he launched Galaxy 4K aiming to stand out among prevalent TV channels in Nepal.

About Galaxy 4K TV
Galaxy4K TV is a Nepali language television channel owned by Gorkha Media Network Pvt. Ltd in Nepal. As the country's first 4K channel, it aims to amalgamate the latest technology with premium news and entertainment content. The channel intends to deliver clear, in-depth, and dependable information on issues of public concern in a timely fashion along with a multitude of quality entertaining content.
Galaxy 4K TV App Features
I. Latest News and Recent Happenings
Galaxy 4K TV App will promptly publish all the latest news and happenings in different sectors. National and International News relating to politics, entertainment, economy and many more will be available in this app.
II. Live Galaxy TV and TV Shows:
This application will host the live Galaxy TV channel at all times. The live TV channel can be viewed in the live section of the app.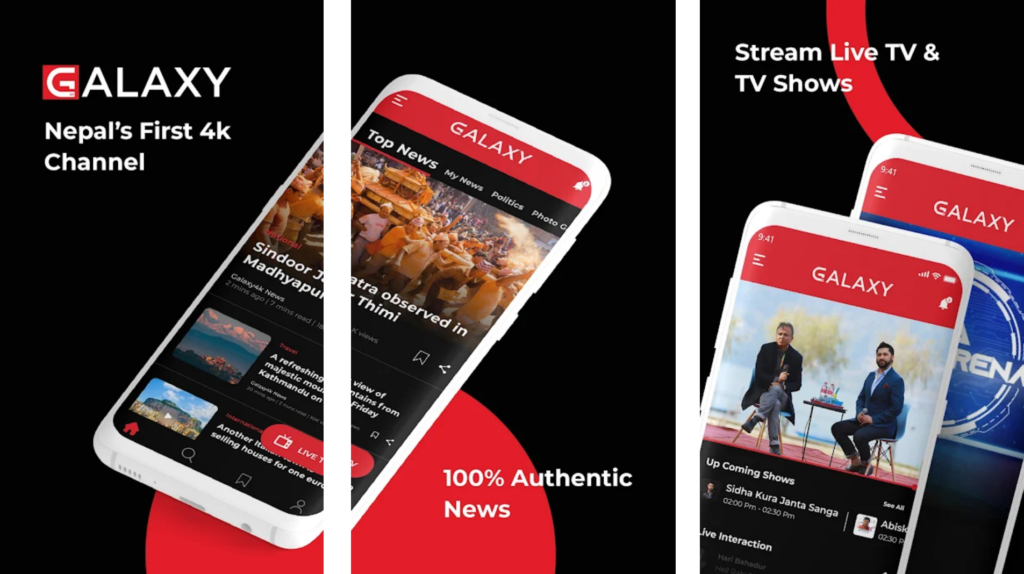 III. Wide range of TV Programs:
Galaxy 4k TV app will host some of the much-anticipated programs in Nepal. From the Nepali version of Ramayana to the Nepali version of crime petrol, Galaxy 4k will cover it all. Shows like KBC Nepal hosted by superstar Rajesh hamal, Lalmohor, Aaniskar featuring Mahabir pun, and Sidha Kura will be readily available in this application.
IV. Vlogs and Articles
Besides all these TV Programs and shows, Galaxy 4K TV app also features a vast array of articles and vlogs from several creative content creators. The articles and vlogs present in the app are sure to hook the app users extendedly.
V. Customizing Feed according to your interest
While signing up for the application, users are required to select their preferred category of news feed after displaying a set of wizards. This certainly enhances the customer experience as it personalizes the news feed. Users can choose between education, politics, technology, sports, entertainment, travel, and many more.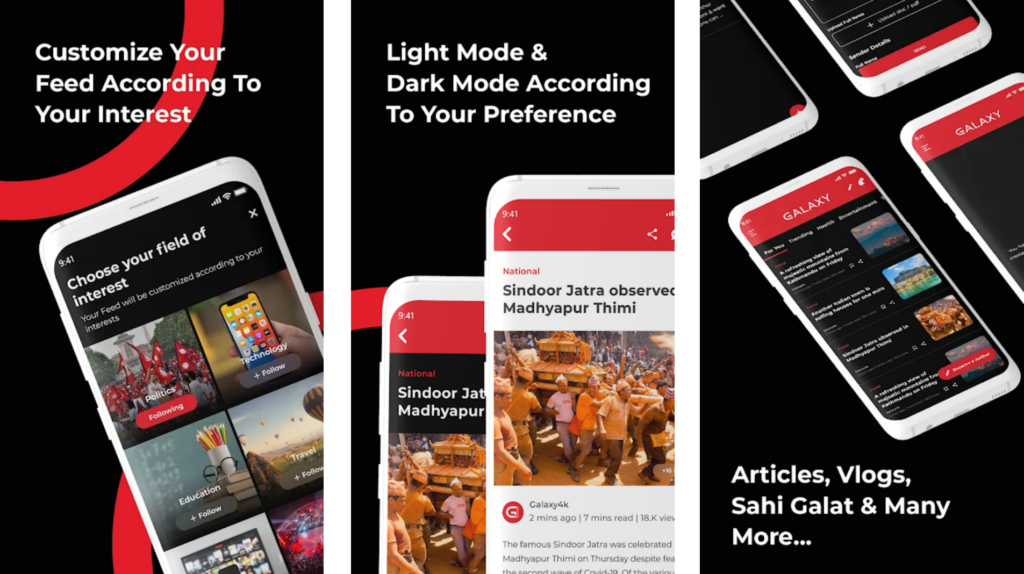 VI. Light Mode and Dark Mode for app
According to your preference, users can toggle the app between light and dark mode. Like all other new apps, Galaxy 4K TV app also chooses to create options for both light and dark mode. There has been trend in recently launched app to make both options available as there are strong proponents among users for both options.
Just like the television channel, everything in the Galaxy 4K App will be of 4K resolution. Galaxy 4k has initiated a revolutionary technology in the Nepalese television ecosystem. 4k is one of the newest display technology which aims to deliver clear, crisp, and detailed output as compared to standard HD quality. It has 4 times the pixels than full HD resolution which helps to provide much sharper and more detailed picture quality. The integration of next-gen technology in the mainstream media of Nepal has also paved a way for other news channels to follow the path.