Free Fire is a popular battle royale game for mobile devices. Free fire Redeem Code is the most searched term for FF players at this time. Millions of people play free fire every day, and it's especially popular among teenagers. Many gamers aspire to compete and represent their country in e-sports. Free Fire, in particular, is very popular in Nepal. Some people play for fun, while others play to fill up their ID with diamonds and impress their pals who can either never top up or can't afford it. Some athletes aim to be e-sports players who can represent Nepal at the national and international levels. Garena also offers a Free Fire redemption code, which any player may use to obtain various fascinating gift cards from Free Fire. So, let's have a look at some of the Free Fire redeem code that is entirely free to use.
How to Claim the Redeem Code?
Redeem code is the arrangement of numbers/alphabet which consists of 12/16 characters. To redeem that there are a few points to remember.
Redemption code has 12/16 characters, consisting of capital letters and numbers.
Item rewards are shown in the [vault] tab in-game lobby; Golds or diamonds will be added to the account wallet automatically.
Please note the redemption expiration date. Any expired codes cannot be redeemed.
Please contact customer service if you encounter any issues.
Reminder: you will not be able to redeem your rewards with guest accounts. You may bind your account to Facebook or VK in order to receive the rewards.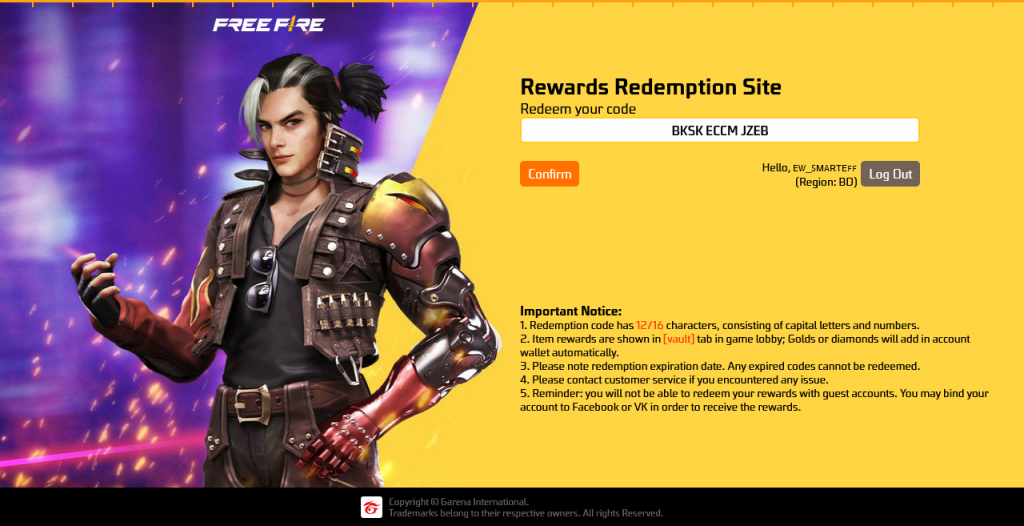 Step 1: Visit the official site of Garena Free fire by clicking the link: https://reward.ff.garena.com/en
Step 2: You can't redeem in a guest account, so you must log in to your Facebook, Google, Apple ID, VK, or Twitter account.
Step 3: After you log in, enter the code by typing or pasting and click confirm.
Free Fire Redeem Code [ 17th August ]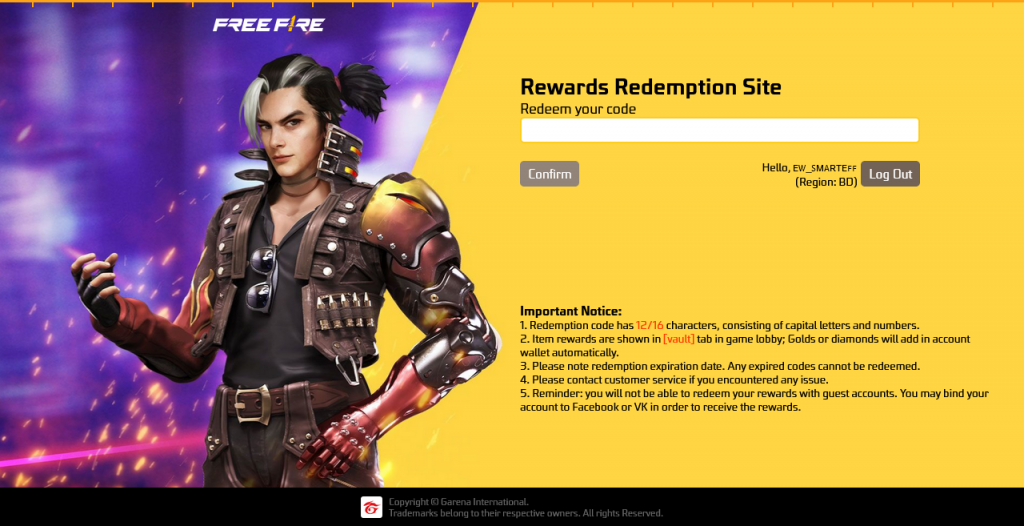 FXDS-TSWY-QTJ9
BKSK-ECCM-JZEB
L8LN-F5WK-2YPN
TPNA-MS84-ZE8E
MSJX-8VM2-5B95
8F3Q-ZKNT-LWBZ
X99T-K56X-DJ4X
SARG-886A-V5GR
J3ZK-Q57Z-2P2P
FF11-NJN5-YS3E
MQJW-NBVH-YAQM
FF7M-UY4M-E6SC
FF11-64XN-JZ2V
FF11-WFNP-P956
WCME-RVCM-USZ9
RRQ3-SSJT-N9UK
W4GP-FVK2-MR2C
Verdict
Because redeem coupons have a limited duration, certain codes may not work or may be expired, thus we will constantly update the redeem codes on a regular basis so that you can quickly redeem and obtain different amazing gift certificates from Garena free fire.
Also Read