 Did you know that you get reward points on using Fonepay's systems while making payments online? If you are using your mobile banking service or eSewa, Fonepay offers you certain points on paying online which you can redeem later. You'll get reward points when you use either eSewa, mobile banking, or Fonepay direct for fund transfers and making payments.
After you collect such points, you can then redeem them through the Fonepay offer app. Fonepay offer app is running flash sales offer at this time for November 19. It will go on between 1:00 PM to 2:00 PM on that date. You can redeem your points and buy products with discounts from the Fonepay offer app.
How to redeem Fonepay points in Fonepay offer app?
First of all, you need to register in the Fonepay offer app.
Download the Fonepay offer app from Google Playstore for

Android devices

and

App Store

for iOS devices.
Then register with your name, mobile number, and email address
After you enter such details, an OTP will be sent to your phone, and enter that for verification.
Then, you'll enter the homepage that shows reward points that you can redeem for buying products in the Fonepay flash sale offer.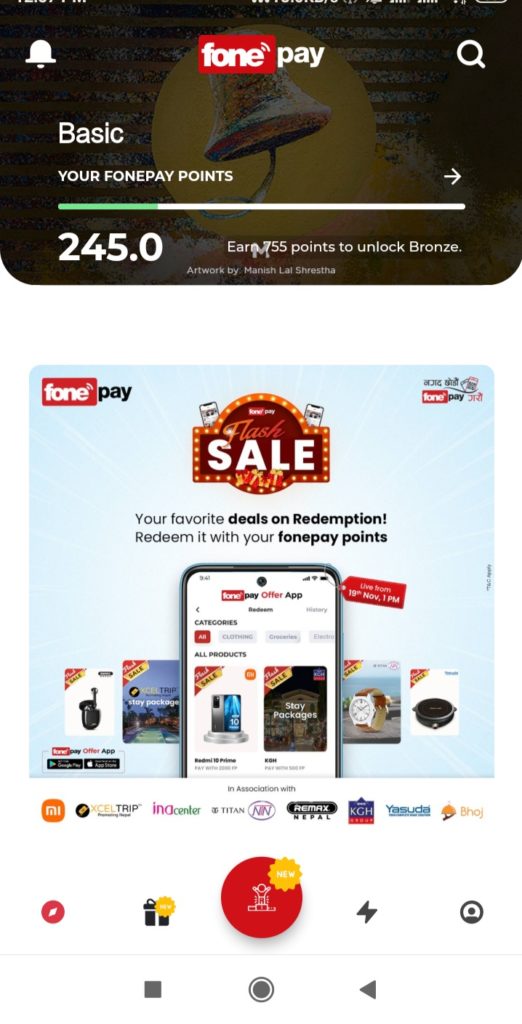 After registering there, you can follow these simple steps to redeem your points:
Enter your mobile number and the enter the OTP received.
Browse exciting offers.
Explore products, services or vouchers on the redemption screen.
Select products, services or vouchers you wish to redeem.
Fill the requisites
Confirm the redemption.
Get your hands on your redeemed products, services or vouchers
What's Fonepay Flash Sale offer?
Fonepay flash sale is happening on the 19th of November. On this day, you can get higher discounts on 9 types of products like gadgets, electronics, travel packages, gifts, and more.
There are the following categories in this flash sale offer:
Home Appliances and Electronics
Travel and Tours
Beauty and Fashion
Mart
Vet
Food and Dining
Travel Packages
Earbuds and headsets
Powerbanks
You can order products and services from brands like MI, Titan, Yashuda, Remax Nepal, Ina center, Bhoj Deals, Xcel trip, KGH Group, Pet Mania, UFO, and others.
Also Read: Use "TECHSATHI" Promo Code While Registering on eSewa & Get Rs 20
About FonePay
Fonepay is the largest network for digital payment systems in Nepal. FonePay offer app is the product by F1 Soft International which allows you to redeem all the points you earn while using Fonepay apps.
Currently, the Fonepay network has the following set of services for digital payments;
Fonepay Offer App
eSewa digital wallet
Fonepay Merchant
Fonepay QR
Corporate Fonepay
Among them, the most commonly used apps are eSewa and mobile banking apps under the Fonepay network. Fonepay has more than 50+ member banks and financial institutions and 14 million-plus customers under its network. Most of the mobile banking apps of Nepalese commercial banks are operated by Fonepay.