Facebook Messenger is one of the most popular IM apps that is working off the main social media which allows to connect peoples around the world. Facebook Messenger currently has 1.3 billion monthly active users. Back in May of this year, at the company's F8 developer convention, the Messenger team announced they were working on a redesign for the application. Recently Facebook has been working on dark mode for its Messenger app for a while now. The company recently revealed that the work is still in process and will take some time before the dark mode is officially available.
However, it looks like Facebook attached an Easter Egg inside the Messenger app which allows users to get access to dark mode immediately. The app does notify that the dark mode is still in work and is inconsistent around the app.
Enabling Dark Mode on Facebook Messenger: Send a Moon Emoji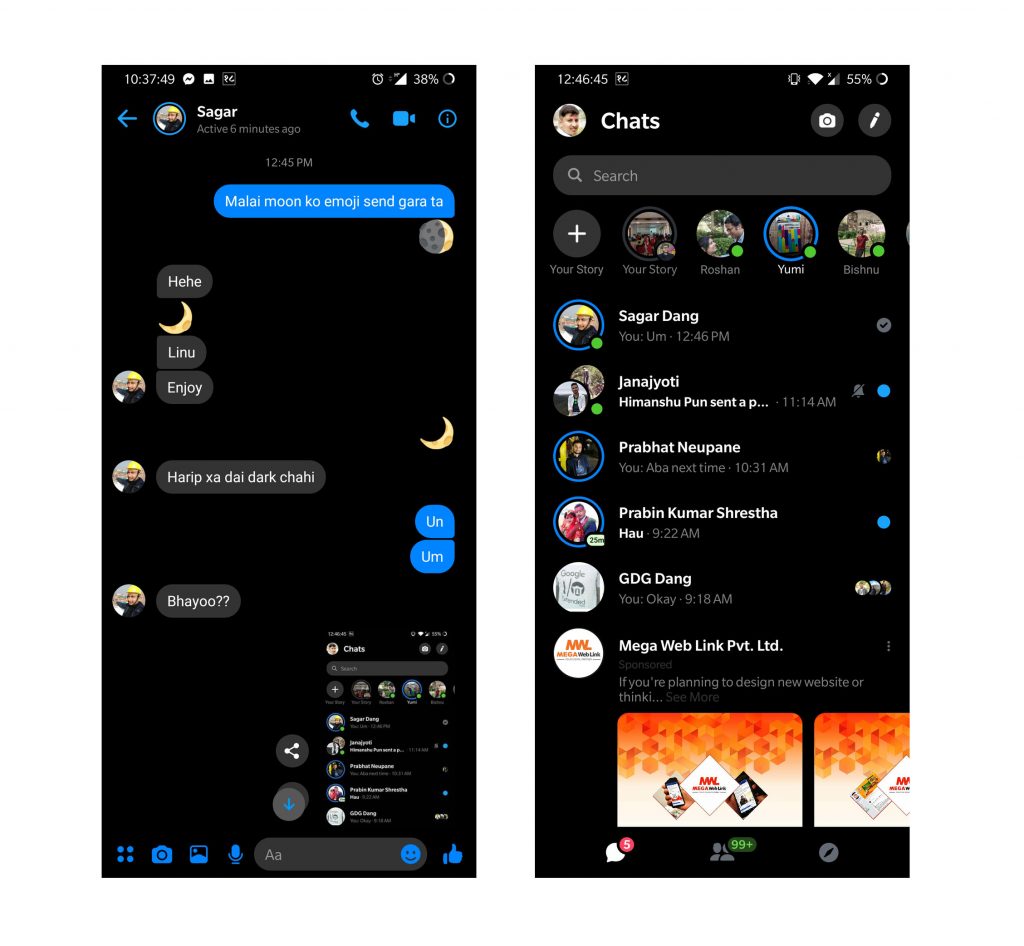 The first method works for both Android and iOS, but the tricky part is that it doesn't apply to all users. Facebook is currently rolling this feature out as an account-based update. So, some users will be able to use this method, while others won't until a later date
Step 1: Send a Moon Emoji
This is so simple it's silly: to enable dark mode, send someone a moon emoji. The regular, left-facing crescent moon icon, not the moon emoji with smiley faces.
If Facebook has activated the dark mode feature for your account, moon emoji will rain down in the message thread, then a popup will appear at the top of the screen stating "You Found Dark Mode!" Tap this popup to turn the feature on.
Step 2: Get Your Friends to Send You a Moon Emoji
For the vast majority of users at the time of this writing, Facebook hasn't rolled this feature out yet. So, chances are, Step 1 didn't work. But all hope isn't lost.
The moon emoji trick works both ways, so if you do have the feature enabled for your account and the person you send a moon emoji to doesn't, they'll still get the option to turn on dark mode. You can use this to your advantage if Facebook hasn't activated the feature on your account.
Step 3: Enjoy Dark Mode
Once enabled, it's a true black dark mode, so you'll save battery life on phones with OLED screens like the iPhone XR or Galaxy S10. The theme is still being worked on, however, so you may notice a few menus here and there where black text is overlaid on the black background. Still, it's already very usable.
What do you think about Facebook Messenger's New Dark Mode, please let us know in the comments below.