 DJI, today introduces the DJI Air 3, a new powerful addition to the Air Series with dual primary cameras. Featuring a wide-angle camera and a 3x medium tele camera, it empowers more users to get a sense of compression in their shots and delivers a medium focal length to more aerial photography enthusiasts. As a powerful addition to their acclaimed Air Series, the DJI Air 3 comes packed with features that promise to redefine the aerial photography experience.
DJI Air 3 Price and Availability
The DJI Air 3 comes in three configurations:
DJI Air 3 (DJI RC-N2) – $1,099
DJI Air 3 Fly More Combo (DJI RC-N2) – $1,349
DJI Air 3 Fly More Combo (DJI RC 2) – $1,549
Specifications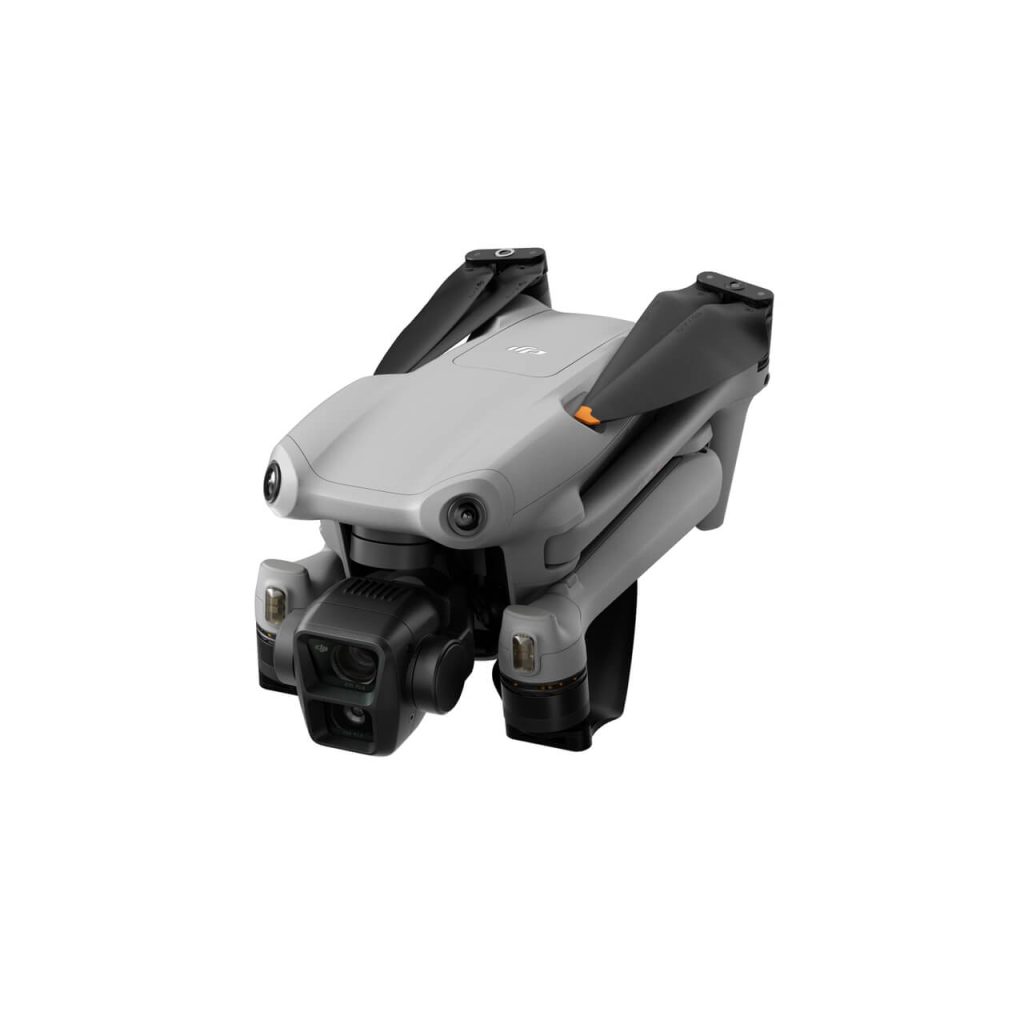 Cameras: 24mm EFL + 70mm EFL
Image sensor: 1/1.3-inch 48 MP stacked CMOS (same on both)
Still image size: 8064 x 6048
ISO: 100-6400 (or 100-1600 in high dynamic range modes), 100-12800 night mode
Video: 4K @ 60fps Normal mode, 100fps Slow-Mo mode
Max frame-rate: 200fps at 1080P
Color modes: 8-bit or 10-bit 4:2:0 (HLG / D-Log M)
Radio / Range: DJI O4 / 20km (12.4 miles)
Max speed: 21m/s (19 m/s in EU)
Flight time: 46 min perfect / 42 min hover
Weight: 723g (on my scales, with battery)
Dimensions: 200 x 85 x 102mm (folded)
DJI RC 2 weight: 416g
Overview
The DJI Air 3 boasts the first dual-primary camera system of the Air Series, which embeds a 1/1.3-inch CMOS wide-angle camera and a 1/1.3-inch CMOS 3x medium tele camera in a compact space. The two cameras have the same sensor size but different focal lengths, which result in more consistent image quality and more diverse camera language.
With the wide-angle camera, sweeping landscapes can be captured more fully. It offers 2.4μm pixel size, 24mm format equivalent and a F1.7 aperture. The 3x Medium Tele Camera offers 2.4μm pixel size, 70mm format equivalent and a F2.8 aperture.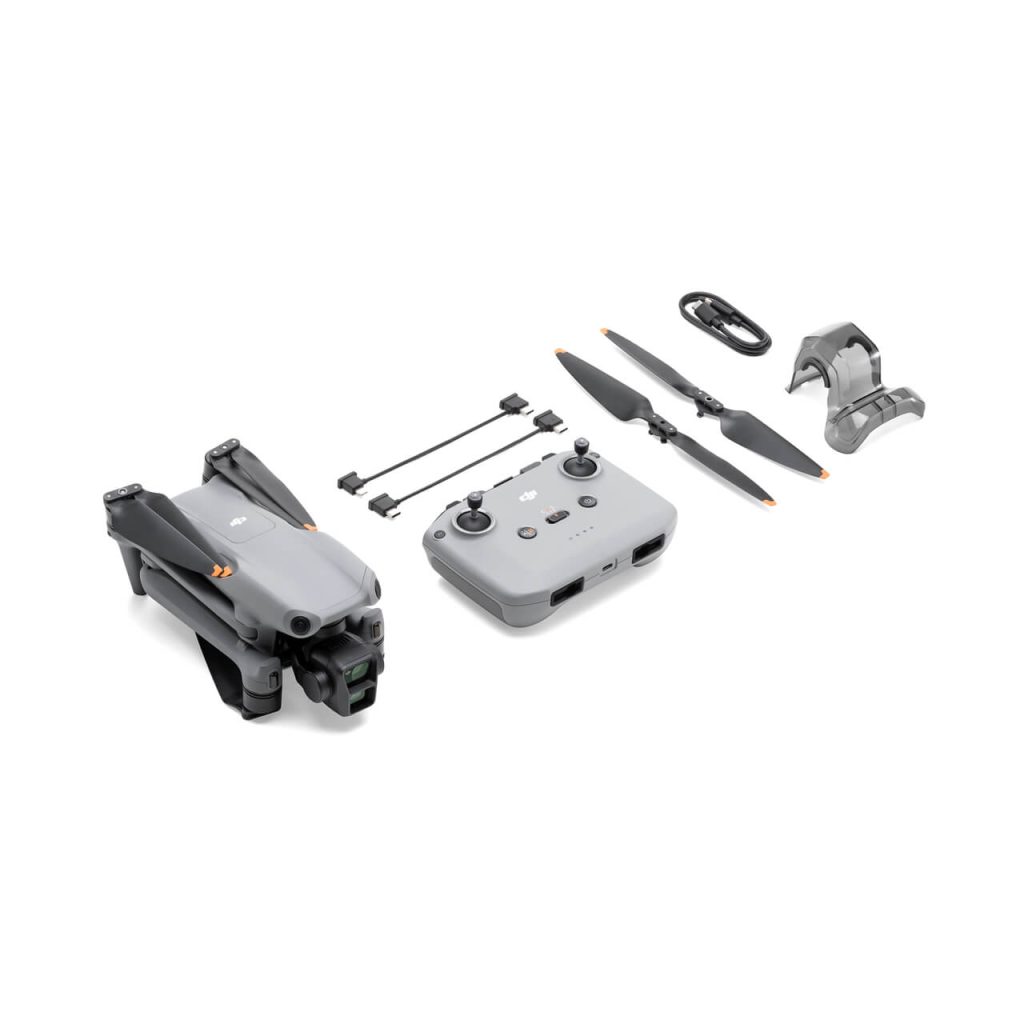 The 3x medium tele camera can achieve 3x optical zoom and also create a strong sense of spatial compression, enabling a unique perspective to present the user or anyone else as the subject of aerial photography. With people in the scene, aerial photography now has more diverse possibilities.
Pilots can use the wide FOV of the wide-angle camera to embrace the whole landscape or switch to the 3x medium tele camera, and capture the subject as a bold focal point, with the landscape before and behind the subject seemingly within reach. Both cameras offer 48MP photos not only to deliver true-to-life details, but also to support post-cropping for easy secondary composition.
The DJI Air 3 has two 1/1.3-inch CMOS sensors that support dual native ISO for direct output of 4K/60fps HDR video at high frame rates and up to 4K/100fps max. video specification now even without FOV cropping compared to its predecessor, the DJI Air 2S. Those videos can record rich color details and natural lighting transitions to restore the stunning landscape before your eyes. Both cameras support 10-bit D-Log M and 10-bit HLG color modes. 10-bit D-Log M mode can retain more highlight and shadow details for more flexible post-production.
The DJI Air 3 is the first drone of the Air Series supporting 2.7K vertical video shooting (9:16), which can be shared immediately on social media.
In conclusion, the DJI Air 3 sets a new standard for aerial photography drones. Its dual primary cameras, enhanced flight performance, and intelligent features make it a game-changer in the industry, delivering breathtaking results for both amateurs and professionals alike.
Also Read: Softwarica College to Showcase AI and Robotics Innovations at Upcoming Tech-Expo 2023