A press conference was held regarding Delta's Technical Fair in the presence of Delta's supporters, representatives of various television and newspapers, Campus Heads of Purwanchal Campus and others. It was organized by Delta Institute in Purwanchal Campus, Dharan, on Ashar 21, 2078 B.S.

Delta has been conducting orientation and training programs for the advancement of science and technology. It encourages all curricular and extracurricular activities for the benefit and internal development of the students. Due to the difficult situation of Covid-19, it is not possible to conduct the program physically as in the past days. This year, the 2.0 committee has revealed that the program will be conducted online.
Speaking at the inaugural ceremony of the press release, Campus Head of Purwanchal Campus Er. Om Prakash Dhakal thanked all those present and also thanked all donators for their support. He claimed that Delta has benefited students across the country through student-targeted programs and technical programs in recent days. Er. Dhakal also mentioned that Delta has completed its program in a grand and successful manner even in the previous years. Representatives of various organizations including FonePay, WorldLink, NIC Asia Bank, Daraz, Code IT and many other organizations supporting Delta's Technical Fair were present at the conference.
More about Delta's Technical fair
This technical fest started with the idea that technology should be developed even outside Kathmandu. According to the program organizer, the main attraction of this technical fest is the programs scheduled on the 6th, 7th and 8th of Shrawan. All kinds of programs, big and small, are being held in those days. Stating that various programs are being held as a pre-event, Delta Vice President Mr. Sudip Bhai Subedi said that an online speech competition is being held under Boki Delta Champs 2.0 with the objective of showcasing the talents of students studying from Class 8 to 12 across the country.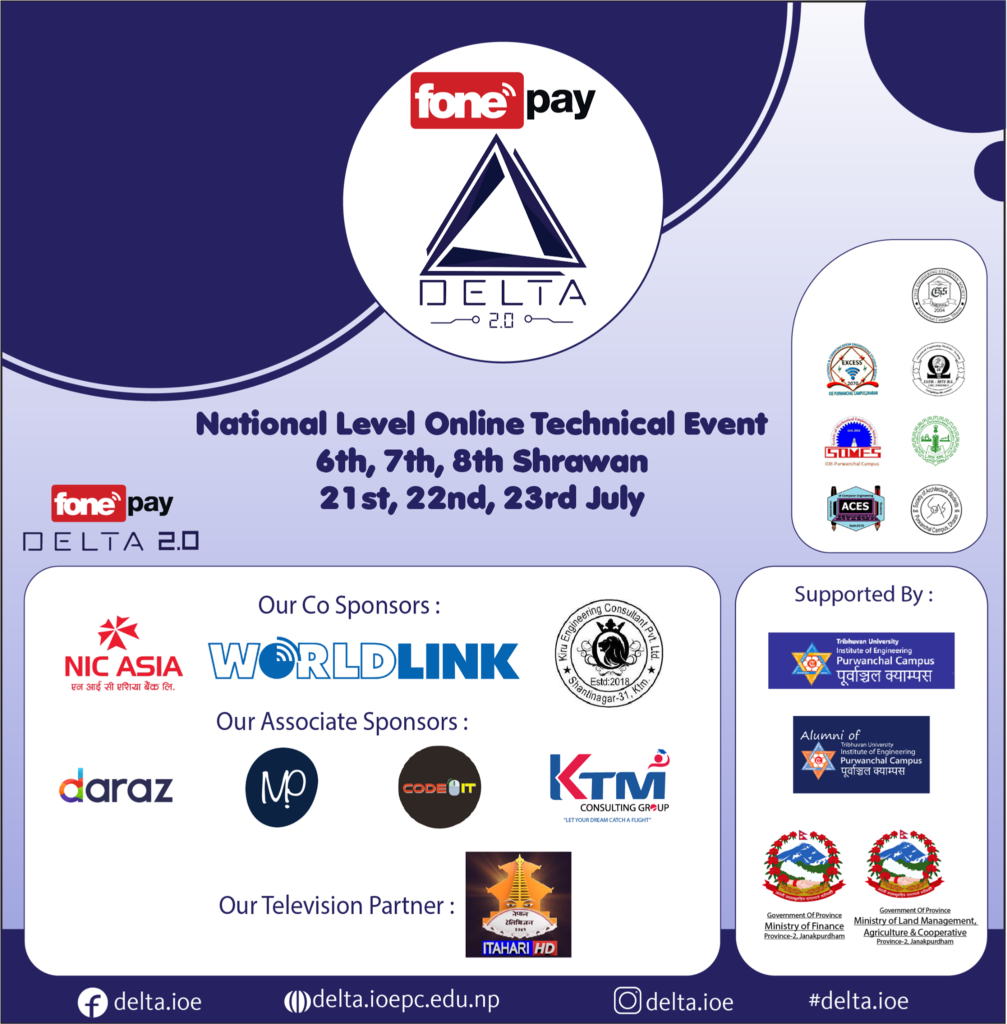 The main focus of this fair is five special programs on the 6th, 7th and 8th of Shrawan. The program includes Multimedia Exhibitions, Matlab Design Competitions, 3D Model Design Competitions, Inter-College Presentation Competitions and Codeathons. According to Mr. Saroj Bania, the program will be conducted on the 6th, 7th and 8th of Shrawan along with the online presence of various celebrities. Similarly, the closing ceremony and prizes will be distributed on the 9th of Shrawan.
At the end of the program, Delta President Mr. Sudip Bista thanked the donors/supporters, representatives of various television and newspapers, Campus Heads of Purwanchal Campus, and others who attended the conference. Elaborating further on the program, Mr. Bista said that he would continue to hold important programs on upcoming days and formally concluded the press conference.
Also Read: Oppo Presents "The Voice of Nepal Season 3" Enters Live Round | Here's how to Vote