Biggest One Day Sale is starting soon. Daraz is offering 5 crore worth of discounts on 11 lakh products. This is supposed to be Daraz's biggest campaign till the date. 11.11 is about to start from November 11. In addition Daraz has been continuously raising its standards in providing "the best" for the customers. Above all, Nepalese festive season is always valued too. Although, I personally think 11.11 on mid-festive time would have been much better. But still we can not go back on the fact that, it is happening on 11/11. Daraz has a lot to offer, let's have a look at Mega Deals and Giveaways, 1 Rupee Game , more.
In this article, you will learn about exciting offers and vouchers Daraz has to offer. Likewise with how to participate in 11.11. Presently, we have divided the article into three parts, for your convenience on the basis of :
Mega Deals and Mega Giveaway
1 Rupee Game + How to play?
Bank Discounts,Vouchers and other offers
Mega Deals and Mega Giveaway at Daraz 11.11
Mega Deals
Firstly, you can get discounts of up to 60% off on various products spanning different categories like Fashion, Electronics, Fashion, Home Appliances, Automobiles, Musical Instruments, Home Décor and more. Likewise, you get the facility to also order goods directly from India via Daraz's Global Collection.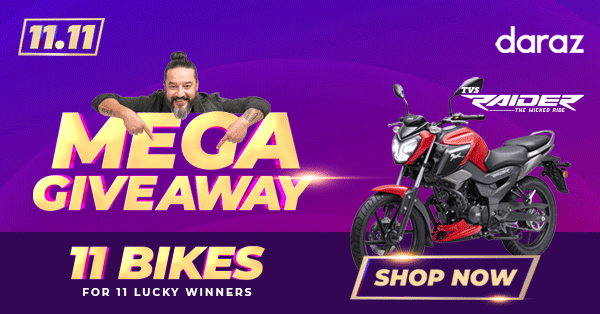 Secondly, 11.11 customers can order products of 4 top brands from India – Janasya, Misha Fashion, Ustra, Wiresto. Furthermore, exclusive partners TVS, Coca Cola and Sunsilk will also be offering special deals on all their products during the campaign. Likewise, with free delivery which however depends upon the seller.
Some of the major deals where customers can also use vouchers to further reduce the price and get their favorite products are a very low price, for instance.
Deals Under 999
Deals Under 1499
Deals Under 2499
Exclusive Deals on DarazMall Products
Mega Deals' Major Daraz 11.11 Products
Mega Giveaway
Nevertheless, In the past campaign, Daraz always offered just one major giveaway. However, this time Daraz is offering 11 TVS Raider Motorcycles as the Mega Giveaway. In addition, 11 Daraz users will get a chance to win the Mega Giveaway by shopping on Daraz during the 11.11 campaign.
1 rupee Game , How to play?
Here, the 1-rupee game makes it return. Actually, customers can win selected products at just Re.1. Further, the Re.1 will be refunded if they do not win.
The products in 1-Rupee game this time are as follows:
| | |
| --- | --- |
| Huawei Watch GT2 Pro Nebula | Worth Rs. 34,999 |
| Likewise, Alkatel TKEE MINI Smart Tablet | Worth Rs. 13,490 |
| One Plus 9 5G | Worth Rs. 104,999 |
| Samsung A03s | Worth Rs. 16,999 |
| Realme GT NEO 2 5G | Exclusively being launched on Daraz for 11.11 |
| Furthermore, Shree Balaji Diamond Pendent and Earring Set | Worth Rs. 1,00,000 |
How to Play 1 Rupee Game?

Open the Daraz app and click on the 11.11 icon or text.
Now, select One Rupee Game
Likewise Click on the product of your choice.
Accordingly add the product to your cart.
In the meClick on checkout and then click on Proceed to pay
Select your method of payment – either with a Debit/Credit Card, Esewa or via your IME pay account.
Finally, Enter your OTP (One Time Password) and click on submit.
In short you have successfully made your payment.
Bank Discounts and Vouchers at Daraz 11.11
Bank Discounts
In terms of bank card prepayment discounts, customers who shop during 11.11 will be able to save upto 15% (max Rs. 3000) via Debit Card and 15% (max Rs. 3500) via Credit Card too. Indeed, Customers of Nabil Bank, Sanima Bank, Global IME Bank, NMB Bank, Machhapuchchhre Bank, Kumari Bank, Nepal SBI Bank, Bank of Kathmandu, Mega Bank, NCC Bank, NIC Asia Bank, Himalayan Bank, Everest Bank, Citizens Bank, and Shangri-La Bank can avail the aforementioned discounts.
Likewise, customers of NIC Asia Bank, Sunrise Bank, Citizens Bank and Machhapuchchhre Bank can enjoy 0% interest Easy Monthly Installment plans (EMI) via credit card. Furthermore, customers can expect special discounts during limited hours when paying through their E-Sewa and IME Pay wallet during the campaign.
New User Voucher
Also, Daraz customers will get Rs. 200 off on their first purchase. Shop and save Rs. 200 during 11.11.
Recharge Gifts : Rs 50 off on Recharge for new users on their first purchase, for instance.
Review and Win : Furthermore, everyday 11 customers can win vouchers worth Rs.200 by sharing an image review of a product they recently bought on Daraz.
Early Bird Voucher : For this voucher you need to be really quick.
What's New?
Offers
Details
Follow & Win
A list of stores has provided Store Follower Vouchers.
Hence, any user who follows these stores will get the respective store follower vouchers.
Power Hour I
Limited Time Collectable Vouchers – Rs. 50 off on Rs. 700 ko purchase.
Power Hour II
Consequently, Limited Time Collectable Vouchers – Rs. 100 off on Rs. 1111.
HOT Picks
Also, Up to 40% off on customers most loved products.
These offers are limited so customers are requested to be quick to not miss out on these offers.
Daraz Live
Equally important, Nepal's first in-app shoppable livestream.
So, Each day customers can watch the livestream via the Daraz app.
Furthermore, the livestream will feature the best products, sellers, games, Q/A sessions with influencers and sellers.
Daraz Gems
Customers can collect gems by logging in daily on Daraz app, by playing missions or by shopping.
However, it is only available on the App.
Conclusion
To sum up, you get to save up a lot in Daraz 11.11. This is a great business scheme but also a great opportunity for fellow shoppers like us.
Enjoy the deal !!