Daraz, the country's leading online marketplace, has officially announced that the second edition of EkDinKoSale i.e. Daraz 11.11 sale, will be kicking-off at midnight on November 11, 2019, offering customers a unique experience that will go beyond retail. 

November 11 is known as Singles Day in China meant for celebrating singlehood, but things changed in 2009 when Alibaba launched the first 11.11 shopping event on that day, offering heavy discounts on its Tmall shopping platform. The mega sale event has now become a global phenomenon and occurs annually throughout the entire Alibaba global ecosystem including all Daraz markets.
Thus, Daraz introduced the 11.11 sale in Nepal in 2018 after its acquisition by Alibaba which subsequently brought a change in the online shopping arena in Nepal. Daraz witnessed an 80x increase in sales in a single day. Over 2 lakh users visited the Daraz app and had access to more than 1000 sellers & brands on that day. This year, the sale is going to be much bigger: Daraz is offering deals on more than 3 lakh products and expects to host a monumental 3.5 lakh visitors on its platform.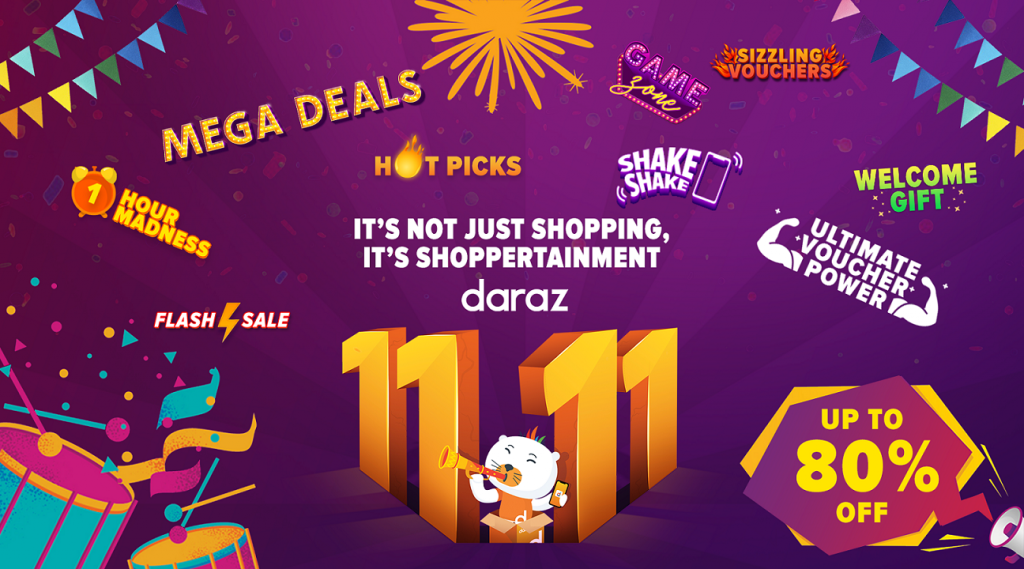 "We received an overwhelming response for the very first edition of the 11.11 sale in Nepal and also learned about things that we must work on to make it better. Thus, this year, we are making it even bigger and better with more than 3000 sellers, banking partners, and a better logistics system. With all the experiences gained from all the campaigns leading up to 11.11, we are confident about providing customers the best possible service," said Lino Ahlering, Managing Director Daraz Nepal.
This year's sale is filled with Exclusive Mega Deals, a Mega Giveaway of YAMAHA RAY ZR STREET RALLY, Daraz Saathi (Referral program), Shake Shake, Early bird offers, Bundle offers Flash Sales, a whole lot of Sizzling Vouchers, Hot Picks, and much more. The ones to not miss are the deals from payment partners. Customers of 5 leading banks – Nabil Bank, Nepal Investment Bank, Sanima Bank, Mega Bank, and Standard Chartered, can use their debit or credit cards to get amazing discounts of up to 20% discount or NPR 3,500 during the Mega Sale.
Daraz has also been working to ensure customers have a good experience and are fully informed that delivery times may take a little longer. Chief Operating Officer, Bimal Aryal, mentioned during the presentation, "Daraz has been gearing up for the 11.11 sale event for the past few months. For the 11.11 campaign alone, Daraz has hired 400 additional Delivery heroes (delivery agents) to manage the hundreds and thousands of orders expected during the sale."
In order to help the 3000 sellers, Daraz is constantly working on providing them adequate free training, which is poised to drive unprecedented online sales. Daraz also launched collection points in various cities so that customers can conveniently collect their packages and avoid paying shipping fees, saving both time and money.
With all the changes, improvements, additions, and achievements leading up to this year's 11.11, ekdinkosale promises to be the biggest and best yet.