 Coca-Cola Nepal jointly with its bottling partner Bottlers Nepal Limited has announced the 'Saksham' training program, that intends to train 1000 women running grocery stores and small eatery outlets across the value chain in Nepal. There is abundant evidence that establishing gender equality and empowerment has positive societal consequences. That is why, across all of its strategic approaches, Coca-Cola remains committed to making a positive impact by enabling women in the workplace and beyond.
More About Coca-Cola Nepal Saksham Campaign
The campaign connects with the theme of International Women's Day 2022, which is "Gender Equality Today for a Sustainable Tomorrow" with an effort to make these women 'Saksham' meaning capable to take their rightful place as equals in the economy. The program seeks to impart knowledge and training that will create a conducive environment for innovation and growth, ultimately leading to economic development of the nation. 
Thus, Saksham program has been designed to build the capacity of the women retailers and women owned small restaurant owners on financial literacy, hospitality, and sanitation management, and use of digital wallet.
"We believe that when a woman is empowered, the whole nation is empowered. And it is really overwhelming to see the positive transformations we have been able to make in their lives through our previous training programs such as 5by20 and the STAR program. Now as we embark on a new program to support and empower 1000 female entrepreneurs of value chain, we hope to make a humble and impactful difference in their lives"


Adarsh Awasthi, Country Director of Coca-Cola in Nepal
"So many small shops and eateries in rural as well as urban areas in Nepal are run by Women and we have observed the challenges they face specially post pandemic. Through this program, we focus to foster the capabilities of women entrepreneurs running grocery stores and small eatery outlets by enhancing their knowledge that helps to build confidence and provides access to opportunities in the modern world."


Pradip Pandey, Managing Director of Bottlers Nepal Limited shared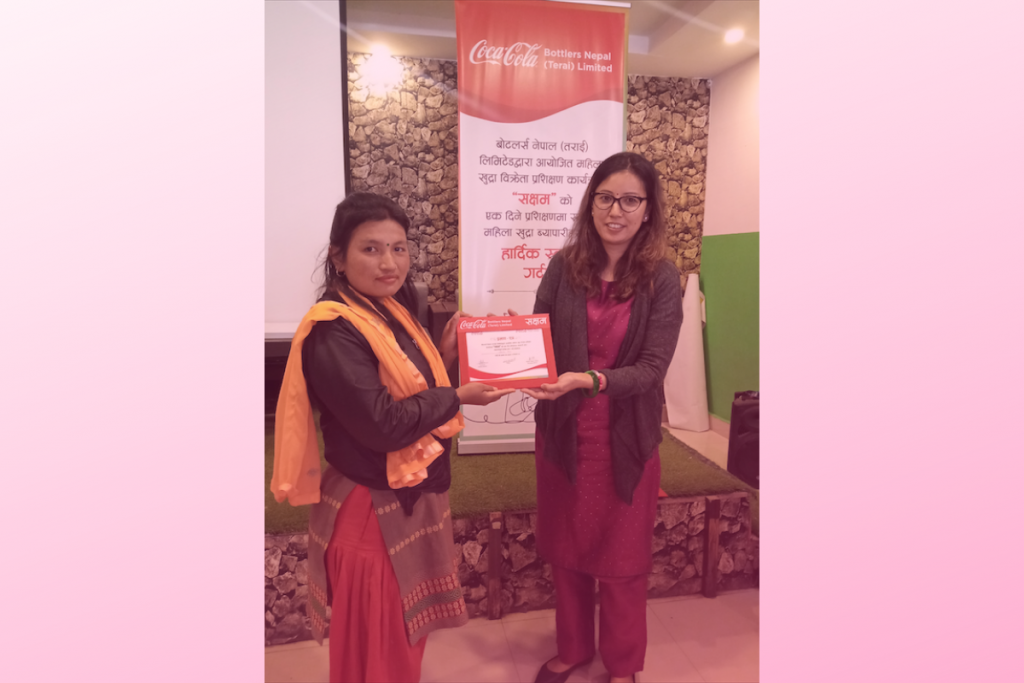 Diversity, equity, and inclusion are central to Coca-values Cola's and growth strategy, and they are critical to the company's success. This can be seen in Coca-various Cola's female empowerment initiatives over the years. Coca-Cola announced the ambitious 5by20 program in 2010, with the goal of enabling the economic empowerment of 5 million female entrepreneurs across its value chain by 2020. In addition, Coca-Cola Nepal has successfully run the STAR (Shopkeeper Training and Resources) program for 5,800 retail women over the last six years.
About Coca-Cola Nepal
Coca-Cola in Nepal refreshes thousands of consumers throughout the country through its core product offerings of Coca-Cola, Sprite, Fanta, and Kinley and impacts over 5000 people as a System. Coca-Cola in Nepal works with UN HABITAT on the Support My School Initiative to provide basic amenities in schools, as well as the 'Safe Water Project', to improve access to drinking water across 14 communities in Nepal.
Through the STAR (Shopkeeper Training and Resources) program, Coca-Cola Nepal has empowered 5,800 women in retail during the past 6 years as part of The Coca-Cola Company's global 5BY20 initiative. The Company has recently partnered with the Himalayan Climate Initiative and GIZ for a PET Recollection Social enterprise that encourages the recycling of PET waste. Coca-Cola Nepal also observes World Water Day and is aiming to bring about a positive difference to the lives of communities across the country.