 Recently, Classic Tech has announced The "Big Offer Sabai Sittai Ma" to all their existing users. Classic Tech offers a 5Ghz Dual Band router for free to its customers. This Offer is for some specific packages, not for all the internet packages provided by Classic Tech. With this offer, customers can get 15% Discount along with 6 Months Bonus (3 Months of internet, 3 Months of IPTV subscription) and 5Ghz Dual Band Router for Free.
So, you will save Rs. 4,223 from discount, get benefit of Rs. 7,497 for free on 6 Months Bonus and save Rs. 5,000 as you will get the 5Ghz router for free. You will not be charged for replacement/ upgradation of your router by the Smart Installation Team from Classic Tech.
You can call 9802922304 for information regarding this offer.
Also Read: Classic Tech Unveils Tachyon Package with Speed up to 1000Mbps
About Classic Tech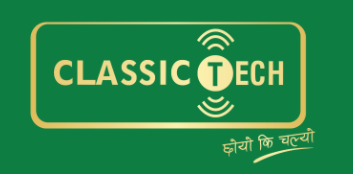 Classic Tech is one of Nepal's largest and most well-known network service provider. Classic Tech has been operating in Nepal since 2009, and in just 12 years, it has expanded its service to 103 locations throughout 74 districts. Classic Tech offers internet connectivity to rural communities around the nation for many years. Classic Tech has also been offering the highest speed internet at the lowest costs to the nation's expanding number of internet customers. Classic Tech offers various internet packages for individual and business users. Classic Tech has introduced the highest broadband internet, IPTV service, and the most cutting-edge technological items over the years.
Classic Tech uses Virtual Private LAN Service (VPLS) over a Multi-protocol Label Switching (MPLS) technology to run a scalable and secure network. Classic Tech has installed metro fiber route mile infrastructure that allows them to provide Ethernet services at up to 1 Gbps speeds.
With the slogan "Chhoyo Ki Chalyo,", Classic Tech offers the quickest and most dependable services that are thoroughly studied while matching the actual need of clients. Their objective is to develop and supply high-quality network services that meet the needs of a wide range of users. They promise to put the most dependable and economical services in the hands of our clients, thereby empowering the country.