The attraction for IT courses and degrees has become significantly higher in recent days. Among many other available IT courses, BSc CSIT is definitely the most popular IT course in Nepal. BSC CSIT or the Bachelor of Computer Science and Information Technology is an aptitude test conducted by the Tribhuvan University Institute of Science and Technology (IoST) for admission to BSC CSIT courses in over 50 colleges across Nepal. From the 26th of December, TU has opened the online application form for the BSc CSIT course. Keep reading to find out how you can fill the online application easily.
About BSc CSIT Course
BSc CSIT degree combines previous 3-year Computer Science degree and 3-year Information Technology degree into a single 4-year course. So, the degree can be thought of as a combination of Information Technology and computer science principles and applications. Due to this, it can be considered as one of the vast IT courses in Nepal as it ensemble different fields of IT in it. Since most of the TU-affiliated colleges are providing this degree, it could be easily available in your nearby colleges.
Online Form for BSc CSIT
Tribhuvan University has published a notice for all the member colleges and campuses to invite admissions for BSc Computer Science and Information Technology (BSc CSIT) through an entrance exam for the academic year 2078. The form can be filled up from December 26, 2021, until January 25, 2022.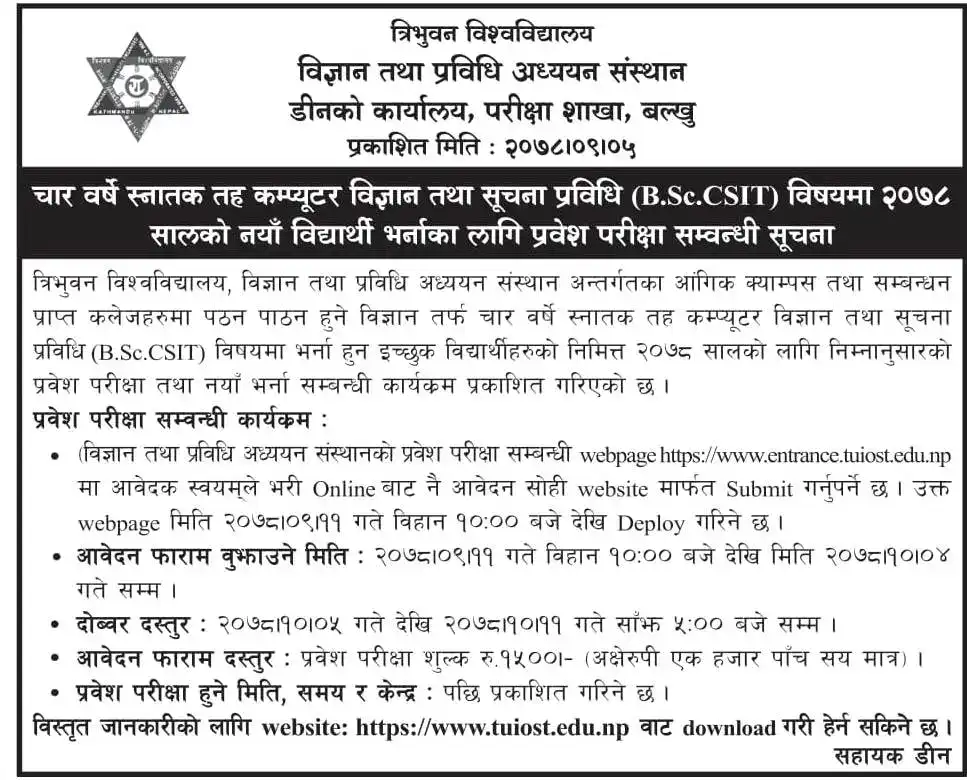 Form Submission Timeline
Application form submission starts 2078/09/11 10 AM onwards. Students have to submit the form via the entrance examination portal of TUIOST which will be live from that day only.
The last date for submission of admission forms: 2078/10/04
Application form submission with double fee: 2078/10/05 to 2078/10/11
Application form fee: Rs. 1500 only.
After filling the application form, they will provide you with a reference number which can be used later to find your center for examination. The centers for the entrance examination will be published later. Candidates should note that there is no change in the examination centers or hall tickets allotted to the candidates. Candidates are advised to report at the allotted centers two hours before the commencement of the examination along with the admit card and any identity proof issued by the competent authority.
Eligibility Criteria
Before you start the registration process, firstly check your eligibility criteria as mentioned in the notice before depositing the Entrance Application Fee. After making sure you are eligible for this course, then you pay the application fee and start gathering the required documents for the application. Some of the eligibility criteria are mentioned here:
The candidates should be a Nepali citizen.
There is no age restriction to take TU BSC CSIT Exam 2078.
Applicants must have a Bachelor's degree in Science in the +2 format from any recognized high school
They must have passed the examination with the least C grades in each subject.
Required Documents to upload
Bank Voucher (counter payment) OR Deposite Slip (e-banking payment)
Recent Passport Size Photo
Academic Transcript (Grade 11-12 or Equivalent) – make pdf if you have marksheets!
Equivalence Certificate (if required)
Marksheet (SLC/SEE or Equivalent)
Citizenship Certificate OR Valid ID Card
Scanned Copy of Candidate's Signature (png format)
Depositing Application Fee Online
The applicants must deposit an amount of NRs. 1500/- (Fifteen Hundred only) for B.Sc. CSIT Entrance Examination, in the Account No. 0501010000023 of Institute of Science & Technology, Office of the Dean, TU from any branch of GLOBAL IME Bank Ltd to the GLOBAL IME Bank Ltd, Kirtipur Branch. There is a Special Voucher prepared by the Bank for the purpose of 'B.Sc. CSIT Entrance Examination'. In the voucher, applicants are suggested to write his/her FULL NAME and MOBILE NUMBER correctly and keep the voucher safely. In the online application, the Voucher Number should be correctly filled. 
There will be additional option for the B.Sc. Entrance Examination Fee payment through e-banking. There is more than 20 Banks in the 'e-banking payment' from which you can deposit the given amount in the given Bank (Account No. 0501010000023 of Institute of Science & Technology, TU, GLOBAL IME Bank Ltd, Kirtipur Branch). Connect IPS/eSewa/Khalti can be used for the payment. If applicants have used e-banking or Connect IPS/eSewa/Khalti, Transaction ID Number (last six digits) and the MOBILE NUMBER should be filled in the online application form.
About TU IoST
Tribhuvan University Institute of Science and Technology (IoST) is one of the oldest and the largest technical institutes in TU with 13 Central Departments, 1 School, 24 constituent campuses, and 89 affiliated campuses. Nepal has a history of nine decades of science teaching/learning at the higher level. Several schemes, plans, policies, and implementation strategies have been experimented with in science education by IoST. It has always played a vital role in the upliftment of technological education in the country.
Preparing for BSc CSIT Entrance Exam
The BSC CSIT Entrance exam is conducted as paper-based with an OMR answer sheet for a duration of two hours and the question paper consists of a total of 100 questions comprising of 25 questions in Mathematics, 25 questions in English, and 25 questions in Chemistry, and 25 questions in English with each question carrying one mark. All questions are of objective type (multiple choice) only and each question carries one mark.
If you have already filled the application form for the BSc CSIT course, now start preparing for the entrance examination with full effort. You can check the BSc CSIT entrance examination model questions and download them here. Make sure you practice similar questions for the entrance exam so that you can get better scholarships and colleges.