Dashain, the biggest festival of Hindus in Nepal, is approaching near. Like every year, this is the time of various offers and celebrations. Several companies have already started unleashing grand and exclusive offers and facilities for this festive season. With such offers, the period of Dashain turns out to be more exciting every year. Easy Taxi has brought the offer to book taxi online with service all over Nepal planning to make the travel more feasible during this time of pandemic.
Like many other service providers, Easy Taxi Nepal also has a slew of the festival offers to wait for its customers. Welcoming Dashain, the company has opened taxi bookings for Dashain. With this, you can now book a taxi and schedule it for the time to go to your homes. This offer will come to be useful for sure when it's time for you to visit your homes or your relatives, to use your booking and reach your destination safely with ease.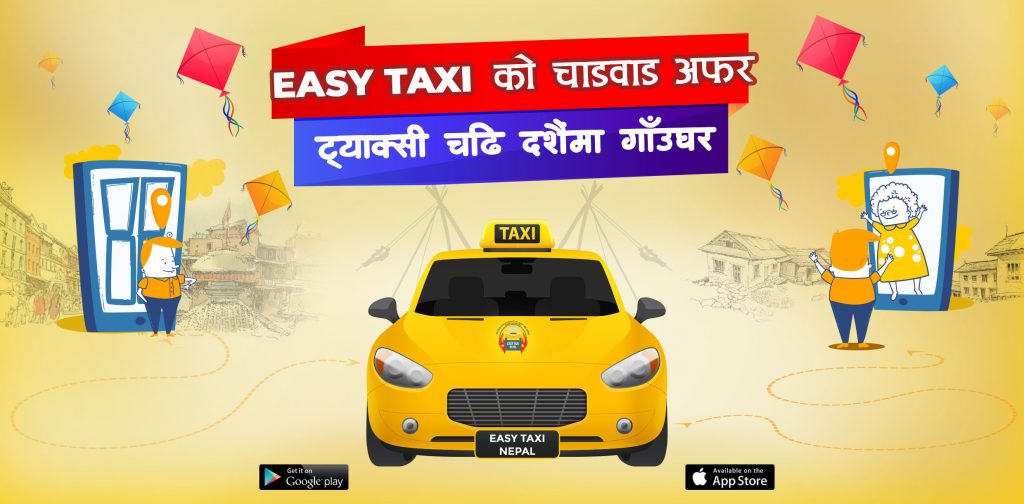 How to book a taxi online using Easy Taxi App?
Using a private or reserved vehicle is the safest way to travel these days due to the pandemic. The risk is still high in public vehicles. In this situation, if you want to book a taxi of your choice, follow down mentioned steps:
Firstly, install Easy Taxi App or update it if you're an existing customer who is using an old version of the app.
Then, fill all the required information along with your contact number and submit it.
After registration, the company will send you a confirmation message.
Finally, confirm it.
Likewise, you can successfully book taxi of your choice.
What can you do in Easy Taxi App?
As a customer, you can view the details of your booking: the date, time, location, location of your destination, and many more. Additionally, you can track your taxi number and view other registration details. Not only this, but the app also updates you with the total cost of your trip. That's a great deal.
Is travelling in their taxi safe?
To stay safe and sound is the main priority of people during this pandemic period. Easy Taxi Nepal is fully aware of it. Moreover, to ensure customer's safety, the company insists its drivers to follow strict safety measures. There's also a good provision of mask, gloves and hand sanitizer for the customers. Furthermore, lives of all drivers working for the company is insured with corona insurance. Therefore, travelling in one of their taxies is safe up to a large extent.
Area served:
Easy Taxi serves places throughout Nepal. To make it possible, over 5,000 taxis are in execution. So, feel free to make your booking soon.
Moreover, the company has chosen Machhapuchchhre Bank as it's settlement bank partner. This has significantly helped in the digitalization of their service. With this change, we hope to see Easy Taxi Nepal driving people safely to their destination. This Dashain, book a taxi in Easy Taxi App and have a comfortable journey to a place of your choice.