 Binit, who is he?
No one is perfect in this world, but with continuous and consistent effort, hard work, and dedication, one can attain the state of perfection. On this inappropriate day, we lost a true gem of our IT community, Mr. Binit Ghimire. We express our deepest condolences to the bereaved family and pray that they rest in peace in heaven.
Even though he is not present with us now, he will forever live on with us in our memories, and the whole community will remember and cherish him through the great contributions he made to the IT community and the industry as well.
No one is perfect in this world, but with continuous and consistent effort and dedication, one can attain the state of perfection. Which applies to Binit Ghimire, our IT industry hero.
He began his academic career at Chitwan and finished it there. He successfully fulfilled the requirements for his B.C.E. degree at United Technical College.
We need to exert a lot of effort and pressure in order to turn into a gemstone. It seems as though he had had a variety of ongoing challenges over a period of twelve years.
The skills he had acquired with consistent and proper dedication were used to solve real-world problems. Solving real-world problems, finding and helping other people, and contributing to the community were what he lived for. A dedicated and talented individual with prior experience in IT.
He had created more experience and his own image with his venerable contribution in all areas of web development, network security, and penetration testing.
With his renowned contributions in every sector, he had gained experience and his own reputation. We should have certain abilities to maintain and advance our expertise in the professional world, but in his case, he has taken over the entire system and has a significant influence practically everywhere. For a very long period, his reputation and contributions persisted in the working world.
There is always a distinct area for him and his contributions in the fields of penetration testing, cryptography, digital forensics, and reverse engineering.
Some social profiles of Binit Ghimire.
Twitter : @WHOISbinit
Linkedin : @thebinitghimire
His own website : https://whoisbinit.me/
His github : https://github.com/TheBinitGhimire/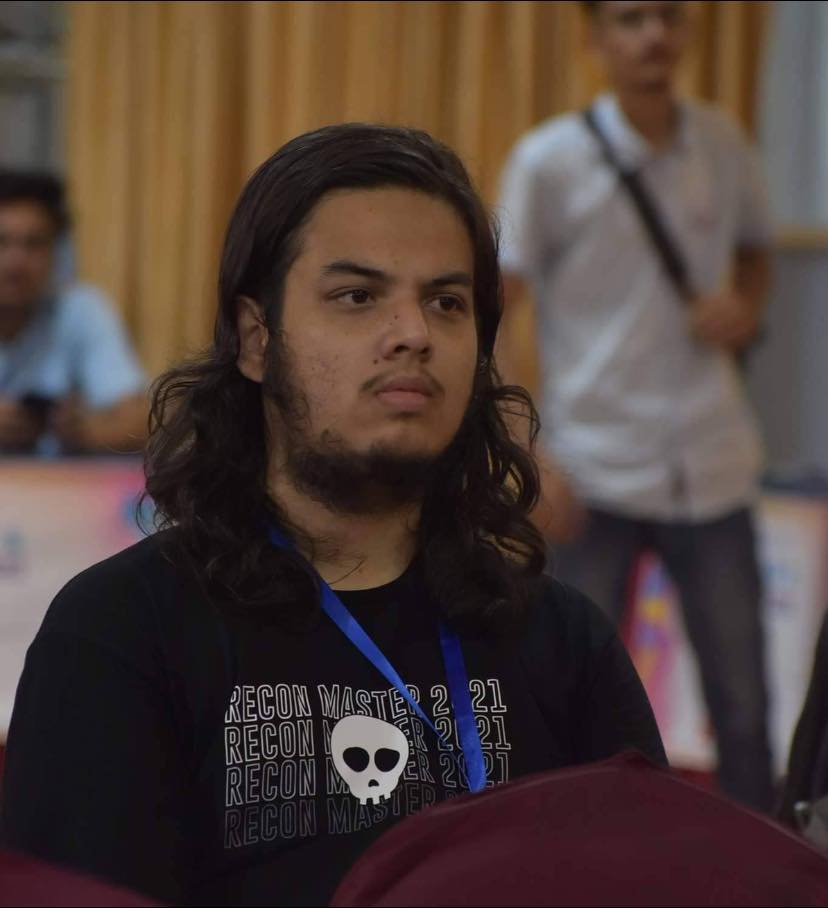 How did he start?
In 2014, he began his professional career as a YouTube video creator. He used to post cyber security and information security instructional videos, as well as demonstrations of security projects.
In 2018, he started as ASK Buddie's Community Administrator. It was the beginning of the Ask Buddie community. He helped build a superb Ask Buddie network, as well as general community administration, remote support for community members, and aid with many elements of technology. Later on, it helps with the development of a strong community and the resolution of national issues.
In 2020, he began working as a Cyber Security Intern at Eminence Ways Pvt. Ltd. He began his career as a consultant at Genese Solution Pvt. Ltd.
Where has he been ?
He was active not just in community building and income, but also in studying.
He was the one who was always on the lookout for opportunities to participate in various activities, such as:
NepHack 3.0 Online CTF 2020: Winning team
fourth solver (4th place)
Threatcon Nepal Cyber Range 2020: 4th place
VirSecCon CTF 2020: 49th place
H@cktivityCon CTF 2020, 48th place
QuantumHack Hackathon 2020: tenth place
A Day of Code 2020-Boston International College: Second position and Best Code
CoTS Vector CTF 2019: Winning team
129th position in picoCTF 2019:
What are some of the things he has been honoured with?
After a long journey, he has been honoured with several awards, such as;
He was thankful to all the companies, which acknowledged and rewarded over 70 multinational companies, organizations, and universities in total for responsibly discovering and reporting security vulnerabilities in their platforms.
Facebook Whitehat, 2018, 2019 and 2020
October 2019: Microsoft Security Response Center (MSRC) Online Service Acknowledgements, October 2019
Alibaba Security Response Center Hall of Fame, April 2019
The CVE Assignment Team at MITRE assigned CVE-2019-11513, CVE-2020-13487, and CVE-2020-13660 for 3 different vulnerabilities that I discovered in multiple platforms, i.e., bbPress and CMS Made Simple.
GitHub Education Octograd Class of 2020
Acorns Grow, Inc. Hall of Fame
Adobe Hall of Fame
The AT&T Hall of Fame
AniDB Appreciation
Atlasian Opsgenie Hall of Fame
BlueJeans Network Hall of Fame
Cardboard Hall of Fame
CERT.LV Official Letter of Appreciation
Caffeine Hall of Fame
The Cloudways Hall of Fame
Coinbase Hall of Fame
Corebox Appreciation
Credit Karma Hall of Fame
Dell Technologies Hall of Fame
Directly Hall of Fame
Endurance (Constant Contact, Inc.) Hall of Fame
Fitbit Hall of Fame
HubSpot Hall of Fame
Humble Bundle Hall of Fame
InVision Hall of Fame
Indeed Hall of Fame
iRobot Corporation Hall of Fame
Jet.com Hall of Fame
KeyBank Hall of Fame
Magisto Hall of Fame
Mailgun Hall of Fame
Mastercard Hall of Fame
NCSC-NL Acknowledgement and Sign of Gratitude
Okta Hall of Fame
Overstock.com Hall of Fame
Pantheon Hall of Fame
Pinterest Hall of Fame
PureVPN Hall of Fame
Recommendation from the University of Vienna
Redox Engine Hall of Fame
Ribose Security Hall of Fame
SAP Concur Hall of Fame
Simple Hall of Fame
Skyscanner Hall of Fame
Sophos Hall of Fame
StackPath Hall of Fame
StackPath Hall of Fame
Statuspage Hall of Fame
Stripo Hall of Fame
Takeaway.com Hall of Fame
U.S. Department of Defense Hall of Fame
UNDER ARMOUR Hall of Fame
USAA Hall of Fame
University of Cambridge Letter of Acknowledgement
WordPress Hall of Fame
Zynga Inc. Hall of Fame
Along with it he has been on the talk show also:
The session "NtHiM (Now, the Host is Mine!): Super Fast Domain Takeover Detection" at Black Hat Asia 2022 Arsenal: Presenting Rust-based Project.
What Kind of Projects Has He Done?
Throughout his life, he completed several projects, some of which are listed here.
NtHiM was a work in progress for a lightning-fast domain takeover detection tool based on Rust!
The project was called the Emergency Medical Response System for Smart Cities (EMRSS). It was created during the QuantumHack hackathon and may be used to send a notice to contact an ambulance at the nearest hospital using WebSockets when someone is in an emergency situation.
The COVID-19 Tracking Utilities for the Modern World were created at a hackathon and consist of a COVID-19 Tracking Web Application written in PHP and an AJAX command-line utility written in Python. Adel was in charge of a command-line tool that selects IP addresses from a list of domains.
COVID-19 The Tracking Web Application was a web application project designed with front-end technology like JavaScript to operate on static hosting services.
CV Of our legend
What should we learn from Binit?
In addition to existing, Binit had the ambition of producing more of his kind.We should learn to be curious and always have a hunger for learning new things, dedicating our time to solving real-world problems, making a change in people's lives, contributing to open source and community, building it , and helping people. Because life is short, we must do everything productive we can in a short period of time for our own mortality and to contribute to mortality.
He will be remembered as our greatest contributor and all-time leader, and this loss will never leave anyone's mind. As our all-time Nepali ethnonalist, he will be committed to being our biggest contributor.
We will always Miss You Binit , Rest In peace BINIT 💖
Techsathi TEAM