 The global smartphone market saw shipments of over 287 million units in the first half of 2023 (1H 2023) according to the latest report from analytics firm Omdia. Apple and Samsung continue to lead the charts occupying entire 10 out of the top 10 positions.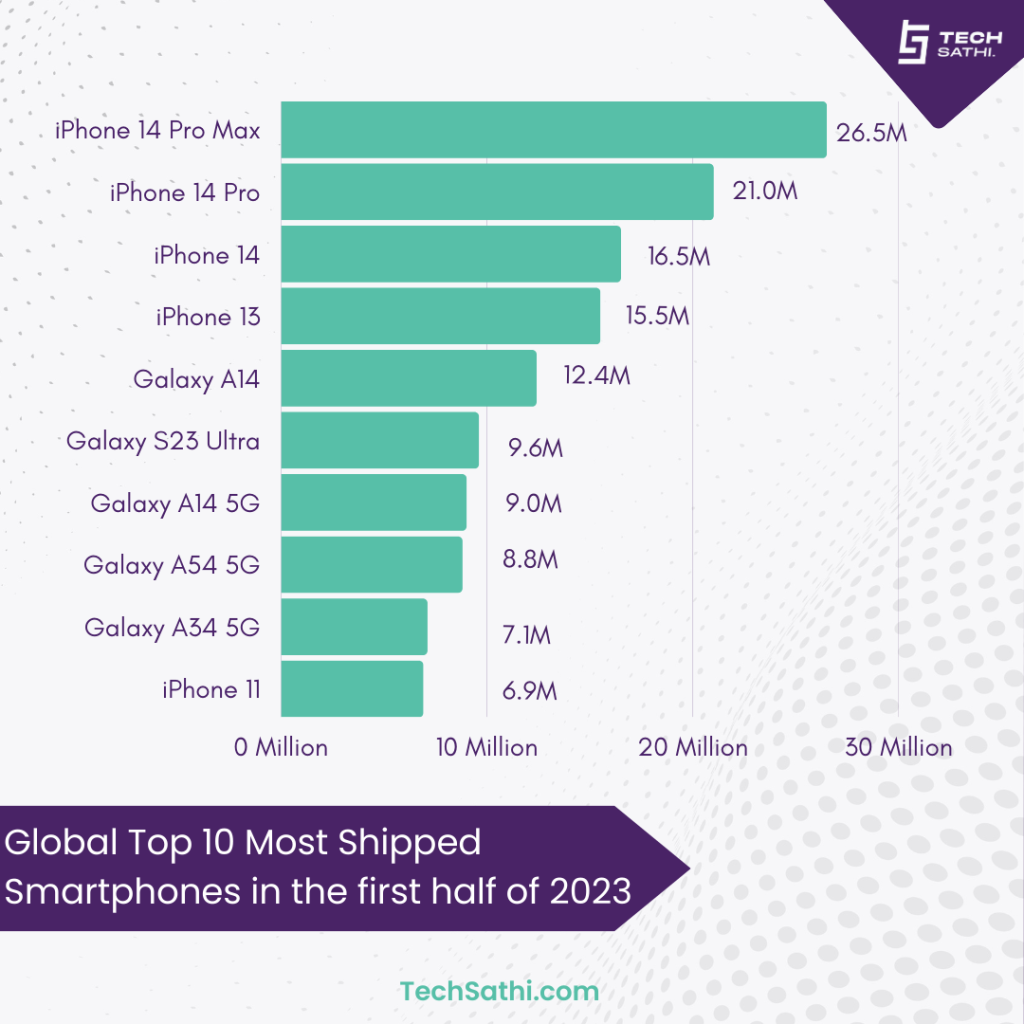 iPhone 14 Series Dominate the Market
Apple secured the top 3 spots, with the iPhone 14 Pro Max taking the crown with 26.5 million shipments. The iPhone 14 Pro came second with 21 million units shipped globally in 1H 2023.
The standard iPhone 14 model took third place with 16.5 million shipments. The strong performance of the latest iPhone 14 series highlights the immense popularity of Apple's smartphones worldwide.
Furthermore, last year's iPhone 13 bagged the fourth place with 15.5 million unit shipments.
Samsung's Affordable A-Series Lead
For Samsung, it was the affordable Galaxy A series that drove most of its shipments. The Galaxy A13 took fifth place with 12.4 million units shipped globally in the first half of 2023.
Samsung's flagship Galaxy S23 Ultra in sixth place with 9.6 million shipments.
Samsung's strong showing in the top 10 indicates its strategy of covering all price tiers is working well.
Other Models in Top 10
The remaining spots in the top 10 most shipped smartphone list were taken by Samsung Galaxy A14 5G (9 million), Galaxy A54 5G (8.8 million), Galaxy A34 5G (7.1 million), and Apple iPhone 11 (6.9 million).
The iPhone 11 managed to cling on to the top 10 despite being a 3-year-old model, highlighting Apple's unmatched customer loyalty.
Also Read: iPhone 15 Ultra Leaks Point to Major Camera and Design Upgrades
Verdict
Apple and Samsung's dominance in the global smartphone market continued in 1H 2023. While Apple relied on its latest iPhone 14 series, Samsung's affordable A-series did the heavy lifting along with the S23 Ultra. Apple and Samsung's duopoly in the global smartphone space shows no signs of weakening.