 If you are wondering where to buy genuine and original digital products and gadgets online, let me guide you through it. Among many of the e-commerce platforms, Analogue Mall is a new one with its own niche in the market. It is an e-commerce platform dedicated to delivering gadgets and electronic devices in Nepal. With its own e-commerce website and physical store, Analogue Mall is delivering numerous digital products of different brands since 2020 in Nepal.
As this e-commerce company turns one today, Analogue Mall is introducing exciting Anniversary offers to delight its customers. It has a series of one-year anniversary offers for the customers who buy the products through this platform.
Well, the offers are numerous that we needed to list them!!
1. Mobile Data Offer
Analogue Mall is allowing attractive data pack offers to the customers who buy mobile phones from their website or the physical store in Newroad, Kathmandu. Here are the data pack offers you can get on buying mobile phones there:
Get 3 GB data for a month while buying smartphone worth more than NRs. 20,000
Enjoy 3 GB Data for 3 months while buying smartphone worth more than NRs.50,000
3 GB data for 6 months while buying smartphone worth more than NRs. 100,000
Get 3 GB data for 8 months on the purchase of smartphones worth more than NRs. 150,000
And you can get a heavy data pack of 3 GB for 12 months if you buy smarphone worth more than NRs. 200,000
This offer is only valid for the purchase of smartphones.
2. Cashback offers
On the purchase of accessories, this e-commerce is allowing lucrative cashback. On the purchase of products worth more than NRs. 20,000, you can get a 3% cashback. Similarly, they are allowing 4% cashback on products worth more than NRs 50,000. And, you can get a 5% cashback on the purchase of accessories worth more than NRs 100,000.
The cash backs will be provided while making payments through direct bank transfer or through digital wallets like eSewa, Khalti, IMEPay and CellPay.
3. Lucky Draw Contest
Well, I'm really excited to mention this one. This offer is what makes Analogue mall stand out amongst other platforms. They are having their own flagship quarterly offers where you can get exclusive products through a lucky draw contest.
Analogue Mall is organising 4 lucky draws in each quarter dated; 6th Feb, 6th May, 6th Aug and 6th Nov each year. On these dates, they will have a lucky draw contest where you can win exciting new products.
There will be 3 winners in this lucky draw for 3 rounds. In addition to that, they are rewarding 6 lucky winners in the fourth lucky draw. The fourth lucky draw will be conducted on the 6th of November of the year and they will be selecting one customer for 1st prize, 2 customers for 2nd prize and 3 customers for 3rd prize. Isn't it interesting?
Excited to know prizes?
Among these quarterly lucky draws, the lucky customers can win these prizes on the first lucky draw contest:
1st Prize = Oneplus 8t (8gb,128gb)
2nd Prize = Amazfit GTS 2
3rd Prize = Headphone (Sound core live 220)
On the second lucky draw contest, you can get various gadgets and accessories as follows:
1st Prize = Laptop
2nd Prize = MI Tab
3rd Prize = Earbuds (Anker)
About
Analogue
Mall
Analogue Mall is a newly established private e-commerce platform that focuses on selling genuine digital and electronic products with reliability. It offers an array of branded gadgets and accessories too including:
Computers and laptops
Video and Photography devices
Security and Surveillance devices
Mobile Phones and Accessories
Gaming devices
Smart Wearables
Tablets and IPads
Speakers and other accessories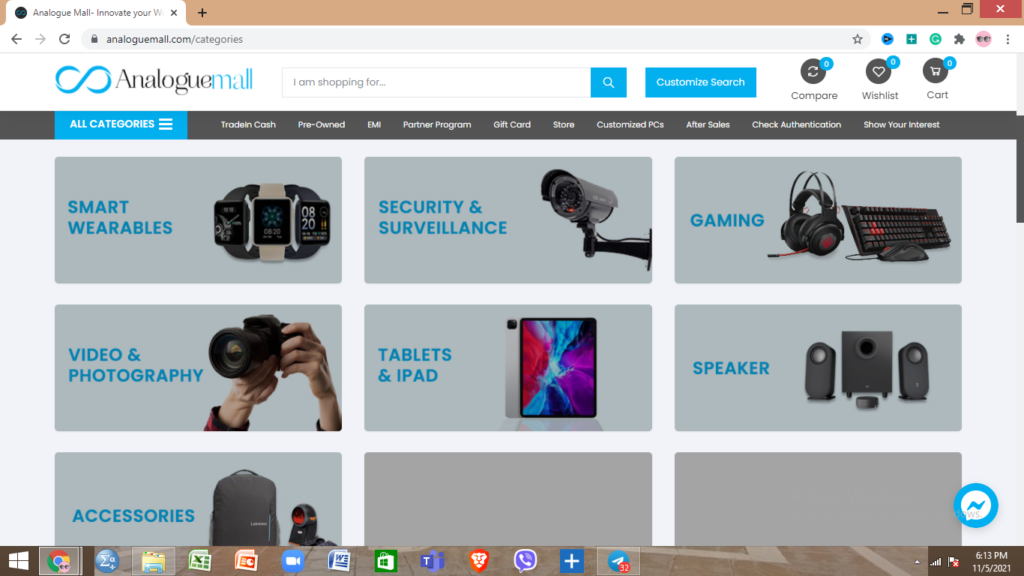 Other than that, there are special features that can help you with your purchase decisions
As a customer, you would certainly prefer a website that provides detailed information about any product you would like to buy. You can find detailed information about the products displayed on the website. Moreover, you also get to see charges and fees applied for delivery and all. This transparency can help you decide which product to buy as per your need.
Also, e-commerce platforms in Nepal are stereotyped for not selling the exact product that they showcase on their online platforms. Hence, Analogue Mall vows to debunk this myth as they only sell genuine and original digital products.
In addition to that, they have various services attached with the product that you will love them for it.
Genuine products by top brands at discounts and reasonable price
Pre-booking offers for exclusive products from brands like Apple, Samsung etc.
Gift Card and EMI facility
Worldwide delivery of products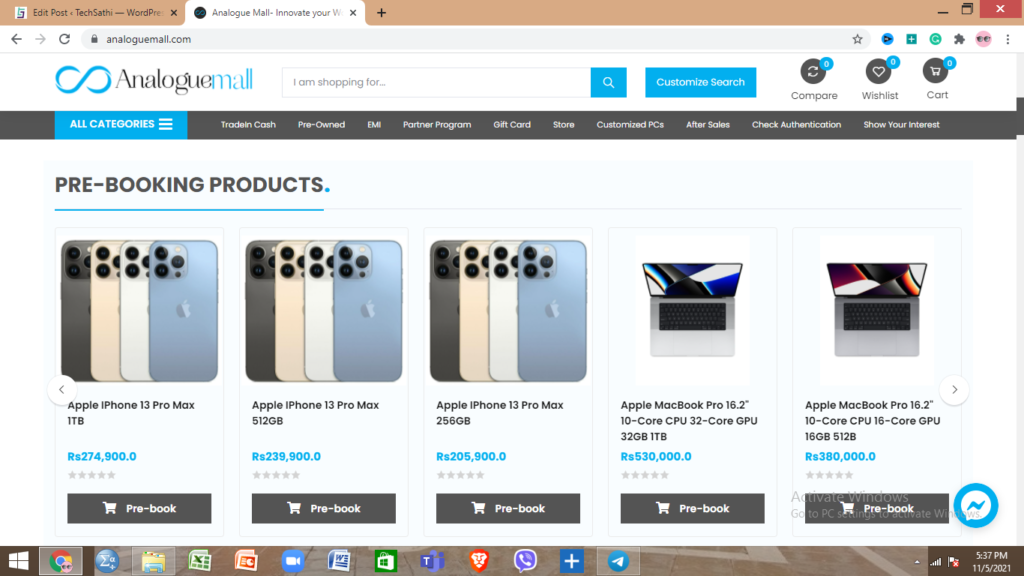 Trade-in option for exchanging digital and electronic items
Analogue Mall Offers
Analogue Mall; Revolutionizing e-commerce experience for digital products through innovative platform
Analogue Mall is the first e-commerce platform exclusively made for digital products and gadgets. Hence, you will only find digital products like mobile phones, laptops, headphones, cameras, smartwatches, surveillance cameras etc. In addition to that, these products are available from trusted brands like Apple, Samsung, Dell, Xiaomi, Nixon etc. The prices and discounts are displayed with the respective products and you can also compare them through the "Compare" button on the website. They are promised to provide you products with the best quality that you would no longer need to complain about later. Furthermore, they would deliver the products directly to your location so that you can just relax and receive your order.
You can also buy used products at reasonable prices and also sell your pre-owned products through their website. The products displayed there can be categorised as "Assured" and "Not Assured". This can further help the buyers in making the right decision while buying pre-owned (second-hand) items.
With this revolutionary idea, all your old gadgets and digital products that are stuffed in the home can get their prices in the market. Instead of keeping them at the home for nothing, you can at least sell them through Analogue Mall. In another way, it can reduce the e-waste in the country, the problem which we are ignoring right now but has a devastating impact on the environment.
Also read: Take Great Photos this Tihar: Best Camera Phones to Buy
Analogue Mall is celebrating a year of innovation on e-commerce platform
Despite being a young e-commerce platform in Nepal, Analogue Mall is getting ahead with the trust of its customers through its reliable products and services. It is growing by adding more features and services to its platform to satisfy the customers. In this regard, they are adding consumer electronics too in the products section. Right from tomorrow, you can order electronic items like the refrigerator, ACs, irons etc from the website or their physical store.
Moreover, they are adding after-sales service too which you can request online through the website. You can also become an affiliate partner with Analogue Mall. All you need is to create an account with it, choose a product for affiliate marketing, share the link with your friends and family and earn incentives on that. On sharing about this platform, you can earn a cashback of up to 5%. With these innovative products, services, and features, Analogue Mall is on the path to becoming the most trusted e-commerce platform for digital products. In addition to that, you can enjoy its anniversary offers as it has completed a year of innovation. We wish all the best for the entire team for all the leaps and bounds they are going to make in the near future.