 The flagship event of the WordPress community- WordCamp happens time and again in many regions, countries, and cities. WordPress Nepal is one of the main communities that has been organizing many WordCamps since 2012. The event WordCamp Kathmandu 2022 concluded on September 4, 2022 with more than 400 attendees.
It was a grand event where speakers from Nepal and other Asian countries like India, Bangladesh, and Indonesia participated in the conference. The two-day event took place at Alice Receptions, Gairidhara.
What is a WordCamp? How did it start in Nepal?
WordCamp is the conference where the members of the global WordPress Community meet and share their experiences of using WordPress. The event is open to all WordPress enthusiasts no matter they are from a tech background or not.
One of the essences of the WordPress community is inclusivity as it is open source and is available to all. The stats speak for themselves that more than 43% of the world's total websites are built on WordPress. And this is because it has more than 59,000 in-built plugins, made by all WordPress contributors around the world. Many businesses are thriving with their official website made in WordPress and it is available to as many types of businesses as possible.
Nepal too has a lot of WordPress contributors, developers, and enthusiasts. The first generation of the WordPress community in Nepal was formed initially as a FaceBook group and all the credit goes to Ujjwal Thapa. He was one of the founders of this community along with Chandra Maharjan and Sakin Shrestha. The WordPress users remember him as their mentor who started this community from a Facebook group that has grown to more than 8,600 members.
To grow this community even bigger, WordPress Nepal has been organizing WordCamps in Nepal since 2012. The event takes place in many cities and also the annual national event is held each year where all the WordPress enthusiasts gather to share their expertise and experiences. This is also a great networking event where many participants have ended up finding suitable talent for their business or even have started a business together.
WordCamp Kathmandu 2022; Major Highlights
#1 Ujjwal Thapa Scholarship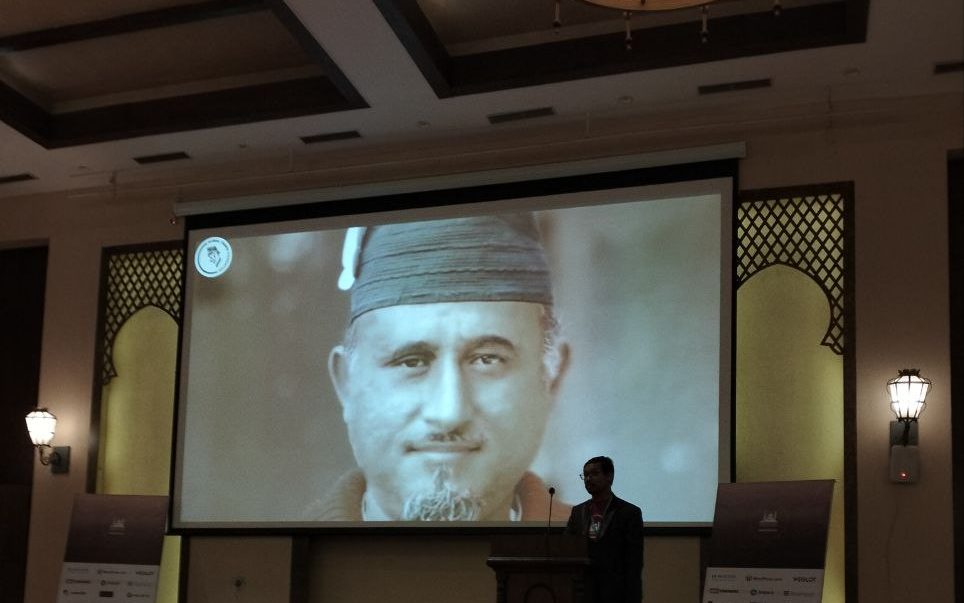 As a homage to his contributions to the WordPress community and its legacy, WordCamp Kathmandu 2022 announced Ujjwal Thapa Scholarship for 2 inside the valley.
#2 Practical and Thought Provoking Speaker's Session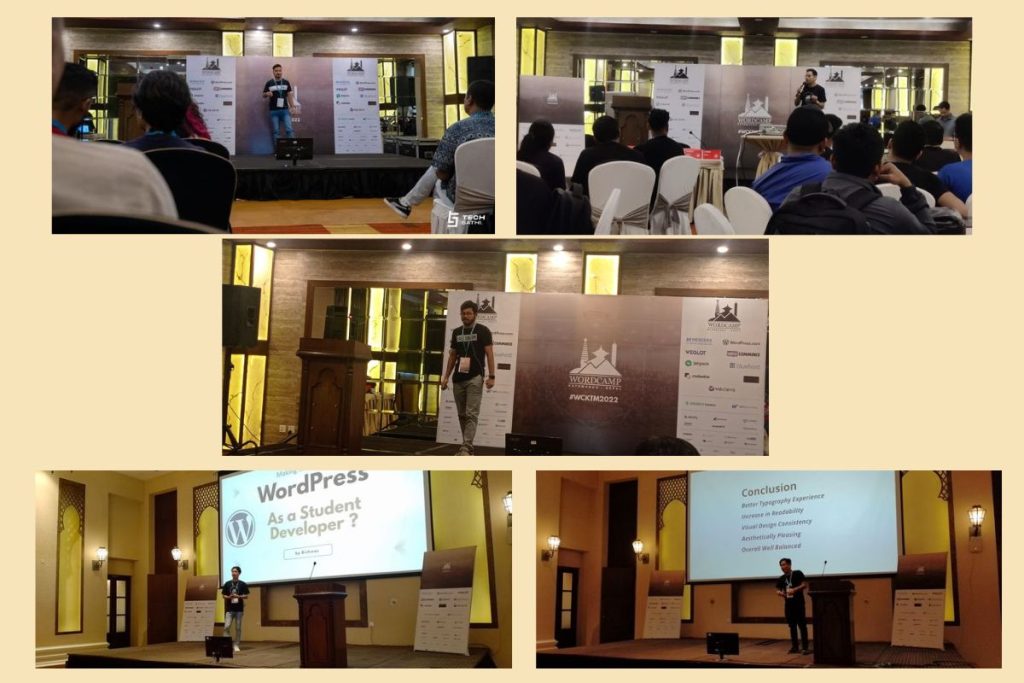 The first day of the WordCamp event took place among the amazing mass of more than 400 attendees in the event, along with national and international speakers. The speaker's session was divided into two parts:
| | |
| --- | --- |
| Hall Action | Hall Filter |
| Thinking the React Way for WordPress by Sakar Upadhyaya Khatiwada | Why Should You Hire Mothers Back into the Workforce by Alina Kakshapati |
| Accelerate your Migration Process with WP CLI by Lax Mariappan | How the Pandemic Has Influenced to Change the Content Writing Trends in 2022 by Subhasis Chatterjee |
| Creating WooCommerce Addons by Saloni Mehta | Scale up Your Local Business with SEO and WordPress by Raju Khadka |
| Harnessing the Power of GraphQL in WordPress by Sandip Basnet | Social Media Marketing for WordPress Businesses by Vineet Rauniyar and Roja Shrestha |
| WordPress Deployment with CI/CD by Aayush Shrestha | Your Next Website in WordPress by Laxman Bhattarai |
| Vertical Rhythm; Efficiency in WordPress Theme Layout by Ashish Rai | Introducing WordPRess Full Site Editing and Developing an Block Theme 9A WorkShop) by Bishnu Sunar, Shiva Shanker Bhatta and Rohit Maharjan |
| Making Money from WordPress as a Student Developer by Bishwas Thapa | Contributing to Make WordPress by Hasanuzzaman |
| Mastering Developer Tools by Surendra Shrestha | |
As you can see here, the speaker's session in Hall Action was more related to the technical aspects of WordPress while the Hall Filter sessions were more oriented toward business and digital marketing aspects. Similarly, there was a workshop on Gutenberg Block Development by Santosh Kunwar in between.
Finally, there was a panel discussion on "Importance of Community and Contribution". The session was moderated by the immediate Team Lead of WordCamp Kathmandu 2022 Utsav Singh Rathore and the speakers were Yam B. Chhetri, Devin Maeztri, and Suvash Khadka.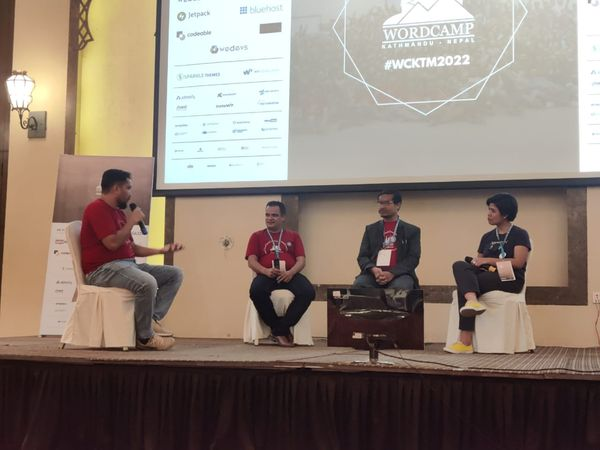 The panel discussion mostly stressed the need to contribute to the WordPress community by the WordPress users including individuals and companies. Also, the panelists highlighted the initiative of the WordPress community named "Five for the Future".
Five for the Future initiative was launched in 2014 that encourages organizations to contribute 5% of their resources to the WordPress development.
#3 Workshop and Stalls
Along with the speaker's session, there was a workshop too on the topic "Introducing WordPress Full Site Editing and Developing a Block Theme".
Likewise, there were many stalls of the WordPress products like themes, plugins, and many more representing the companies from Nepal and Bangladesh. The companies like Sparkle Themes, Adminify, Arraytics, WP Creative, WP Developer, Outside, Catch Themes, Codeable, Khalti, Broadway Infosys, etc. participated in placing their stalls.
Among all, the fun part as in stickers and giveaway games that created some sort of warm environment. The attendees there got a chance to network with people within and outside the country and get to know about many products there.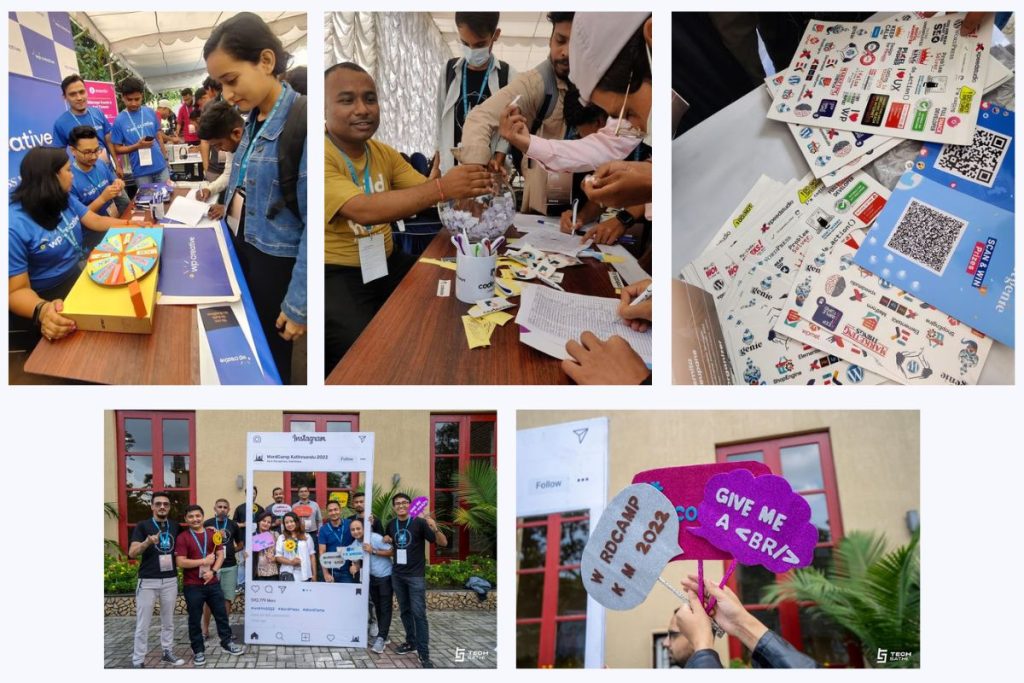 #4 Announcement of WordCamp Nepal 2022 and Word Camp Asia 2023
With the successful proceeding of the event, the official announcement of the national conference WordCamp Nepal 2022 and the regional event WordCamp Asia 2023 was made.
The Team Lead for WordCamp Kathmandu 2022 Utsav Singh Rathore announced the date for WordCamp Nepal 2022 which is happening in Bharatpur, Chitwan on November 5-6. Also, the regional level conference WordCamp Asia 2023 is happening on February 17-19, 2023 in Bangkok. Thailand.
You can click the highlighted texts to register yourself as the speaker for the WordCamp Bharatpur and WordCamp Asia.
To register yourself as a volunteer, or an attendee in WordCamp Nepal 2022, you can go to nepal.wordcamp.org and apply now. Similarly, you can go to https/asia.wordcamp.org to register for the regional event WordCamp Asia which is happening on 17-19 February 2023 in Bangkok, Thailand.
#5 Announcement of the new Team Lead for WordCamp Kathmandu
For every WordCamp event, a new team lead is selected who guides the overall framework and processes of this flagship program. The newly elected team lead for WordCamp Kathmandu 2023 is Surendra Shrestha. He will be leading the entire event of the upcoming WordCamp Kathmandu.
#6 Official Announcement of the Registration of WP Nepal
WordPress Nepal was started as a Facebook group which later became a whole community for WordPress enthusiasts, developers, and contributors. With more than 8600 people in the group, this community is expanding further. Since WordCamp has been taking place for more than 10 years now, it has been registered as a formal entity WP Nepal to carry out all the activities with transparency and accountability.
Within the event, the mass celebrated the completion of 10 WordCamps in Kathmandu. Since 2012, a lot of WordPress developers, enthusiasts, speakers, and overall WordPress users have been participating in WordCamps and contributing from their own capacity in Kathmandu.
And the most amazing part of WordCamp is that each and every source of funds for the events like sponsors, membership fees; and the expenses incurred during the whole event are documented and disclosed for all on their official website. And each speaker in the event, either national or international- bear the travel and accommodation expense by themselves while attending the event.
#7 Contributor's Day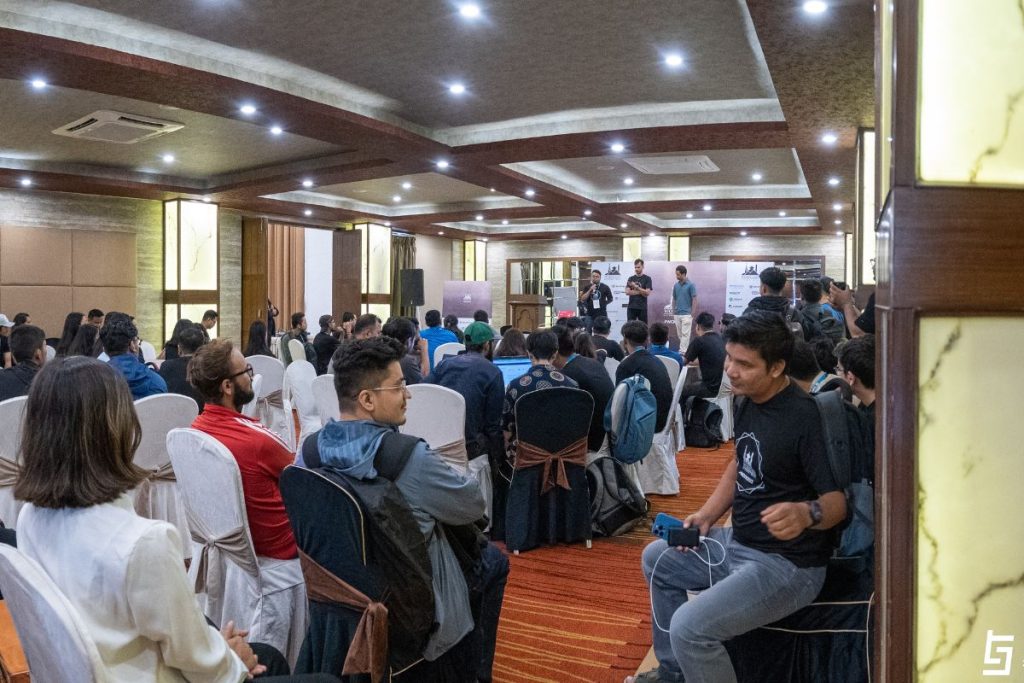 The second day was the contributor's day which is an integral part of the WordCamp event. This day is specially designed for giving back to WordPress. Since WordPress is an open-source platform, anyone can code and contribute what they made for WordPress and make it available for all WordPress users.
WordCamp Kathmandu 2022 also organized this contributor's day where more than 100 contributors gathered and contributed as per their skills and level of expertise.
As per the format of the event, the attendees formed separate group tables with table lead in each of them who guided all the team members to start contributing. There were teams like:
Plugins
Themes
Polyglots
Training
Photos
Core
Support
Documentation
Patterns
Meta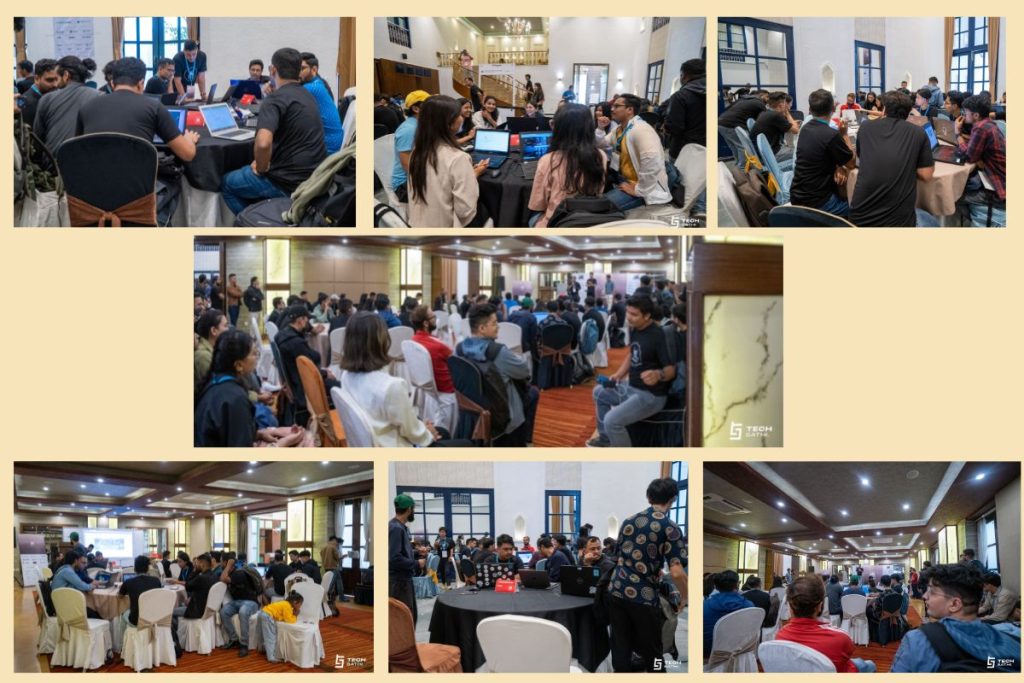 With this, WordCamp Kathmandu 2022 wrapped up successfully among a large mass of all WordPress enthusiasts and WordPress users. Soon, the national level event WordCamp Nepal and the regional event WordCamp Asia are happening where the WordPress community is expected to grow more.
Are you a WordPress user? If so, you would love to attend such an event that welcomes each and everybody who is interested in learning to use WordPress and giving back to the community. What do you like the most about the WordPress platform? Feel free to give your views in the comment sections.
Also Read: What to Study After +2 Science with Biology?