 To celebrate love, happiness, and bonds, vivo a leading technology brand is providing an opportunity to celebrate beautiful relationships, reflect on the love and find comfort by sharing the most precious memories with the world under 'vivotine photography contest'. vivo is encouraging users to participate in the contest kickstarting on 6th February on all its social media channels to unleash the creative talent of photography enthusiasts by clicking images of things that are special to them. Not only this vivo is also running another promotional offer for its consumers on purchase of V and Y series smartphones. 
vivotine photography contest is to celebrate loved ones and channelize the thoughts and feelings in a positive way. The campaign brings forth an 8-day consumer-oriented photography opportunity for vivo users to click, share and stand a chance to win the exciting gifts and cash prizes.Once all the entries are in, vivo will select first 5 winners with highest number of post likes, shares, comments and how beautiful the image is to give Sound Core Rave Party Cast Speaker worth Rs 30,000/- to each one of them. 
The campaign is going to be unveiled by Pradeep Khadka, a renowned film actor, model, and film maker with a strong fan base in Nepal together with vivo Nepal on their Facebook page.
Here's how to participate in 'vivotine Photography Contest'
To participate in this exclusive contest the photography enthusiasts have to click adorable images and can choose from wide array of subjects like family, friends, pets, places, monuments, or anything that is close to their heart as per their interest along with the hashtags* #vivotineday #vivoMoments and #vivoNepal.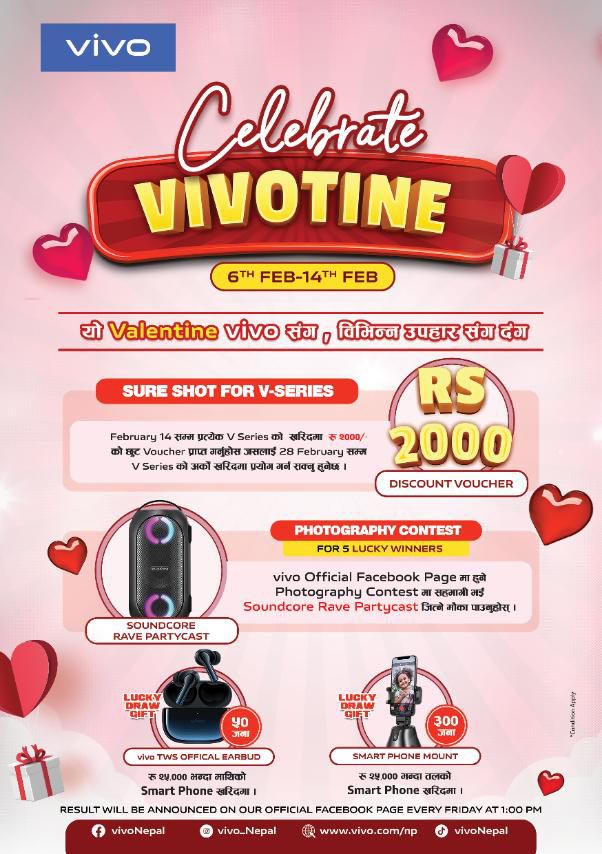 In another promotional offer, vivo is offering consumers with exciting discount voucher of Rs 2000 on purchase of V series smartphone from vivo stores which they can use the discount voucher in next purchase of the V-series. The discount voucher is applicable till 28th February . 50 Lucky winners* will also get a chance to win vivo TWS 2e earbud and 300 lucky winners* will get Smartphone mounting free of cost through lucky draw. The offer is applicable from 6th Feb to 14th Feb 2022 on the purchase of new vivo smartphones from vivo stores.
The contest announcement poster will be shared on vivo's official social media pages and in person on February 6th, asking vivo smartphone users to click and share images on their Facebook timeline with the vivo watermark* and share the link of their post to vivo's official page in the comment section of the contest announcement poster. Participants must include a caption with the image description and significance, as well as tag vivo Nepal in their post. To be eligible for the contest, contestants must follow vivo Nepal and use only vivo smartphones from the Y, V, and S series. The announcement of results and winners will be declared on 15th February 2022.
We believe in superior customer experience at all times. We at vivo are working to provide the best through technological innovation, latest designs, and attractive offers and contests for our beloved customers. The brand has always prioritized consumer demands and is thrilled to announce 'vivotine photography contest' in Nepal. The campaign will highlight the talent, cherish bonds and love among people which will further the brand closer to its customers to uphold trust, love, and loyalty. Guided by the Benfen philosophy, vivo is always on the lookout for ways to engage with its users and provide gifts as a sign of appreciation.

Piyush Giri, Brand Manager, vivo Nepal
Talking about the contest Pradeep Khadka, actor and film maker said: "It is a great initiative by my favorite brand, vivo. 'vivotine photography contest' is a testament of the company's commitment to meeting customer demands and celebrating them at any given occasion. I'm so excited to see unique displays of love while also winning great prizes. This is a special campaign and hope it will be memorable for all our vivo users."
The participants must use only vivo smartphones from V, Y and S Series* for the photography contest. If you don't have one of those smartphones but wish to celebrate love this Valentine's week, go and grab your personal favorite right away from the vivo stores. And get assured discount voucher of Rs 2000 on purchase a V series smartphone and other exciting gifts through lucky draw. The voucher can be used for buying next V series* smartphone till 28th February 2022. For further information and assistance, kindly check vivo Nepal's official Facebook page
Also Read: vivo V23e Gets 100+ Pre-booking in Nepal in 48 Hours, Now is Available for purchase
About vivo
vivo is a technology company that creates great products based on a design-driven value, with smart devices and intelligent services as its core. The company aims to build a bridge between humans and the digital world. Through unique creativity, vivo provides users with an increasingly convenient mobile and digital life. Following the company's core values, which include Benfen*, design-driven value, user-orientation, continuous learning, and team spirit, vivo has implemented a sustainable development strategy with the vision of developing into a healthier, more sustainable world-class corporation.
While bringing together and developing the best local talents to deliver excellence, vivo is supported by a network of 10 R&D centers in Shenzhen, Dongguan, Nanjing, Beijing, Hangzhou, Shanghai, Xi'an, Taipei, Tokyo, and San Diego, focusing on the development of state-of-the-art consumer technologies, including 5G, artificial intelligence, industrial design, imaging system and other up-and-coming technologies. vivo has also set up seven production bases (including brand-authorized manufacturing centers), across China, South- and Southeast Asia, and more regions, with an annual production capacity of nearly 200 million smartphones. As of now, vivo has branched out its sales network across more than 60 countries and regions and is loved by more than 400 million users worldwide.