Zoom is a video conferencing solution that helps businesses and organizations bring their teams together online. It provides a frictionless environment to get more done, however, it comes with a 40-minute time limit in the free version. And, because of this, we don't really get to do more and get more done. So, as a solution for that, Vianet in partnership with Genese manifests you with official Zoom Packages for better eLearning and working experience in Nepal.
This is a very amazing and special offer that will let people have a better and longer e-learning and e-working experience without a 40-minute time limit. Moreover, Vianet has bought an exclusive discount offer where the consumer will be able to cherish these exclusive deals at some amazing price range.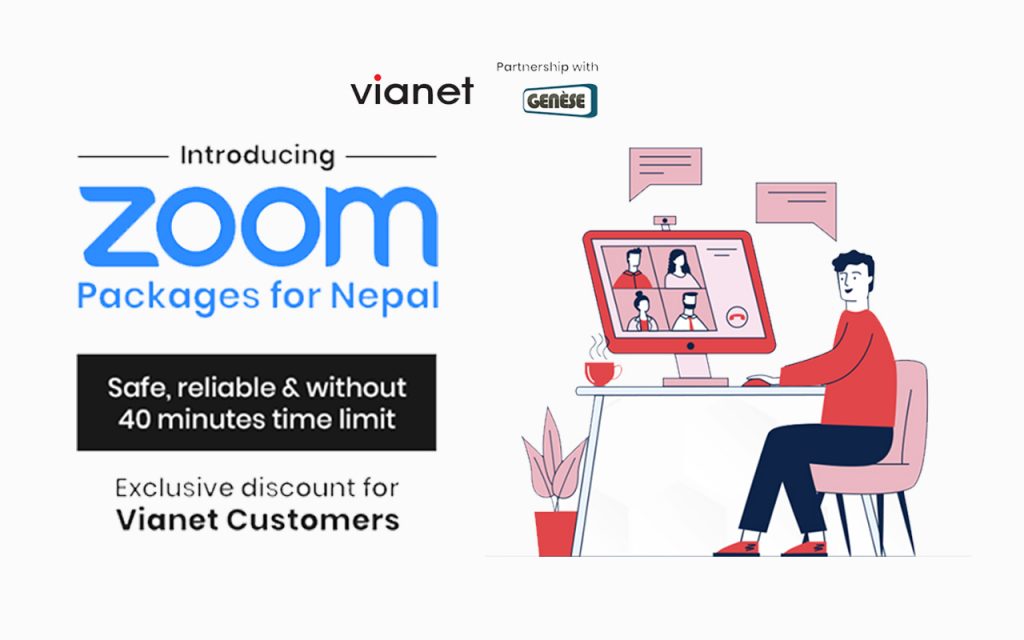 So, Vianet in partnership with Genese has bought this amazing package offer where you will get:
One consistent enterprise experience for all use cases
Engineered & Optimized to work reliably
Up to 1,000 video participants & 10,000 viewer Easy-to-use, buy & scale
Most affordable & straightforward pricing.
This means we will be able to get the most used Video Conferencing platform from the official partners in Nepal. And we will also, be able to go on with our new-normal life with an amazing tenancy. But, this is not it, we also have some amazing deals that come through Vianet. Here, they have packages that suit your daily need and requirements.
Also Read: https://techsathi.com/genese-aws-credits-for-startups-in-nepal
So with this package, you will have the chance to choose from Zoom Pro, Zoom Pro bundle, and Zoom Business packages in Nepal. There are specific offers that suit your specific needs and each one of them has some kind of discount offers in them too. Also, follow this link for more details on deals and special offers.