TLDR
Jagdamba Motors has launched the premium electric scooter TVS iQube in Nepal.
TVS iQube has a range of 100km per charge, a top speed of 78km/h, and features like a 7″ TFT display, smart connectivity, vehicle health notifications, and voice assist.
It is priced at रु. 4,29,900 for the first 1000 customers.
Jagdamba Motors, the authorized distributor of TVS vehicles in Nepal, today launched the TVS iQube in Nepal. The TVS iQube delivers class-leading performance, comfort, build quality, and safety.
TVS iQube comes with a real-world range of 100 km on a single charge, a rated top speed of 78 km/h, a choice of ECO/POW mode, and acceleration from 0-40 km/h in just 4.2 seconds. The scooter offers a host of intelligent connected features such as a 7" TFT cluster with HMI control, intuitive music player control, OTA updates, vehicle health and safety notifications, multiple Bluetooth and Cloud Connectivity, geofencing, QPark assist, infinity theme personalization, voice assist, TVS iQube Alexa skillset and much more.
TVS iQube Price in Nepal
The TVS iQube S is available at a price tag of रु. 4,29,900 for the first 1000 Customers.
TVS iQube S can be booked from today on the TVS Nepal website and 6 other official TVS stores in Kathmandu. The availability will be scaled to 20 more points of sale across Nepal by October 2023. Delivery of TVS iQube S starts immediately in Kathmandu.
TVS iQube Key Features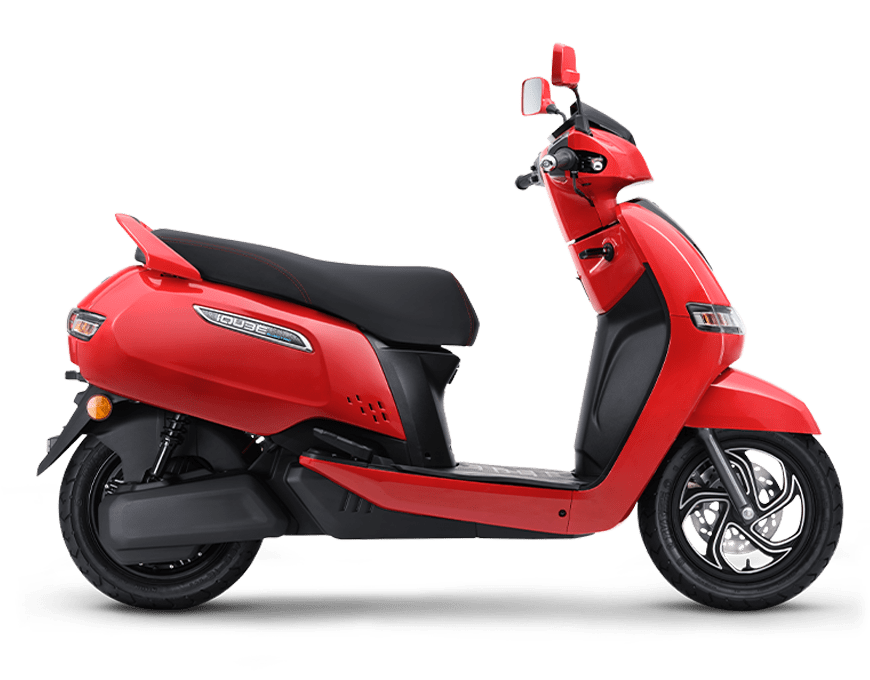 Peak Power: 4.6 kW, Torque 140 Nm
Rated power: 3.34 kW
Top Speed: 78 km/h
Acceleration: 0-40 km/h in 4.2 seconds
The range on a single charge: 100 km
Parking Assist: Reverse/Forward
7" TFT cluster, with an intuitive 5-way joystick
Music Player Control
Night Mode
Smart Helmet Connectivity
Incoming call/SMS Alert
Document Storage on cluster
Under-seat storage: 32 litres
Gradeability: 10 degrees
Modern & Practical Design
The TVS iQube has a contemporary look and impeccable build quality. With 5 exciting colours, one can choose a style statement of their own. Powerful LED headlamps with bright hazard lamps are designed for enhanced visibility and safety. A 7" TFT cluster, with an intuitive 5-way joystick makes it easy for interaction, music control, theme personalisation, proactive notifications and much more. A large 32 litre storage under the seat, a wide floorboard and baggage hooks provide ample utility on the move. The USB charging port maximises convenience for the rider. The long and wide seat is comfortable for both individual and family use making the TVS iQube a practical choice.
Performance
The TVS iQube is powered by a powerful 4.6 kW hub mounted motor that gives a top speed of 78 km/h and acceleration from 0-40 km/h in just 4.2 seconds at rated load. It comes with two battery packs of advanced Lithium-ion chemistry with a total capacity of 3.4 kWh, designed and manufactured in-house at TVS Motor. This combined with an intelligent in-house BMS (Battery Management System) delivers a real-world range of 100 kms per charge. The EV powertrain in TVS iQube is IP-67 compliant providing strong resistance to water exposure. TVS iQube comes with a 650 W portable carry along charger with a charging time of 4.5 hours from 0-80% SOC and ease of use with any 5 Amp household socket that makes home charging very convenient and affordable. The utility of Power and ECO mode gives the rider a choice to maximise either range or performance, on the go. Hydraulic twin tube shock absorbers at the rear and telescopic suspension in the front ensures a firm balance and comfort on any terrain.
TVS SMARTXONNECT
The TVS iQube is power packed with new age technology and smart features. The TVS SMARTXONNECTTM platform has enhanced navigation system, telematics unit, anti-theft, geofencing features, crash/fall alert just to name a few. Any smart phone can be connected with the dedicated TVS iQube app which displays real-time battery status, ride statistics and enables music control while riding using the HMI interface. The Alexa skillset allows the use of voice commands to access information. The platform also ensures 100% vehicle wellness through proactive diagnosis and timely service alerts given on the dashboard. Not only incoming calls and SMS alerts but also social media app notifications are provided.
Verdict
With its impressive 100km range and host of smart features, the iQube sets a new benchmark for premium electric scooters in the country. Though the pricing is on the higher side, the overall package seems competitive enough to attract tech-savvy riders looking to switch to electric. If TVS manages to expand availability across Nepal as planned, the iQube could drive faster EV adoption. Its real-world range, performance and smart connectivity make a compelling case for going electric.