Now you can renew your health insurance policy from connectIPS easily. It will end the hassle of visiting your insurance company to renew the insurance policy.
The Health Insurance Board has made it possible for the insured to pay for their insurance renewal online. This service was inaugurated recently by State Minister Bhavani Prasad Khapungju in the presence of the Chairperson of the Health Insurance Board Senendra Raj Upreti.
Under this, insurers can now make online payments for the renewal or premium payments through their own bank financial institution account from connectIPS. This service is facilitated by NCHL through connectIPS in the collaboration with the Health Insurance Board.
The Government of Nepal had provisioned for health insurance of Rs 1 Lakhs per person after the outbreak of the Covid-19 pandemic. Under this, each family member could get an insurance policy of Rs 1 lakhs after taking the recommendation letter from the ward office.
Till now, more than 53 lakhs beneficiaries have already purchased the Health Insurance policy package offered by the Health Insurance Board.
How to renew your health insurance policy from connectIPS?
Go to www.connectips.com or open your connectIPS mobile app
Log in to your account
Then, go to the Government of Nepal option under the Dashboard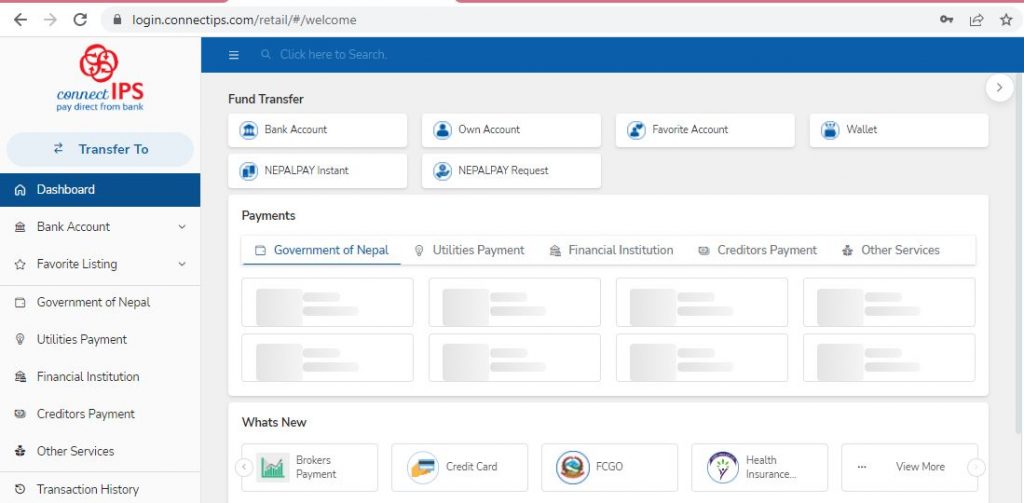 Click on the Government Payments option and then click on Health Insurance Board
Then, enter the sender account, and policy number and click on the "Make Payment" option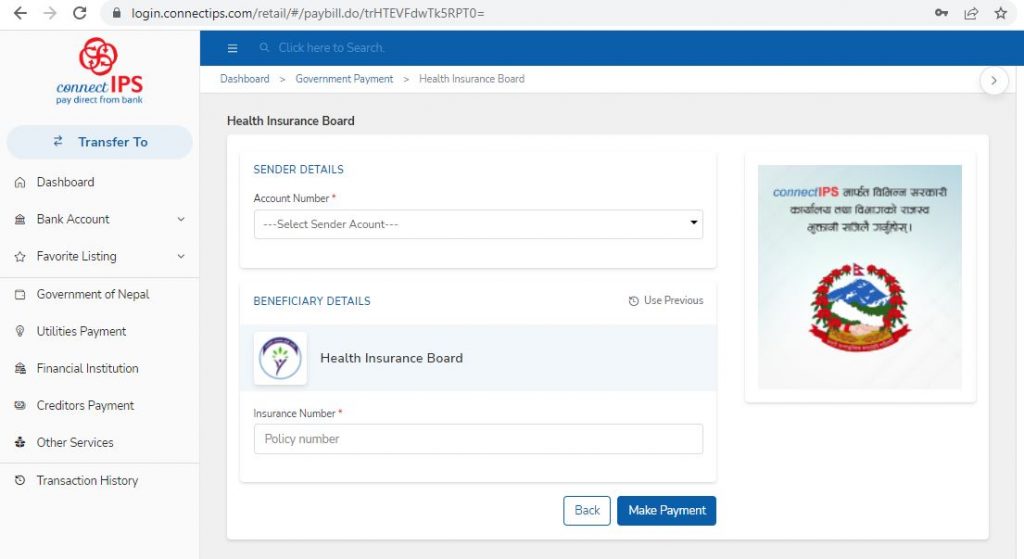 After that, you have to enter the name of the head of your family and enter the total number of insured people in your family. Check the details and once it is approved, you can use the transaction password and OTP to finish the payments.
You can also make a wide range of government payments and semi-government payments from connectIPS
As of now, the connectIPS system is allowing the insurance premium collection of more than 31 Life and Non-Life Insurance Companies in Nepal. Moreover, the insurance agents and surveyors can also pay for the renewal of their licenses through connectIPS. Apart from that, connectIPS is also allowing for payments to more than 10 Government Payment portals and 8 Semi-Government Payment Portals.
You can perform these payments through both the official website of connectIPS and its mobile banking app. You can download the connectIPS mobile app from Google Playstore for Android devices and from App Store for iOS devices.
Also read: Link Bank Account in connectIPS and Get Rs 100; Also Get a Chance to Win a Mountain Flight Couple Ticket