NPCERT (Information Security Response Team Nepal) in Partnership with One Cover Pvt. Ltd. and ICTFRAME is going to host first Cyber Security Meetup in Kathmandu, Nepal on April 4, 2019 (Chaitra 21, 2075) at Nepal Telecom's Building, Babarmahal, Kathmandu, Nepal.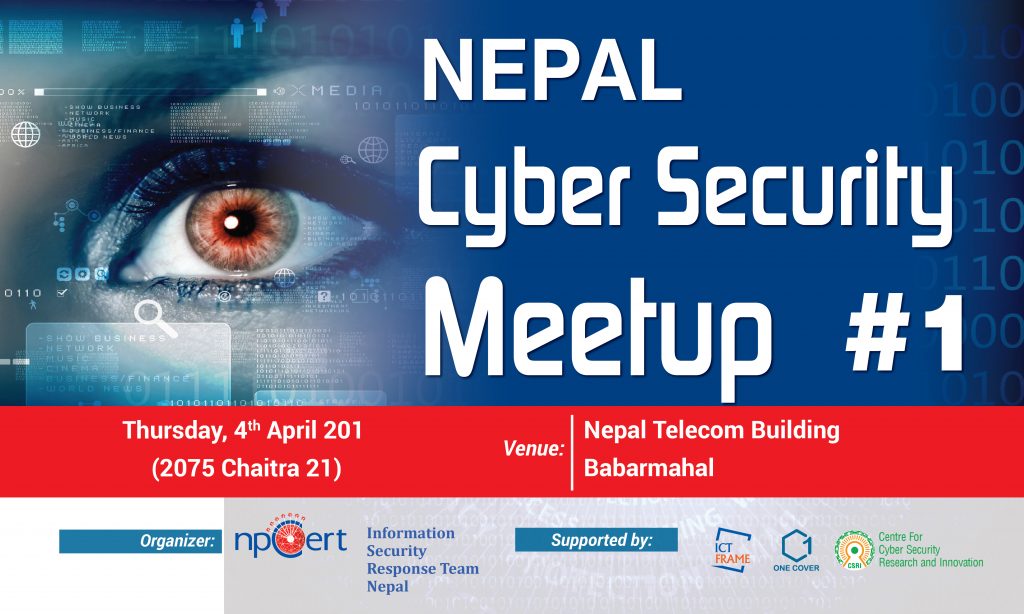 Cyber Security Meetup #1 aims to bring all the professionals, communities and fans (people working, interested in Cyber Security, Cyber Defense, Security Management, Legal Security, Penetration Testing, etc.) working in Nepal's Cyber Security together. Best the talk session, the meetup will be focused to provide an networking opportunity to participants with all the professionals involved in Cyber Security Enterprise.
The event is open to all the participants who are interested in Cyber Security with any skill (either technical or non-technical) and enthusiasm said Chiranjibi Adhikari, president of NPCERT.
Event Summary
Event Name: Cyber Security Meetup Nepal #1
Date: April 4, 2019, Thursday (Chaitra 21, 2075)
Time: 2:00 PM to 4:00 PM
Venue: Nepal Telecom's Building Babarmahal, Kathmandu
Event Fee: Free
Organizer: NPCERT (Information Security Response Team Nepal)
Contact : 9860664392/ 9851169733
Link to Facebook Event: https://www.facebook.com/events/228762727990664
Speakers of the Event :
Shambhu Khanal : Engineer, Nepal Telecom
Alex Dhital
Suman Thapaliya : HOD, Texas College of Management and IT
Roja Kiran Basukala : Deputy Director, NTA
If you are around Kathmandu valley and are interested or working in Cyber Security field I would like to request to all to join this free meetup where you will get chance to meet with the professionals and communities.