Nothing announces their first smartphone Nothing Phone (1) in the Nothing event. The highly anticipated and awaited event happened on 23 March 2022. After the successful launch of ear 1 earphones, everyone was looking at the next big step from Nothing, and Carl Pei the CEO of Nothing has announced the plan for Nothing phone (1) coming this summer.
Nothing Phone (1): What to Expect?
The Nothing Phone 1 will launch in summer 2022.
Nothing Phone 1 will pack a Qualcomm Snapdragon Chipset
Nothing phone (1) will run the Nothing OS skin on top of Android
The Nothing Phone 1 will offer 3 years of software updates and 4 years of security updates
After their first ear (1) drop went silent for a brief of time and now they are back with a humongous announcement of Nothing phone (1). Nothing OS will be pre-installed on the company's first Android-powered device. Nothing OS on the phone (1) is stated to be meant to provide a quick, fluid, and personal experience. Android enthusiasts will undoubtedly be interested to see what Nothing OS has to offer and whether it will deliver an experience that no other smartphone has done yet.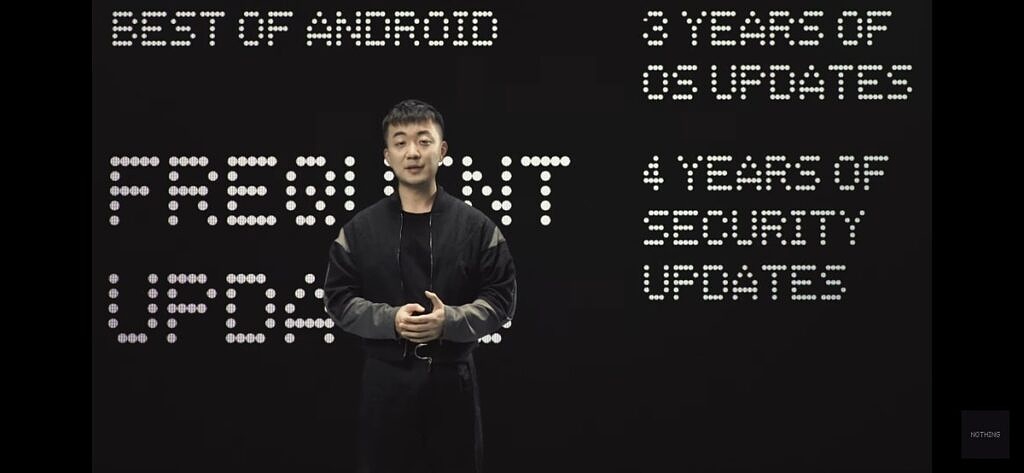 The hardware is yet unknown and The Truth event did not give us much as well.  We did get a glimpse of a design and it seems promising it has excited the smartphone kid in me and waiting eagerly. According to Carl Pei, Nothing phone (1) will come with 3 years of OS update and 4 years of security update. We can expect the Nothing OS preview to be available through a launcher in April and you can download and use it but it will be available for some selected smartphone models.
According to the CEO of Nothing, it will feature the best android version and would be fast and smooth. Other highlights include custom fonts, colors, graphical components, and noises.
According Carl Pei, the smartphone companies have become lazy and are just increasing the display screen size and change of camera position. Companies have become sleepy he adds. Right now it is only limited to ear (1) Bluetooth earphone but in future we can hope to whole Nothing ecosystem like Apple and you will be able to choose your favorite devices from different companies to be linked with Nothing phone (1).
As we already know from a disclosed relationship with Qualcomm, the Nothing phone (1) will be powered by a Snapdragon CPU but still, we do not have any information on the hardware components so it's unknown whether it would have a premier CPU like the Snapdragon 8 Gen 1 – which has been utilized by several top Android phones throughout 2022.
We hear glimpses of audio for this but we still need to hear more about it to give a proper conclusion it seems interesting nonetheless. It has a combination of morse code and many others. Everything was not revealed during this Nothing Phone (1) announcement event but with whatever we heard from the Carl Pei sounds promising and people are eagerly waiting for the upcoming Nothing OS so that they could get hand on experience of this.
Also Read: Realme GT NEO 3 Debuts as World's Fastest Charging Phone with the first 150W Charging Support
Nothing Phone (1) hope to compete against the monopoly ecosystem of Apple and want to provide an option to people. Nothing has done impossible in the past 6 months after the launch of ear 1 earphones and we can hope Nothing Phone (1) can provide the breath of fresh air in the smartphone market.