Nepal's First Virtual Job Mela organized collaboratively by Girls in tech with Genese Cloud Academy, Nepal and Jobs Dynamics concluded Successfully with enthusiastic Participation of 30+ companies and 500+ Youths. The Virtual Job Mela was hosted on 1 June 2020.
This seemingly might have been the first virtual IT job fair in Nepal. This Mela brought employers and job applicants together under one platform to make numerous job opportunities available. Due to the on-going lockdown, the economic stats have been degreasing and especially youths have been deprived of such opportunities. So, this was a very good initiative to make such employment and opportunity available on a single platform.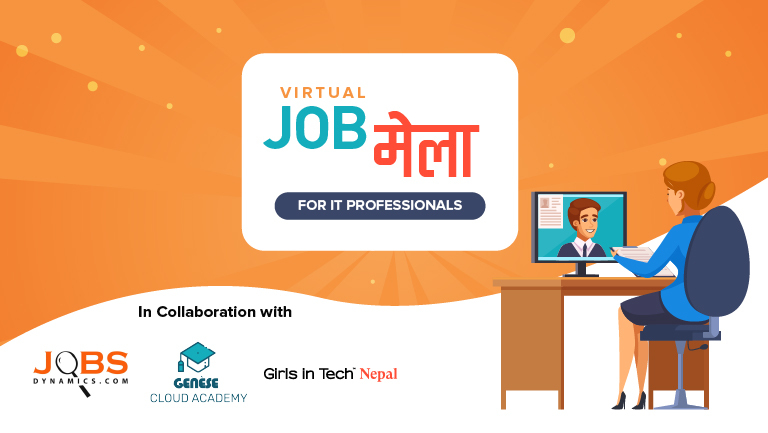 About the Virtual IT Job Mela :
Youths have been missing the entire cycle of academics, and its transition. . From attending regular classes to exploring new job roles. Finding that first job right out of college is not an easy task. But, it's even more challenging now more than ever because of the pandemic.
Now, with more than 30 companies setting up their online job stalls there were hundreds of jobs to match participants' dream jobs. Also, the job fair adage with the participation of 500+ enthusiastic youths and it showed a wonderful outcome as well.
For involvement, applications were called from interested participants a few weeks before the virtual event. The applications were later shortlisted and shortlisted applicants were notified of the timing through email.
Moreover, during the actual event, the applicants could browse companies in a virtual lobby, and they could enter the companies' virtual booths very easily, the lobby allowed participants to check out open positions, and have chats with company representatives, all in real-time. Then, Job seekers and employers also had the opportunity to connect through ZOOM, a video conferencing tool.
Moreover, the job fair provided a completely digital event experience for job seekers and recruiters. Also, candidates matching the requirement got a placement on the spot, which is an admirable opportunity.
Companies like Datalytics Pvt. Ltd had also expressed their humble acknowledgement towards the fair since they also hired some candidates to work with them and many selected participants also defined their experience as a very effective and productive experience ever, since they had an opportunity to gain so much knowledge about the insides of the tech-world. Also, Girls in tech has stated that they look forward towards hosting similar fairs in future too.
Was Virtual Job Mela able to connect Employers and Job Seekers in Nepal?
Overall, Virtual Job Mela in Nepal provides an efficient way for employers and job seekers to connect without having to leave their homes in this lockdown period. And there also was a very enthusiastic participation of youths and companies. With 500+ Applicants, 300+ Jobs, and 30+ Companies, this was a very big yet amazing opportunity for fresher to explore, learn and create a brighter future for themselves.
Opportunities like this are very precious because you never know, from where your life might just take a turn and a kick start a journey of life. So, we recommend all the fresher and youths to get involved in such initiatives in their future time as well and never stop learning and following their dream.