 In today's digital age, smartphones have become an integral part of our lives. However, our addiction to these devices has become a matter of concern for many experts. In light of this, top-secret tech startup founded by ex-Apple vets Imran Chaudhri and Bethany Bongiorno developed a new wearable device that aims to be a "smartphone killer" by reducing our dependence on smartphones. This device, called the Humane AI Wearable, was recently demonstrated at the TED conference, and has generated a lot of buzz in the tech community.
The Humane AI Wearable device that is designed to be a replacement for your smartphone. It has a circular screen that is about the size of a watch face and can be worn on your wrist like a smartwatch. The device has a number of features that are designed to make it more user-friendly and less intrusive than a smartphone. For example, it has a single button that is used to navigate through the device's menus, and it only displays notifications when they are important.
One of the most interesting things about the wearable is that it is powered by artificial intelligence. The device uses machine learning algorithms to learn your preferences and behavior over time, and it uses this information to provide you with personalized recommendations and notifications. For example, if you like to read the news in the morning, the device will learn this and display news headlines on your screen when you wake up.
The wearable from Humane AI also has a number of other features that are designed to make it more useful than a smartphone. For example, it has a built-in fitness tracker that can track your steps and calories burned throughout the day. It also has a heart rate monitor and can track your sleep patterns.
At the recent TED conference, Humane CEO and co-founder Imran Chaudhri demonstrated the Humane AI on stage. Chaudhri showed how the device could be used to make phone calls, send messages, and access the internet. He also demonstrated how the device could be used to control smart home devices, such as lights and thermostats.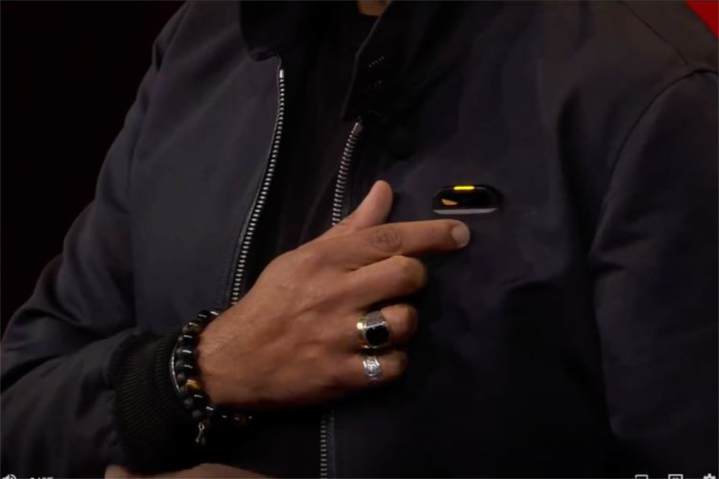 Chaudhri emphasized that the wearable from Humane AI is not intended to replace smartphones completely, but rather to provide an alternative for people who want to reduce their dependence on these devices. He noted that smartphones can be addictive and that they can have negative effects on our mental health and well-being. The Humane AI, on the other hand, is designed to be more mindful and less intrusive, and to promote healthy habits and behaviors.
This promising new wearable device from Humane AI has the potential to change the way we interact with technology. Its artificial intelligence capabilities and user-friendly design make it a compelling alternative to smartphones, and its emphasis on mindfulness and healthy habits is a welcome change in a world where technology often seems to be driving us further apart. While it remains to be seen whether the Humane AI will become a mainstream product, it is clear that the device has generated a lot of interest and excitement in the tech community.