 Huawei has been delightfully serving Nepal, for over 21 years. On October 16, 2021 Huawei Nepal hosted Huwei Connect 2021, one of the grand event of the year for Nepal's ICT Industry. The event took place at Marriott Hotel, Kathmandu. Huawei Connect 2021's agendas mainly focused on the All-in-One Data Centre including F5G.
The event was very well organized. Hosted by Anu Ghimire & Supral Raj Joshi and it continued for almost 9 hours. So, instead of including every detailed data, we will be dividing the article into few segments. Which will additionally make it a lot more convenient.
Welcome Remarks by Mr. Jun
As usual, the event started with registrations followed by Welcome Remarks by Huawei. And finally addressing Guest of Honor.
Mr. Zhang Zhengjun (Chairman of the Board, Huawei Nepal) shared with us about Digital Connectivity and its fields. Despite losing Global Flagship Program for Best Educational Institute in Nepal, he was confident about the future. For constructing a bridge between academy and enterprises.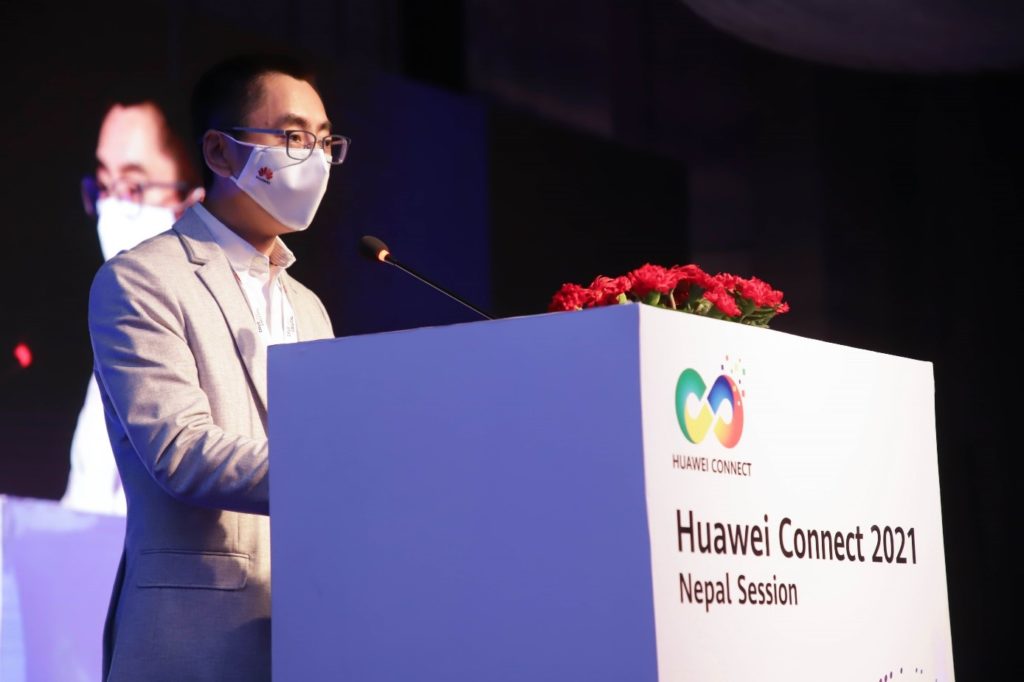 Mr. Jun welcomed every guest whole-heartedly. He also shared about his experience in Nepal. With no doubt, about Huawei' Huawei's growth, outcomes and other scenarios.
Opening Ceremony with MoU Signing between University and Huawei
Moreover, the Opening Ceremony was as scheduled followed by MoU signing between Huawei and Nepali University. Subsequently, for the enhancement of technology from every level possible. In the same way, we were also individually pre introduced to the latest Huawei technologies.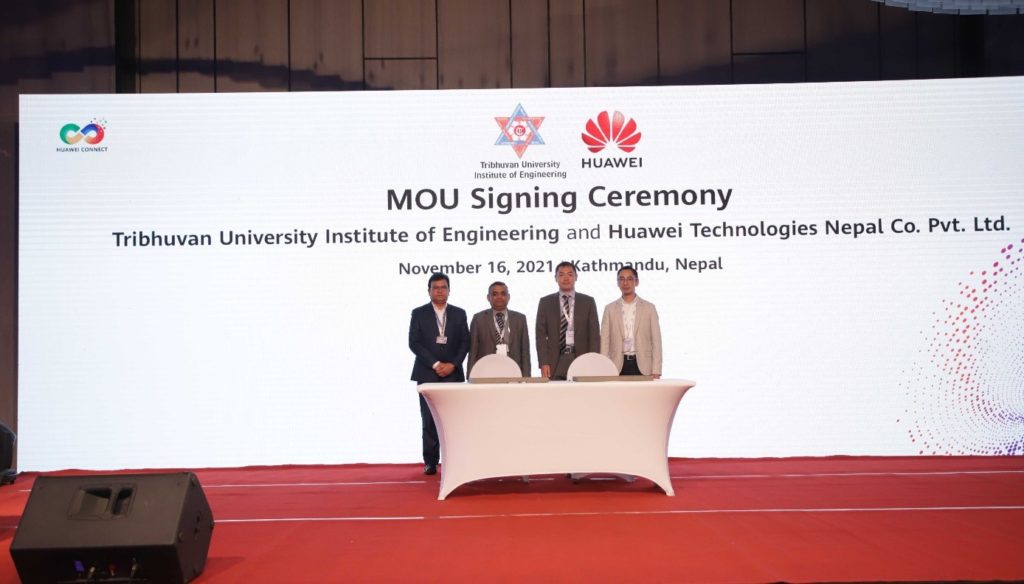 Huawei Darwin Ecosystem Hall online visiting
Moreover, this as mentioned, was an online tour to Shen Zhen; 5G In City. Nevertheless, it also mainly focused on 5G in-build tech. Furthermore, the host/guide talked in-depth about how 5G enables safety. Including, the advancement that would help differently-abled children to learn. To leave none behind, i.e. "Tech4All". Here, the tour guided us to following facilities :
5G Smart Airport
5G VR Education
5G Smart Education
5G Smart Bus
5G Smart Health Care
Discussion on Huawei's F5G
Moreover, Senior Solution Manager at Huawei, Mr. Justin Chen further discussed on 5G and F5G. Consequently, his main agendas for the presentation were :
Global ISP insight during Epidemic Period
Huawei All Optical Access Solution
Reference Cases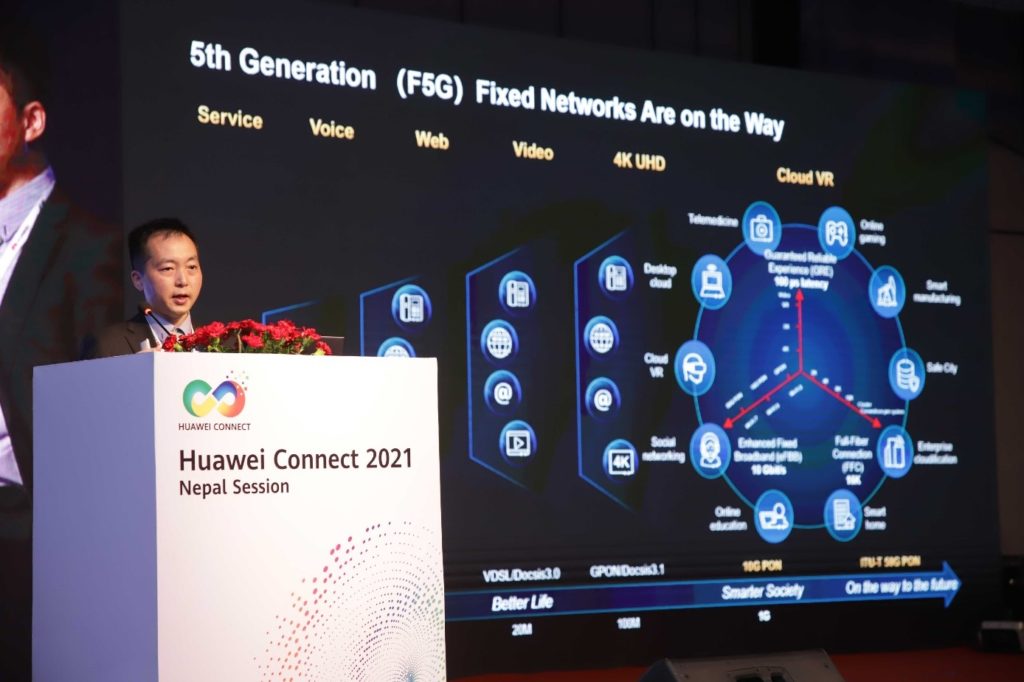 Similarly, he communicated regarding practical use of 5G that includes the following:
5G Ecosystem – Quick Growing
5G Commercialization – Large scale
AI Embedded Screens
In fact, Mr. Chen presented a very very detailed analysis and shared in-depth talks about 5G and F5G. Which however might have been a little difficult to understand by non-heavy technophiles.
Huawei Data Centre Solution
Also, Mr. Soma Shekhar Veeranna, Regional Director, Huawei Asia Pacific Data Center Facilities Solution shared his presentation. Likewise, Huawei's prefabricated modular data center and indoor data center. Speaking on behalf of Ncell, which has deployed Huawei`s pre-fabricated data center at Nakkhu. Further, Mr. Deependra Shah and Mr. Ranjan Sharma shared their experience on building the biggest IDC (integrated data center) in South Asia. Besides, he spoke of their plans to expand Ncell's data center service business.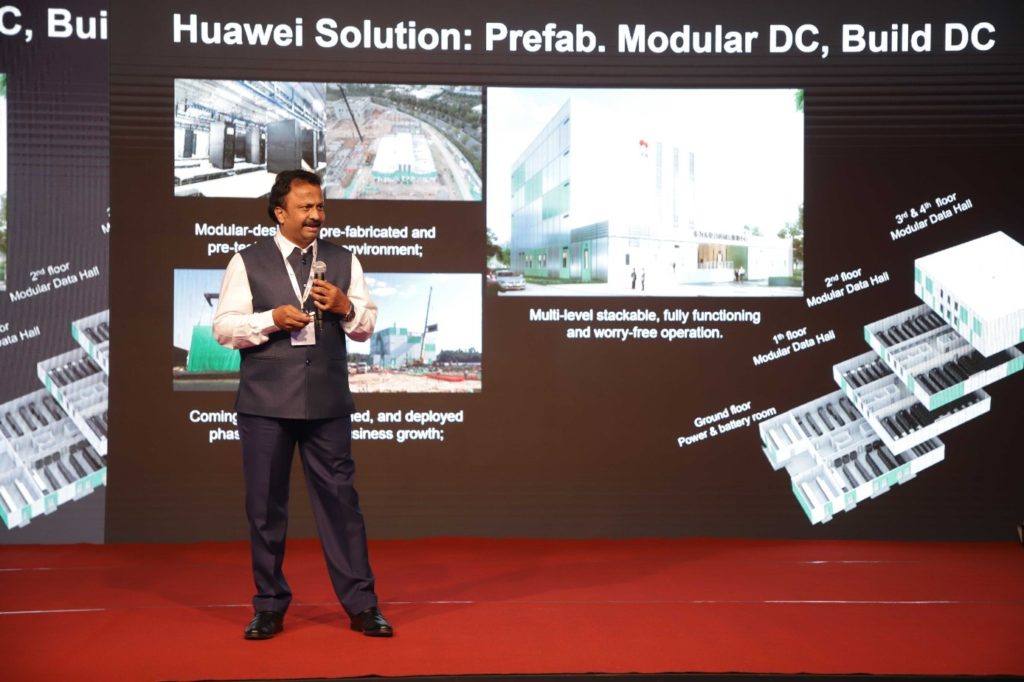 About building Low-Carbon Smart Society
In addition, Mr. Leo Huang, Solution Director, Huawei Asia Pacific Fusion Solar solution, shared his presentation on Huawei`s digital solar power solution. As a telecommunications infrastructure leader for the past 3 decades, Huawei has had to work on making more power-efficient solutions. Also, For base stations built in remote off-grid locations. Likewise, This expertise gained has led to Huawei investing in renewables. Moreover, Huawei believes in the global trend of "Carbon neutrality" and solar power as one of the primary sources of clean power will have a bright future. Further, Mr. Huang was certain that Huawei`s digital solar solution would help Nepal. To achieve transformation in the energy sector.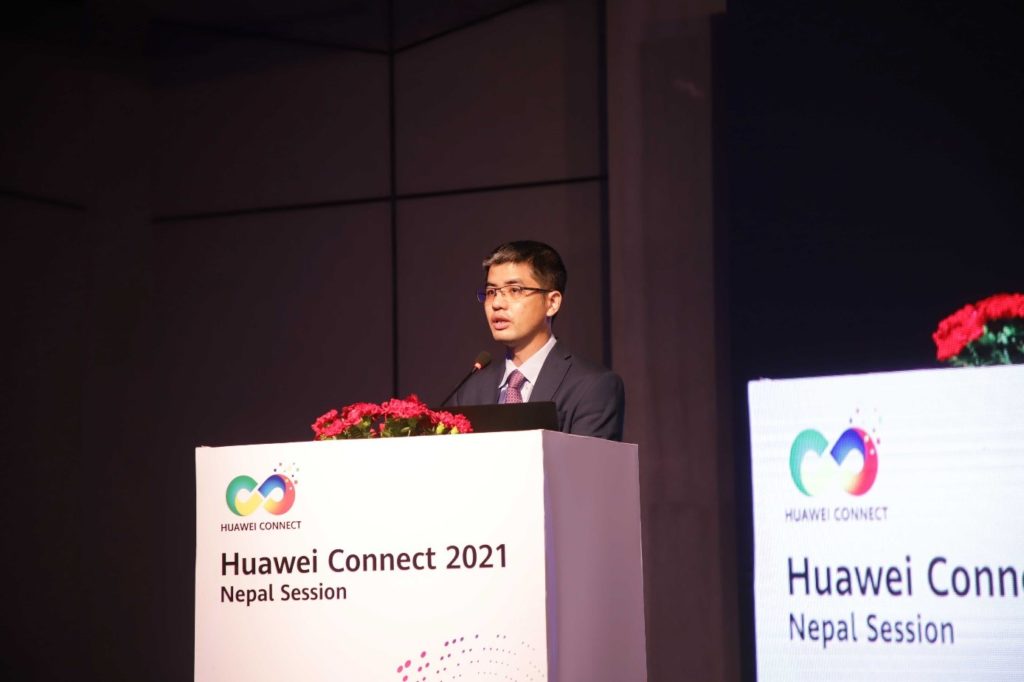 Huawei Cloud
Mr. David Liu, Managing Director, Huawei Cloud Asia Pacific Emerging Markets, shared his presentation. Likewise, Huawei's "Everything as a service" model for public cloud business. Mr. Liu introduced Huawei Cloud`s full stack products and solutions.
Dish Media Network and Applyjob.com 's presentations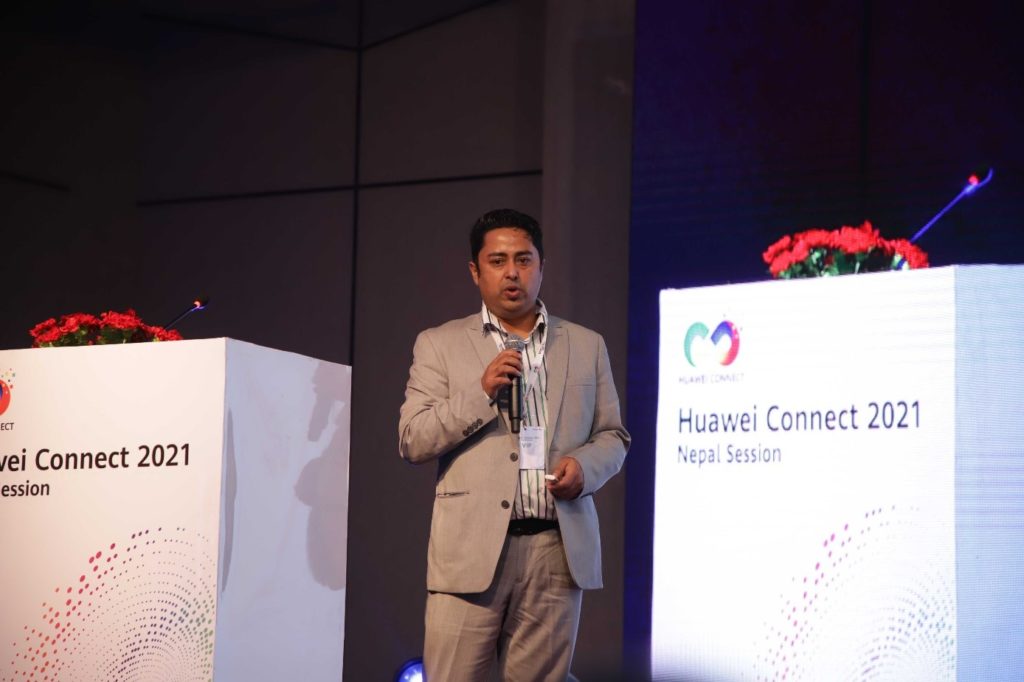 Mr. Sudeep Acharya, Managing Director of Dish Media, a leading home TV service provider. He has been making inroads towards the ISP market with DishHome Fibernet, shared the company's ambitious plans in the ISP sector. While expressing his confidence in Huawei's ISP solutions.
In fact, COO of Dish Media, Mr. Sven Willig and CTO Mr. Manoj KC spoke in length. About how the company has risen to be a leading player in the Nepalese ISP market.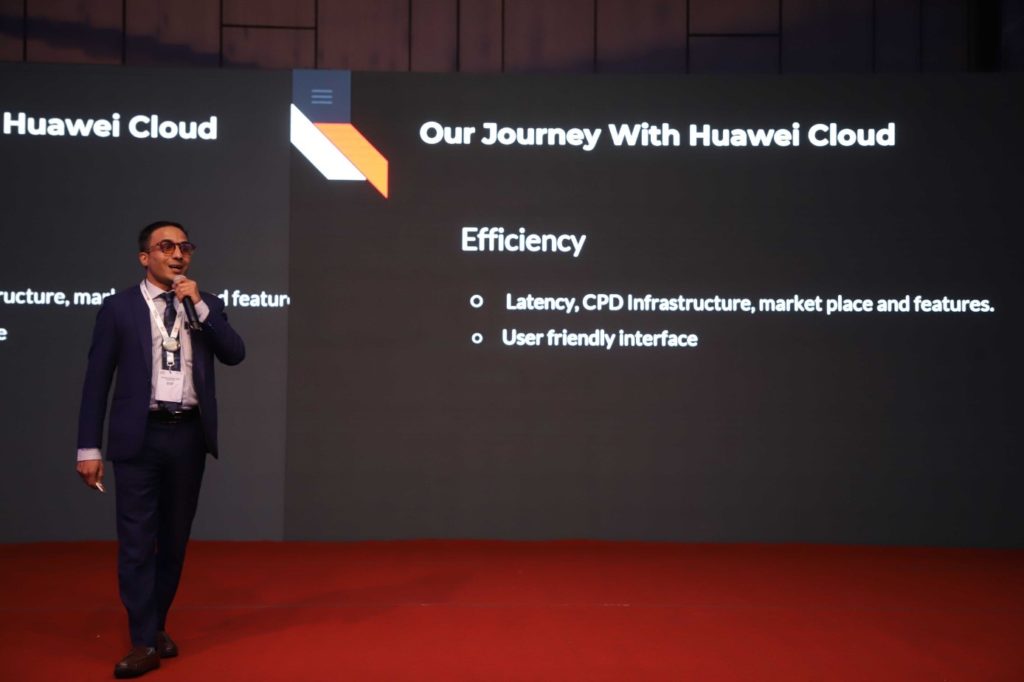 Finally, Mr. Sushil Pandey, CEO of Applyjob.com & Soft9, one of Huawei's Cloud Partners. He shared his experience on working with Huawei Cloud and dubbed it. As faster, more efficient and more user-friendly than the competition. Next, Huawei Cloud plans to co-operate with local partners and ecosystems to provide the best cloud service to Nepal.
Fun Events
The night at Marriott was eventful with Kutumba(Nepali Instrumental Band) and Subani Moktan. Likewise, Mr. Jun's B'day was celebrated in the event too. With the lucky draw announcement everybody got their excitement on the top.
Conclusion
Lastly, everybody really could "Dive into Digital". Huawei, with its innovative products and solutions, will keep diving into digital to benefit the entire country, along with all ICT industry stakeholders in Nepal. Besides, hoping for the best too in the upcoming future.